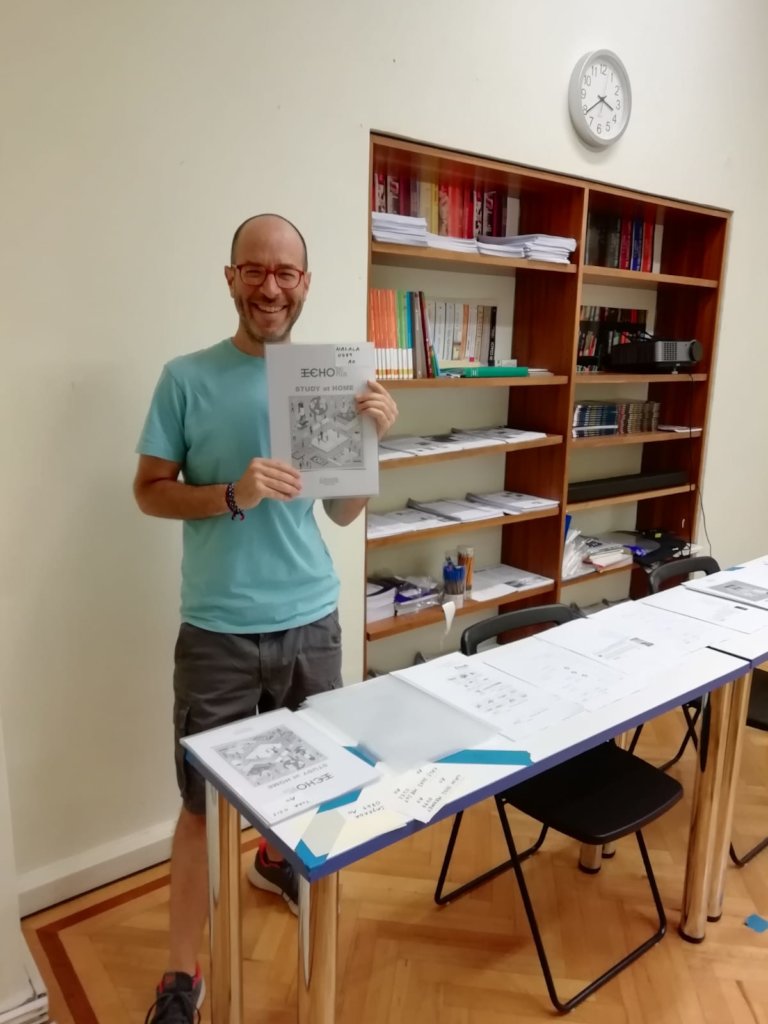 These past few months have been a global challenge. In the age of Covid-19, with the uncertainty and demands the pandemic has forced on us, we had to find a way to cope with the situation but also accept the fact that things have to change. This can very well be a time of opportunity.
During a crisis like this, organisations like Echo100Plus are overwhelmed with day-to-day surprises, urgent short-term demands, and a gnawing sense of uncertainty. But the job is possible and absolutely necessary, maybe more necessary than ever before.
We spent the summer having classes only with our former students hoping that the Covid-19 cases would go down so that we would readily accept new students in September. We started classes again, with caution. There is important information in all languages in the HUB as well as free masks which are now obligatory for everyone's safety. Hand sanitizers are available in every class and corridor as well as special disinfectants with which students clean their desks at the end of every class for the next students, and one desk is allocated to each person. It certainly feels different but that didn't really dampen our spirits because the relationships we have built with our students are so strong that we were just overjoyed to see everyone again and start having classes!
When September came though, the Covid-19 cases had gone up in Athens. So, what could we do? Gather all our voices… from staff, founders, volunteers, and others. This was the way of moving forward while trying to take everything into account and sorting out details and backup plans. Social distancing but student centricity was our main goal coming back.
We started classes, and some activities (football, boxing, CV workshop, photography classes) again tentatively, with all the safety measures that we imposed. Trying to focus on activities that could be down in few numbers or outside. We even had new registrations in a happy and safe way welcoming nearly 100 new students for both Greek and English classes of all levels. This was a very exciting moment for us, after not being able to register new students for so many months, we were delighted to be able to welcome so many after having had to turn people away during the lockdown months.
Being mindful of the rising number of Covid-19 cases and keeping an eye on the government's actions, we decided to close down for a few weeks at the end of September because of a potential Athens-only lockdown. But this time we were prepared! Having seen that the online classes were no longer so affective and being limited by people's internet access we had to find an alternative solution. This is how we came up with the idea of studying at home with ECHO100PLUS. Our teachers prepared weekly material packs that we printed and had students came in to collect once a week from the HUB. The idea behind them was to keep students revising the curriculum and having homework set that they had to return once a week when they picked up their new packs. This allowed for direct communication between the teachers and their classes and helped people keep motivated in studying even without coming to daily classes. This way we minimized the mixing of people and risk of anyone getting ill, while still showing we were there for our students.
This week we are thankfully able to open up the HUB again and planning to do all the languages classes only in our lovely garden and a spacious veranda! We believe having the classes outdoor as well as spaced with everyone still wearing masks is the safest way for us to bring people back into the HUB. Luckily the warm weather persists in Greece, but we are aware that winter is coming and we will have to find an alternative. Our priority still remains keeping our staff, volunteers and students safe.
Reimagining the ECHO HUB Athens' organization and operation has not been an easy task but the very nature of the current crisis is something we must see as an opportunity to reinvent who we are and to better focus on our mission. Adversity does not build character; it reveals it, and we are a team that is dedicated to one another and to our students. We continue to learn to adapt and figure out the safest and best way to serve our community the best we can!