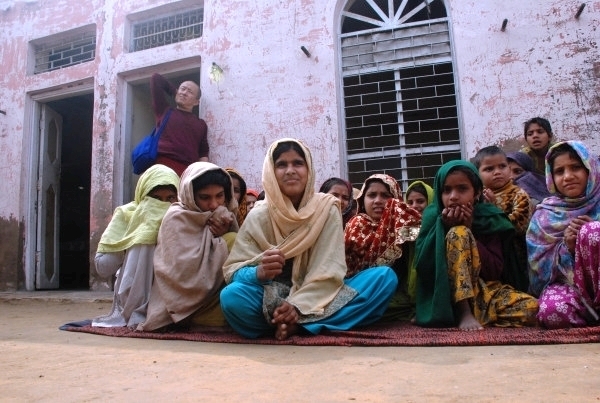 Imagine: in your hometown, only three in 100 girls ever learn to read. Female students in high school are a rarity, and a girl's reputation is so fragile that she is rarely permitted to venture beyond her village unescorted – not even to go to school. It may sound unfathomable, yet this is the universal reality for the young women living in the target areas of our Lotus Education as a Right Network (LEARN) program in Haryana, India, where tradition dictates that a teenage girl's "marriage-ability" and manual labor take precedence over her human rights.
While cultural mores bear great influence in Haryana's Mewat district, in the three years LEARN officers have been working with the local Meo people they have found that given the option, many of these families would like to see their daughters break with tradition and advance in the formal education system. But as is so often the case among the impoverished, the greatest impediment to social change is a lack of resources.
In Mewat, the immediate resource gap occurs in the form of transportation. Because few villages have secondary schools and it is generally thought to be imprudent (at best) to allow a girl to travel alone, female education commonly ends at the primary level. This low ceiling at school feeds into a downward spiral for the female population by diminishing the return on a girl's schooling, and thus increasing the impetus to keep her at work in the fields and at home instead. To bridge the chasm between parents' legitimate concerns for their daughters' safety and the girls' rights to education, LEARN officers brainstormed a new pilot program taking effect this month. The Blossom Bus is providing pioneering families with a bus and a parent chaperone to safely deliver 35 of their daughters to secondary school, postponing their marriage and childbearing a few more precious years.
Over three years, LEARN officers have earned the trust and confidence of Mewat's Meo families through their hard work, dedication, and tangible results. The improvements they have brought to schools were instrumental in convincing these families to take a leap of faith and break with social conventions by sending their adolescent girls to available schools. Until proper secondary schools can be instituted in all villages, LEARN hopes to rescue girls at this transitional stage through this most recent innovation, leading the way in re-instating female education as a norm rather than an anomaly.
A Glance at the First Blossom Bus Beneficiaries…
Zarina is the daughter of a former village chief. She shows tremendous courage for a cloistered village girl, and happily sang a traditional song to the first foreigners she had ever met when LEARN officers visited to recruit candidates for the Blossom Bus. Although at 15 years old she has only completed the third grade, Zarina is calm and self assured with a bright, innate intelligence that animated her expression as she told the officers of her yearning to return to school since dropping out five years ago.
Although daughters of a village doctor in rural India, Tarranum and Rizwana dropped out at the end of primary school because there was no secondary school in their village. "My sister and I used to walk two kilometers to school but my father became afraid for our safety and asked us to drop out," Tarranum tells us. "I wished I could have born a boy so that I could have completed my education." Fortunately, Tarranum and Rizwana were among 35 girls recently selected to receive daily transportation to and from school, and are ecstatic to pursue their dreams of one day becoming career women. "I am happy to know that I will go to school again and want to study to become a doctor like my father. My sister Rizwana has already started dusting her books bought two years back hoping that she will go to school very soon."
Chaperones from each village will accompany girls like Zarina, Tarranum, and Rizwana to school every day, and will be responsible for monitoring and reporting on the schools where they take beneficiaries. Lotus Outreach's broader intent is to spark a wider movement in favor of girls' education by demonstrating that with a little attention and effort, a few kilometers need not stand in the way of female empowerment.
We thank you for your support, which allows new initiatives like the Blossom Bus to become a reality. Please consider helping us undertake a greatly needed expansion of this project in the coming months and years by asking your friends to donate too: http://www.globalgiving.org/projects/the-blossom-bus!