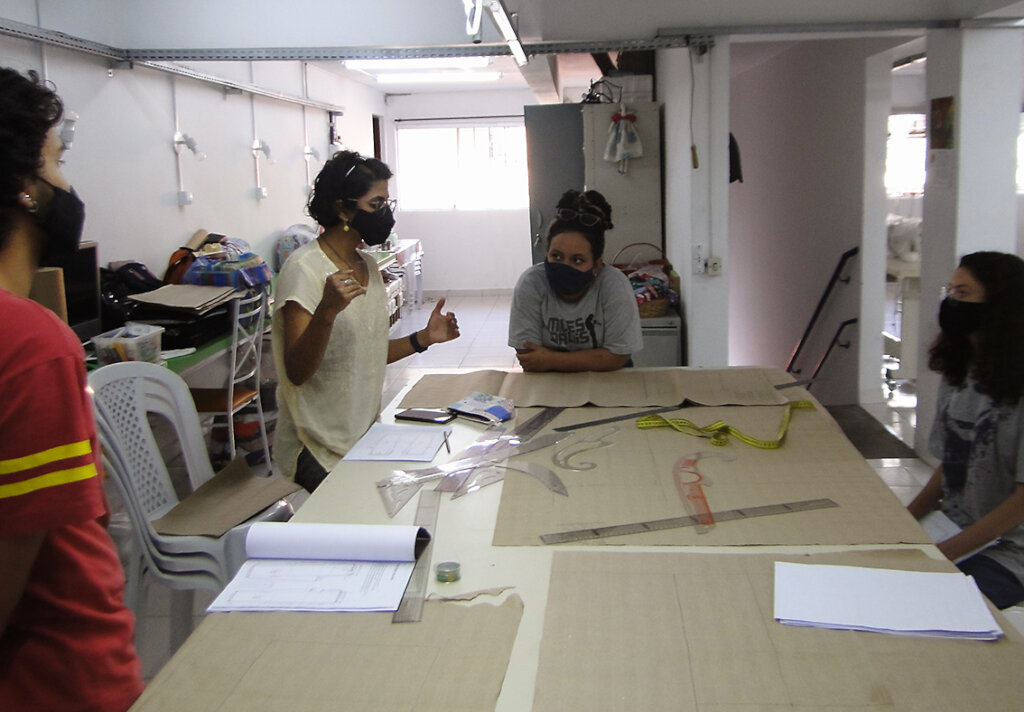 The Eldorado Textile Project has now been in existence for over four years, starting as a group of 20 women and children and currently with 35 predominantly female participants and a waiting list. During the periods when ACER had to close because of lockdown, both groups continued to work and learn at home with the aid of mobile phones.
In October 2020, our new group for young people, 'Eldorado Moda', started a course in fashion and textiles with an emphasis on sustainable and ethical practice. Since then, they have made huge progress and with just a little help from the older women were this month able to fulfil a commission for 2000 sports bibs for the sports kids from the ACER community.
Milena from 'Eldorado Moda' says:
'I've been part of the Eldorado Textiles Project for 10 months and I've been learning various things like how to cut, how to sew with manual machines, as well as learning a little about pattern drafting. I found out about the project from my friends, and since then I haven't stopped. The project is very important to me, because I do something different every day and I now feel very fulfilled. The project brings a lot of knowledge and is helping my career. I intend to work professionally in the area and work with fashion in the future.'
In addition to taught sessions with our teacher Carol, our new part-time administrator, Renata, has set up a booking system so that small groups of participants can book a space at any available time and work together or learn new skills from one of the more experienced group members.
We now have a dedicated workspace buzzing with activity, two groups, 'Eldorado Bordadeiras' and 'Eldorado Moda', and we are growing. We are excited to announce that to reflect these new developments, we have created a new project, the 'Eldorado Textile Collective', which includes both these groups and also provides the potential for additional groups to be formed.
To keep up with increased expenditure and to ensure our continued development, we need funding. If you are considering a donation this Christmas time, please keep in mind that $1,000,000 will be available as a GlobalGiving Incentive Fund for 24 hours on 'Giving Tuesday' between EST 00:00:00 and 23:59:59 on 30th November, GMT 05:00:00 and 04:59:59 on 30th November/1st December 2021. You can now find us at https://www.globalgiving.org/projects/a-textile-collective-for-eldorado-diadema-brazil/. Recurring donations will be automatically rolled over to the new project.
Thank you so much for your support, which gives a disadvantaged community in São Paulo a more hopeful vision for the future.