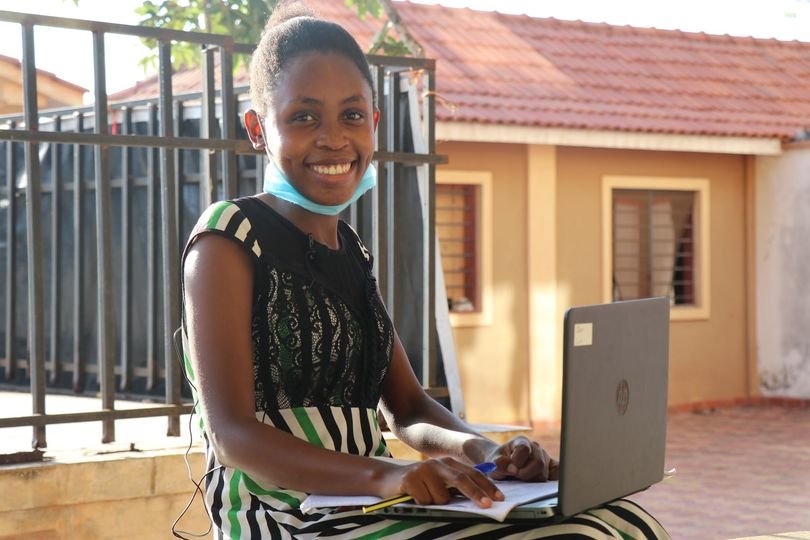 Elimu Resource Centre was officially closed to the public for 8 months last year. But we still found innovative ways to remain relevant in the community.
We provided food assistance to the families of children we sponsor for school fees. We kept our Cisco Networking Academy students going with support at home, eventually getting permission to bring them back to the Centre. We just hosted their graduation in April with a great deal of joy!
We are open again in 2021 – yes, with occasional lockdowns. But this June's half term break had us receiving students again. They came to access the digital resources we offer to help them with their homework projects or to work at their own pace on improving their weaker areas.
We also receive university and college students who have been forced to do their learning from home but don't have access to computers or internet. The Centre is a God-send for these learners. Click the link below to watch one young college student share how she feels about getting access to our digital resources.
After 8 months of closure, we need to clean the place up. Over the years, paint has been peeling, stains are darkening the walls. Our outdoor signs are barely visible due to the sun's tropical intensity. We had planned to embark on a re-painting project last year but when COVID-19 arrived, it didn't make sense. Now that we have children coming to us again, it's important to get back in shape!
It is a big project. Our Centre is a four storey building with five different rooms plus the reception area and the stairwells, and the outdoor building walls and perimeter walls. It's all concrete and they all need new coverage. So we are reaching out for help to make this happen. We have already received $1,000 which will go towards re-painting the outdoor signage. We are left with raising $8,457 to complete the project.
Below is a breakdown of our costs:
Outside building walls (top to bottom; four sides): $2,564
Cisco Lab and Digitech Lab (2nd floor): $1,123
High school section, admin offices (3rd floor): $1,123
Reception, charging station, kitchen, storage, offices (1st floor): $1,105
Conference Hall, EduTech Server Office (4th floor): $ 994
Inside perimeter of outdoor compound wall: $ 752
Spiral Staircases (1st – 4th floor) $ 449
Balconies (2 floors) $ 349
Our Technology and Education for Kids in Kenya campaign is aimed to raise the funds we need so that we can keep on giving children the best experience for their learning needs. We use technology to provide these kids with resources they don't get at home or at school. Along the way, they are gaining digital skills, building their digital literacy and getting exposure to technical careers and business ideas for their life after high school.
The walls are being measured as we prepare for the painting. Will you help us get the first coat on? The children of Malindi, Kenya will be so grateful!
Links: