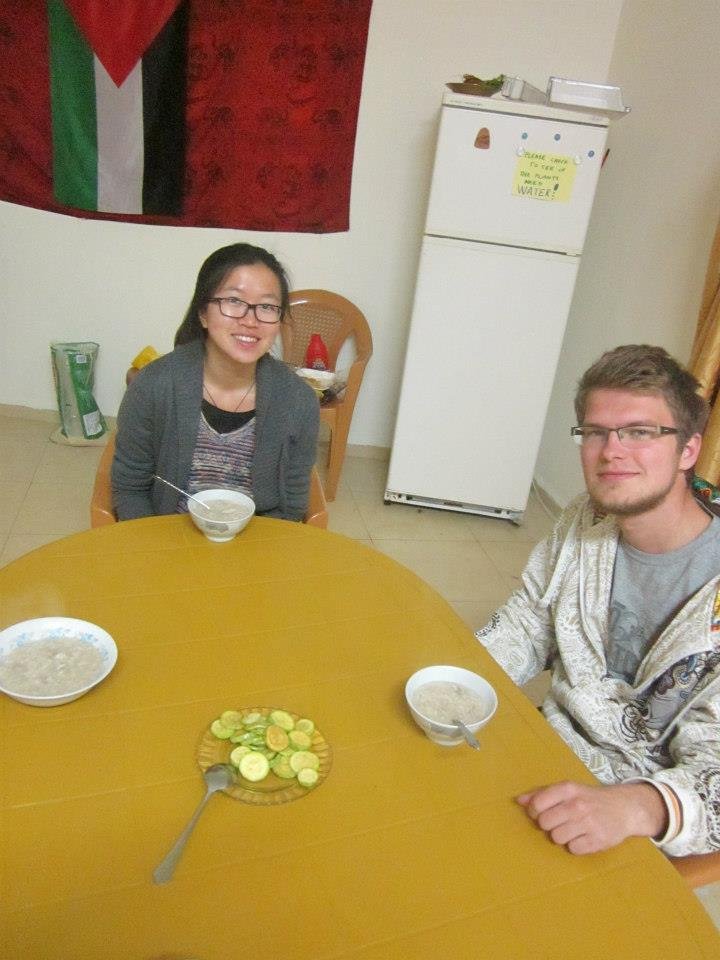 Dear Friend,

I wanted to take this opportunity to thank you for your support last year and the years before. I also want to bring you exciting news about our project, Teaching in a Village Under Demolition Orders. Two new visiting teachers have joined the team in the West Bank Palestinian village of Al Aqaba: Dan Pritt from Estonia and Elaine Zhu from China!

I also want to take this moment to ask for your help to pay staff salaries at the Al Haq Kindergarten. Like all kindergartens in Palestine, this is a private kindergarten. It has expanded to serve 160 children this year, because the Palestinian Authority is providing salary for 3 new teachers — but the salaries for all the other teachers, director, bus driver, and janitor comes from tuition payments. The bus driver covers a good part of the Northern Jordan Valley to pick up students, an area that is targeted for demolitions and impacted by forced relocations. They need your help.

Our project, Teaching in a Village Under Demolition Orders, started in 2010, has enable quite a group of amazing visiting teachers — Kali Rubaii, Matt DeMaio, Morgan Bach, and Ian Leech — to work in Al Aqaba. This program also supports local teachers' salaries and ensures that the kindergarten is able to keep the mainstay of its educators.

Dan Pritt, our 6th visiting teacher, has been teaching English in the kindergarten for two months. Dan is from Estonia and currently on academic leave from Tartu University. He came to Al Aqaba because he believes "one cannot find knowledge by just occupying seats in the local library or classroom."

Dan believes "that education is one of the central keys to any kind of bright future or a sustainable solution, and while teaching in the kindergarten, my belief has become even more compelling and self-evident."

To our delight, we also welcome Elaine Zhu, the charismatic 7th teacher!

"I spent two days with kids and took a lot of photos of them," Elaine told us, "and also had a great conversation with Mayor Haj Sami Sadeq. Then, I decided to come back. And I did. The smile on kids' faces and the kindness from the mayor and villagers brought me back here!"

Elaine, who is from Guangzhou, China, was aware of the challenges facing her to teach in the village but she was determine to become a part of the community and make a difference for the children of the village

"For me, both to be a first time teacher and to teach kids from a culture that is very different from mine own is not easy," Elaine explained, "Therefore, I am not just teaching, but also learning. I'm so much more than just a teacher. I learn how to interact with children, how to cooperate with the people from a different cultural background, and how to understand the situation of this village, which is under demolition orders. I'm part of Al Aqaba village, and this place if part of my life now."

"Education is the great engine to personal development," Nelson Mandela, the well-known statesmen, once said, "It is through education that the daughter of a peasant can become a doctor, that the son of a mineworker can become the head of the mine, that the child of a farm worker can become the president of a great nation."

Kindergarten is the first step for children on their journey through the educational landscapes they will cross throughout their life. Through your support, and concerned people like you, the children of Al Aqaba are getting the best beginning on this voyage, by supporting amazing teachers including the staff of the kindergarten and visiting teachers Dan and Elaine.
Sincerely,

Donna Baranski-Walker
Found and Executive Director of Rebuilding Alliance