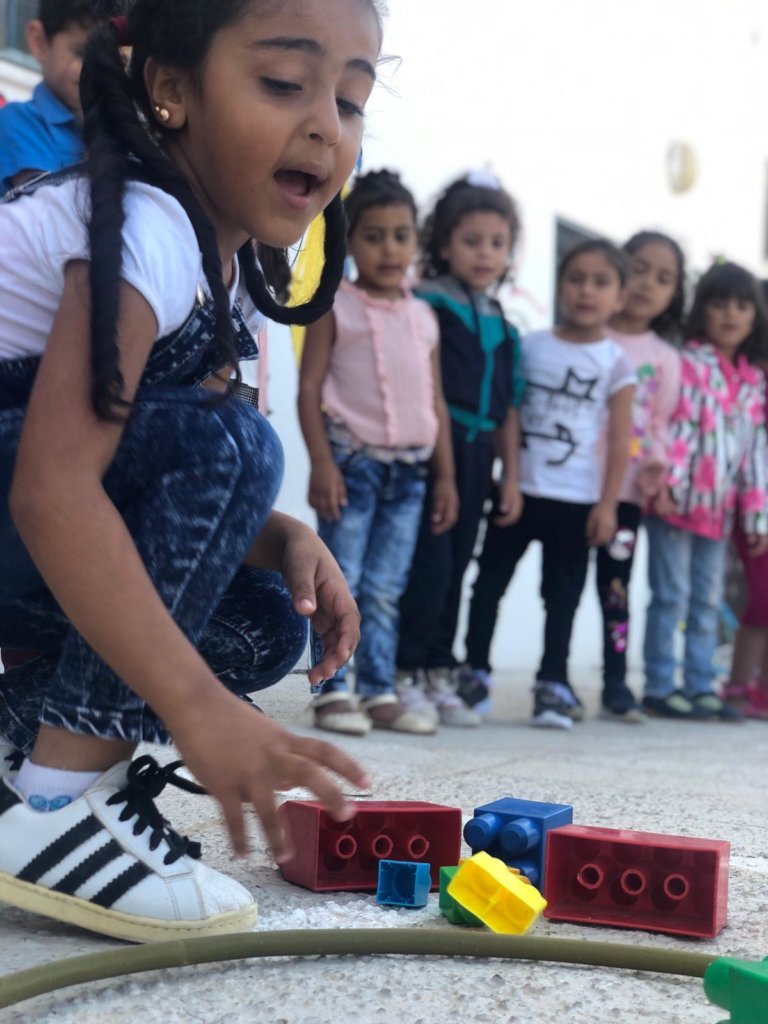 Dear Friends,
First, let me introduce myself. My name is Feras Alnabulsi and I am the Country Representative for Rebuilding Alliance in the West Bank. I attend the various UN Cluster meetings and the Association for International Development Agencies (AIDA) meetings, and best of all, I visit the project sites. I am proud to send you this report.


Al Aqaba village-Tubas Governorate, West Bank, Palestine:

Al Haq Kindergarten offers very important care and relief for the children of Al Aqaba village and the surrounding area. Located in a marginalized community at the north eastern part of the West Bank's Area C, 150 child from Al Aqaba and from two nearby towns and villages attend the Al Haq Kindergarten. Al Haq means truth in Arabic. This wonderful place offers boys and girls the opportunity to discover, learn, and play -- all great ways to build communication skills and learn how to get along with peers and adults.

Together, the teachers, bus drivers, and the Director and even the cleaning crew of the kindergarten do more than simply bring kids to the classrooms. In every aspect of this job, they ensure the children's safety and provide a nurturing environment that helps them release their fears. You remember, this is Area C and Al Aqaba village is very near one of two Israeli military training centers. The rat-ta-tat sound of machine guns is audible, and sometimes the army launches missiles too. That's really scary for kids. What's more, the Israeli Army has redoubled efforts to demolish homes nearly, though outside the periphery of the village. Whenever anyone's home is demolished, everyone is impacted.
''We give love, care, safe spaces and playing areas for children, helping them enjoy their time here as they develop their skills,'' said Mrs. Noha - the Kindergarten's Director. "The children spend around six hours everyday in kindergarten, looking to live their childhood as other children in the world. We take this responsibility very seriously. With the help of the donations we receive, we are all determined to assure them a wonderful kindergarten experience — the best start for their life ahead."
Mrs. Noha continued, "The kindergarten is equipped with early reading tools, there's a great library upstairs, and we also have a playroom filled with tools and constumes to help them explore life skills and even career paths. Our aim is to prepare these children to look forward for education, to have hope for a better future, to grow into adults with ambition, ready to care for others and have a voice in their community."
The Al Aqaba families I met with are very grateful to have this kindergarten. One mom, Mrs. Haya, said " I wake up everyday, prepare my kids to go the kindergarten, feeling happy, comfortable, and grateful for having such a place in or village. We didn't have kindergarten when we were kids, and we can see the smile on our children's faces." She has twins in the kindergarten!
"Many thanks to anyone who gave even a small help in keeping this place running, it is a symbol of happiness and children rights " added Mrs. Haya.
Mayor Haj Sami, talked about the hard times that the kindergarten is facing, and how they are able to get through it. "Sometimes we don't pay salaries for months because of lack of funds, but teachers keep working because of their belief in the value that this kindergarten holds."
"The support from donors was a major, major support for us until now. Many thanks to everyone who donates for our children. It is a support for the simplest rights of humanity, the right to education." said Mayor Haj Sami.

Al Aqaba's decision to build this kindergarten and Rebuilding Alliance's help to make that happen have made all the difference in the world for these children and this village.

Thank you again for your incredible support for this wonderful project. Please mark your calendar for Giving Tuesday Nov. 29th when GlobalGiving will be matching all donations all day starting at midnight until 11:50pm Eastern time!

Sincerely,

Feras