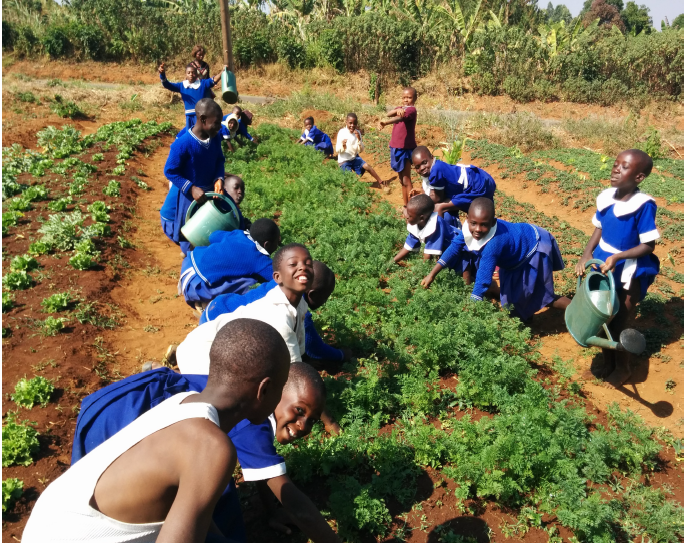 2016-2017 Summary Report for the Organic Vegetable Garden Project
A recent volunteer who has completed a review of the project across the 2016-2017 academic year has concluded that "CAMAAY school gardens have shown themselves to be successful and are having a major impact on nutrition education." Children are learning and engaged in developing gardening skills and are gaining a much better understanding of the importance of good nutrition. This knowledge is being spread throughout the community as children are teaching their parents these life changing skills and knowledge. Parents are really showing a great support for the projects by motivating their children, providing resources such as compost and allowing their children to take care of the gardens during the school holidays. Overall, great strides are being made in educating children and their families and providing them with a healthier future.
Madam Evelyn, head teacher for the Presbyterian primary school Bamendakwe said that throughout the 2016-2017 academic year the school garden has achieved the following results:
• Children have improved knowledge of how to successfully grow vegetables, which will be a life and vocational skill;
• Children have more balanced diets which improved children's physical and intellectual growth;
• Children have developed an interest in manual work;
• Children have been provided with nutritional education;
• The gardens have provided children with a practical learning field for school subjects such as biology and mathematics;
• A reduction in schools' spending on food due to a food supply from the school garden;
• Improvement of family diet through the replication of what students learn at the school garden and pupils bringing seedlings to their family from school;
• Stepping up of crop production; and
• Environmental protection through organic gardening and rainwater harvesting;
Families and parents are very much on board with the project and are indicating a real understanding of the importance of good nutrition. Ms. Makai, whose daughter attends Presbyterian primary school Bamendakwe, stated that vegetables protected people from diseases such as blindness and kwashiorkor, and children who consume vegetables grow normally since vegetables contain essential nutrients for growth. Ms. Ndowi, whose daughter also attends Presbyterian primary school Bamendakwe said, "The project has had a major impact on our community. When our children came home in the holidays, they asked us for plots to grow vegetables. When the crop was harvested, some of them were sold and we earned money to buy other items such as clothes."
School authorities are also interested in school garden activities and the resultant benefits. Mr Tangi John, head teacher of government school Ambo, said despite the interruption of the school year, producing vegetables throughout the year gave children constant access to vegetables. Consequently, these children had a deep appreciation of the importance of what was taught. Miss Susan a primary three teacher stated, "Thanks to the project now it is common knowledge that vegetables are essential to help to fight disease" and hence they decided to produce them in large quantities. We distributed them to our students to ensure that they stay healthy and to improve their learning capacity". Another head teacher described the school garden's impact on the community. "We see parents and other members of the local community in the neighbourhood observe the different vegetables we grow in our school garden. They show great interest in improving their farming skills. We sometimes offer children some seeds or seedlings to be grown at home. The outcome is very positive because many parents are now aware of the importance of vegetables in their diet."
Jessica, a volunteer from Germany working on the school garden, said she enjoyed her stay as a volunteer, learnt much on the local culture, had real fun with the children despite living in a new environment and far away from her family.
Mr Ernest Fru, teacher volunteer supervisor for Government School Ambo, said that despite the success of the project they had encountered the following challenges in their school garden this year:
• Problems related to bad weather and water shortages;
• Lack of compost, which is produced only in small quantities;
• Plant diseases, pest and predator problems, especially in the dry season;
• Lack of water conservation systems;
• Lack of agriculture technician in every school; and
• Lack of appropriate tools and clothes for school garden activities.
CAMAAY are looking forward to extending this project in the 2017-2018 academic year. We have received appeals from some schools in Jakiri and Oku subdivisions to extend the project to their schools.
Our former volunteer Peitro clements, initiated a partnership between CAMAAY and LA SCIMMIA IMPAZZITA, an Italian Association which was signed a few months ago. He is on his way back to Cameroon and with the support of some members of LA SCIMMIA IMPAZZITA, he will be bringing some vegetable seeds and one kilo of moringa seeds to be planted in some of the gardens for the 2016-2017 academic year.
In August, we shall also be hosting another volunteer from Switzerland by the name of Benjamin who will be giving a helping hand to the project during his one month stay in Cameroon.
The success of this project gives us hope for the future of Cameroon and we are looking forward to continued learning and achievement during the coming school academic year.