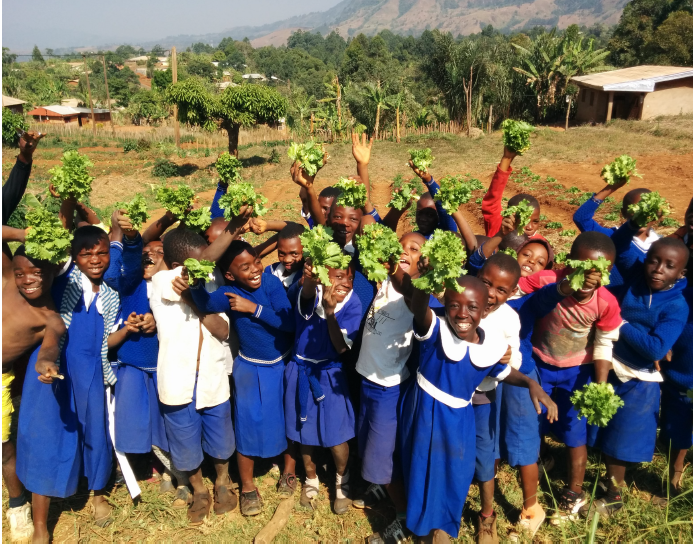 Our gardens took a huge step forward toward being self-sustaining this year, thanks to the enthusiasm and vigilance of our volunteer from Italy, Pietro Clement, and the commitment of the kids and teachers. We can't wait to apply this year's experience to our gardens next fall.
School participation
Last year we overextended ourselves, so this year we settled on working with just 5 schools in the Bamenda area. This allowed Pietro to visit each school every week, on a rotating basis. We chose three schools from last year, Bambessi High School, Mendankwe Primary School and Chombo Primary School, and added Upstation Primary and Ambo Primary.
In Bambessi, the only high school this year, the interest of the students and the commitment of the teachers was limited; the seedlings were not tended during the Christmas break and all died. Although the Upstation children were excited to participate, the teachers and principal there were not supportive, and the garden site was too far away to provide proper supervision. In the others schools, crops were successfully harvested, and the children and teachers were enthusiastic.
Crops
The children were excited to at least try all the crops they grew, most of which they had not tasted before. The preparation of a huge salad with lettuce, tomatoes, and radishes was especially thrilling.
Carrots, lettuce, radishes, and tomatoes were the most successful crops, although only the lettuce grew in sufficient quantity that there was still some left after the children had taken enough to feed themselves and their families for a week. Radishes were the next-most prolific crop, but eaten raw, the children didn't like the sharp taste. Carrots also grew well and could be eaten raw, but luckily were much more of a hit with the children. They also enjoyed the tomatoes they grew, but the harvest was small . Cauliflower, eggplant, and zucchini only produced enough for a few days' food, were not that well liked, and were more complicated to prepare, and so will likely be dropped from next year's gardens.
Although beans were planted in each of the gardens, only in Ambo did they produce, and there just enough to give everyone a taste. Since beans are so nutritious and can be dried and stored, we will try to purchase the necessary soil amendments next year to help the beans thrive. Indeed, since it is the "year of the pulses," we want to do our part to teach the children the children and how to grow and enjoy this powerhouse crop.
Techniques
This year, most of the schools relied on manure that the children contributed from their farms at home for fertilizer, but every school started a compost pile, which will get things off to a great start next year. Mulch used was successfully in keeping weeds down and moisture in. Next year we will work on techniques for protecting the crops from pests, and institute a drip irrigation system.
Equipment
All schools had hoes, machetes, gloves, and buckets to work with, but we would like to be able to purchase wheel barrows for each school to make the work easier. Some schools were not fenced, and other fences fell into disrepair. We would like to try living fences (hedgerows) next year in some of the schools next year, which will not only be effective in keeping predators out but can provide protection from sun and wind, as well as an ongoing supply of fruit.
Looking ahead
We will continue gardens in Mendankwe, Ambo and Chombo next year and select two more from the other schools we worked with the first year. Because we will be introducing some new crops and techniques next year, all schools should probably still receive weekly visits for one more year, but after that, this year's schools should become self-sustaining, providing an ongoing source of nutrition, income, and inspiration for a new generation of farmers.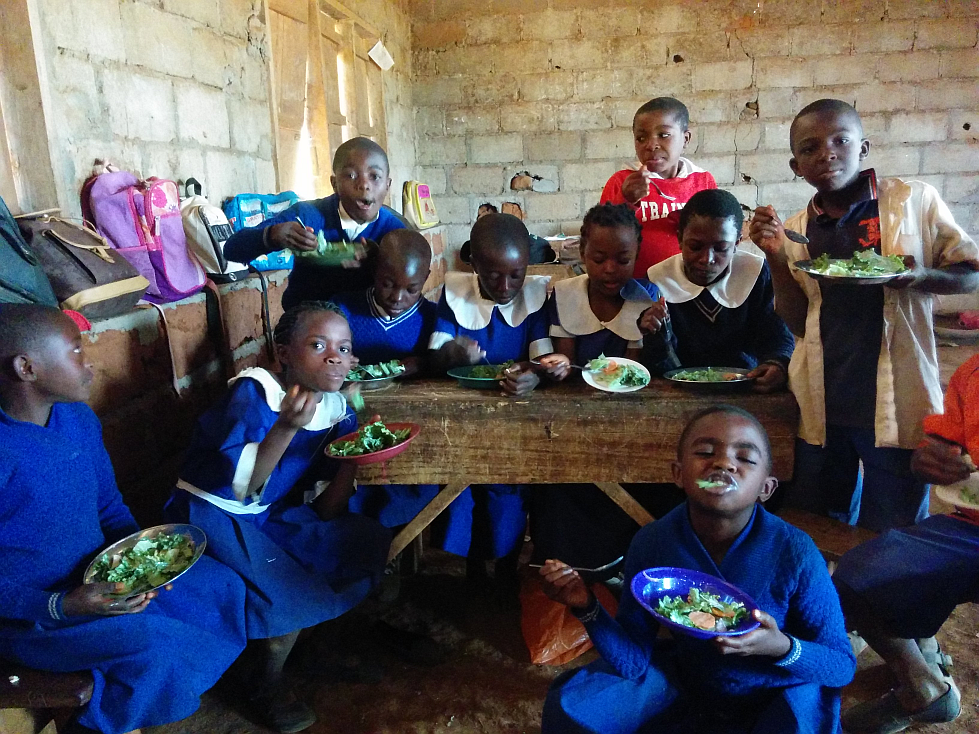 Links: