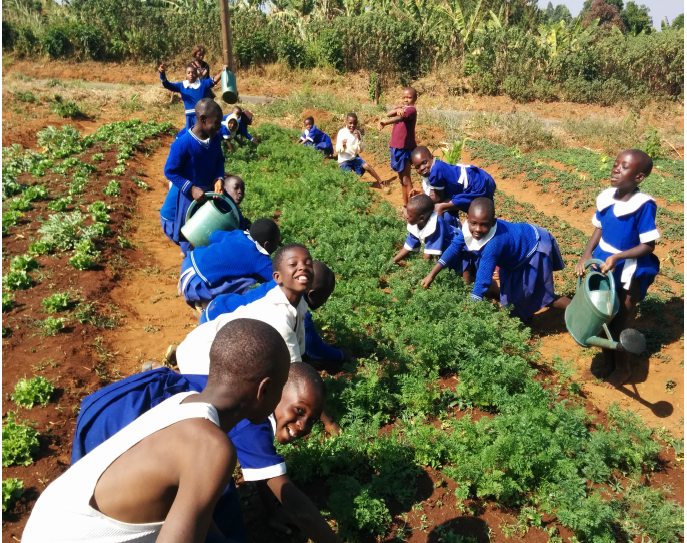 Our wonder volunteer, Pietro Clément, has provided us with his 14-18 December Weekly Report:
Monday : In Bamendankwe Primary School it was country Sunday again, apparently they are the only village to have two country Sundays in a week of 8 days. Thus, the only thing we were allowed to do was water the garden. We also prepared the final arrangements for the "Right to Play" campaign that would be held there the next day.
Tuesday : Today a campaign for the Right to Play was organized. With a minibus, we brought 31 children from the Upstation school to the Bamendankwe school. We organised five stands with games for the 62 participating children. We had a sack race, an egg race, tug of war, relay and an imitation and guessing game. Four teams of six children and one of seven for each school were competing in every game in rotation. After the games were finished, we offered food to the children. The last activity was a football match opposing the two schools. Bamendankwe ended up winning at the penalties stages after the regular time finished and the score was 1-1. We donated one notebook and one pen to each of the children. The winning school also received some sweets.
Wednesday : In the Babessi Secondary School Pietro collected all the grades from the students and did an oral exam to one which was absent during the examination. Pietro participated with the class council and travelled back to Bamenda.
Thursday : At Chomba Primary School we watered the crops and gave instructions for the watering during the holidays. The access to water is difficult in the village and hopefully the teachers and students will do their best.
Friday : At Upstation Primary School radish was harvested. We gave it to the children, who were enthusiastic. We also gave instructions for watering.