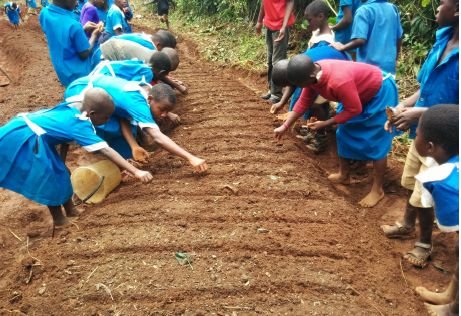 Thanks to the hard work of our newest volunteer, Pietro Clement, and the ongoing assistance of CAMAAY member Ruth, the gardens are off to a strong start this year Plantings have been as follows:
Primary School Ambo: Tomato, cabbage, eggplant, carrot, radish, beans and brussel sprouts have been planted. The garden project here is supervised by a teacher member of CAMAAY, Ernest, so Pietro will only need to visit every other week, which will save on transportation costs.
Primary School Chomba: The teachers worked hard to get seven beds ready for planting, and the children planted tomato, beans, pepper, cauliflower, lettuce and carrot until there was no more space on the beds. The remaining seeds will be distributed to the children who are willing to plant them in their family garden.
Primary School Mendakwe: The teachers here do some work outside of school hours, so the garden is in good shape. Pietro and the children started by forming two nursing beds and planted carrots, two types of tomato, morrow and lettuce. After a week, lettuce and a little of tomato had already sprouted. Three more beds were dug the rest of the seeds planted.
Primary School Upstation: Morrow and the tomato plants have already sprouted. The children and teachers worked with Pietro to dig three more beds, and finished planting carrots, radish and beans.
Secondary School Bambessi: The garden is being prepared for the planting of morrow, carrot, beans, peas, pepper, and two kinds of tomato.