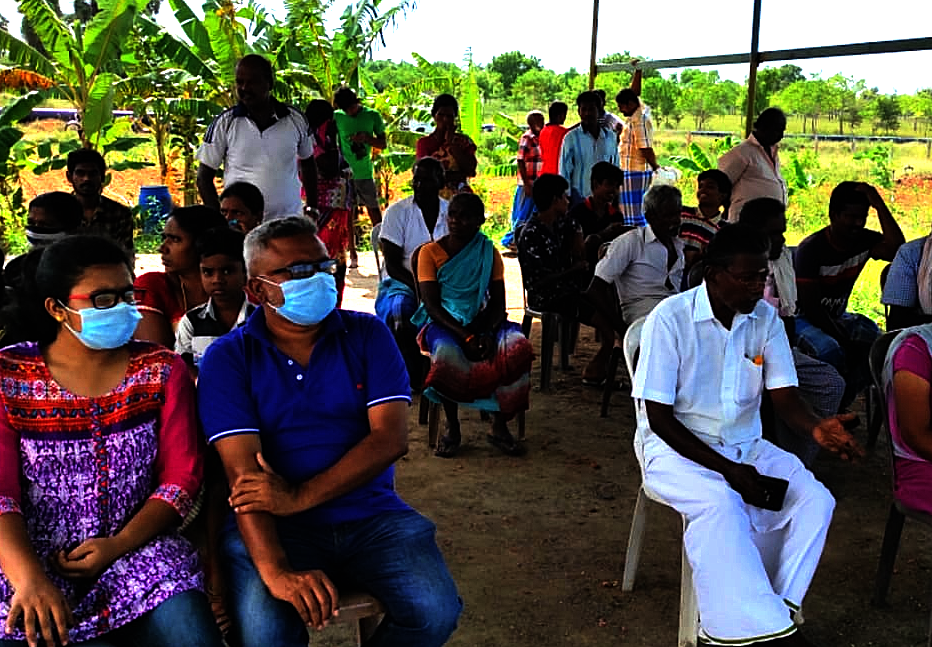 As the pandemic drags on, life in Tamil Nadu—and around the world—is settling into a new (albeit more difficult) normal. Resource-poor communities face continuing challenges driven by both their preexisting living conditions and the unstable nature of their livelihoods. Voice Trust, empowered by your support, is working hard to ensure that needy persons in Tamil Nadu are able to benefit from whatever help is available to them.
Although India has implemented policies aimed at relieving hardship, there are often knowledge and distribution barriers between aid and deserving recipients. Back in March, the Indian government announced a COVID-19 aid package that included a financial benefit of Rs 1,000 that could be claimed by impoverished senior citizens, widows, and persons with disabilities. However, many eligible beneficiaries were unaware of the available relief, or otherwise lacked the means to claim the benefit.
Victoria, a Voice Trust field staff member who manages our projects to benefit the differently abled, stepped up to use her community advocacy skills in service of COVID-19 relief. Victoria has worked diligently to ensure that eligible persons are made aware of the Rs 1,000 benefit, provided with explicit instructions on how to make a claim, and assisted as needed with navigating the claim process. Victoria's work on this front has been continuous since the relief package was announced, outside of a period during which she herself fell sick with coronavirus. We are very glad to report that Victoria has recovered well, and is back to work speaking up on behalf of the most destitute. Aided by Victoria's heroic community advocacy efforts—supported by your generous donations—more than 9,700 qualified people have been able to access these desperately needed relief funds.
In these unprecedented times, we have been incredibly grateful for your extraordinary generosity, especially from corporate employees. As of this writing, we have received over 65 donations to our COVID-19 relief project, leaving us only $882 away from our goal. These numbers are exceptionally strong for our organization. While people around the world are facing uncertainty and additional hardship, your willingness to continue thinking of others is noble and especially impactful. Your support heartens our staff, and enables tangible, sometimes life-saving relief.
With gratitude,

Janet Preethi