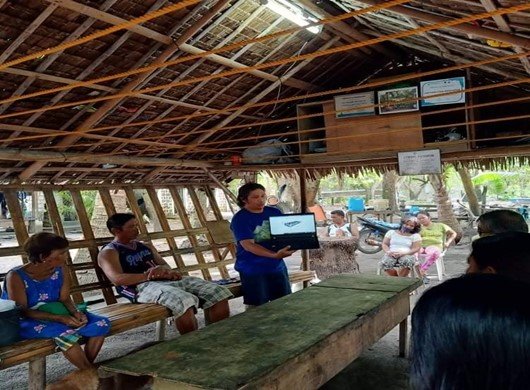 DLSU COSCA continues to implement activities with partner, Local Government Unit of Municipality of Lian, Batangas as both endeavor to contribute to the achievement of the United Nation's Sustainable Development Goals (SDG) through attainment of SDG localization objectives within opportunities identified under the existing partnership arrangement. Both LGU Lian, Batangas and DLSU COSCA maximize gains achieved in its implementation of the Community Based Coastal Resource Management in Lian towards meeting identified SDG localization objectives.
Development initiatives in Lian, Batangas is pursued and sustained through: a) support and provision of assistance that help strengthen existing structures, thereby encouraging and nurturing participation both at the LGU and community level (i.e. established barangay and municipal councils-MFARMC) through capacity building, b) enforcement of existing CBCRM policies and implementation of appropriate systems, and c) organizing the sector/s or preparing the community.
COSCA, DLSU-SHORE, Lian LGU and local organizations of fishers continue to pursue initiatives to help keep Talim bay's health, sustain participation specially of the key players- the local fishers through continued capacity building activities and facilitate the conduct of relevant projects and services with the community, among others.
A 2-day learning session on project preparation and planning was fascilitated by COSCA's Partnership and Network Development Specialist, Mr. R. Quenamot on October 17 and 18, 2020 in Sitio KayReyna and Sitio Sulok, Lumaniag, Lian, Batangas in preparation for the implementation of supplemental livelihood activities supported by the Feed the Hungry, Inc. The activity gave the project owners, the local fishers who are members of the Lian Fisherfolk Association, Inc. (LFA) and Samahan ng mga Mangingisda sa Sulok (SAMLOK) an orientation on Crab Fattening and Sea Cucumber Ranching. The session introduced the participants to project, planning, and implementation within a situation where strict health protocols need to be observed. The learning session participated by 50 member fishers from LFA and 28 member fishers from SAMLOK likewise aimed to help establish appropriate and necessary project implementation mechanism/s.