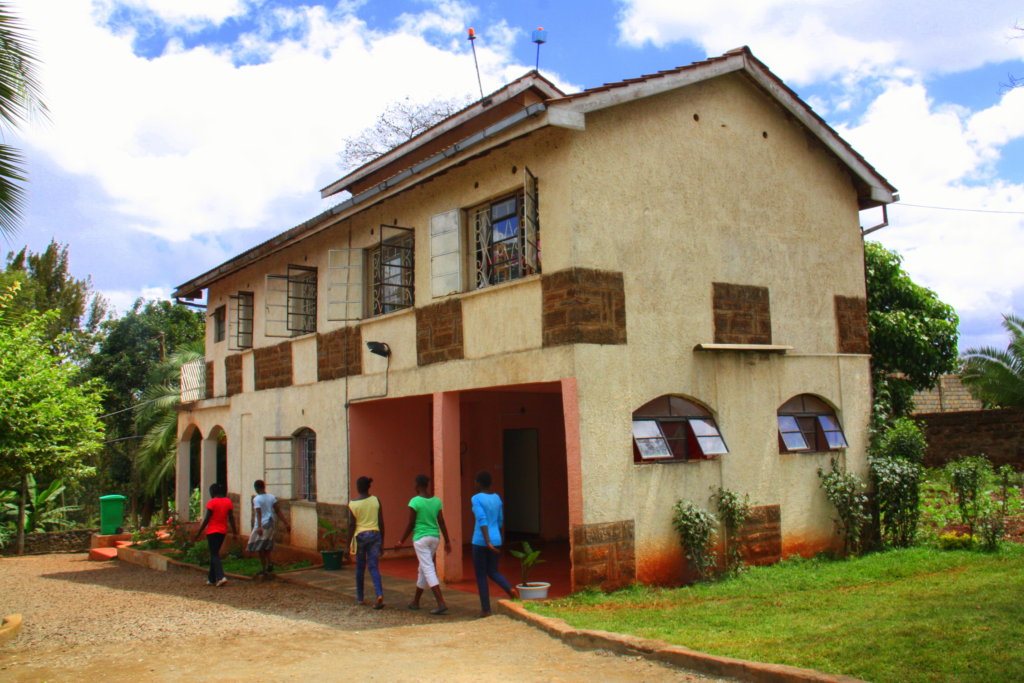 In the year 2001, Centre for Domestic Training and Development (CDTD) was founded to empower domestic workers with homecare management skills and to address the challenges that they faced such as poor payment and discrimination from their employers and the community at large. The programme was successful, assisting many young women who came from underprivileged backgrounds in Kenya. To date the program has advanced to train in numerous vocational skills and has empowered more than 10,000 youths in Kenya (mostly young women) and has advocated widely in Kenya and beyond on the rights of domestic workers and the need to empower disadvantaged youth economically.
In the year 2007, Ms.Edith, the founder of CDTD developed a passion for the girls who were becoming increasingly trafficked and abused in Kenya and its neighbouring countries, yet could hardly find help. Some of these girls would end up as child domestic workers among other child labour jobs. Out of this genuine passion and with the interest of further empowering girls and women, she decided to pitch another project for CDTD that would focus on rescuing trafficked and abused girls and assist in re-integrating them back into the society after tracing their families. This would reduce their chances of re-victimization.
Soon, the program for rescuing girls was started and it was an exciting time for Edith and CDTD staff to be part of making a positive difference in the lives of these abused girls. The girls would be housed at the domestic training centre together with the domestic workers trainees. This seemed a good idea to us since the girls would only be sheltered for a short time. It meant they would share the same compound, the same bedrooms among other things, especially house facilities. The girl rescue program was fast growing since it was the only one in Kenya that could shelter trafficked girls. Soon, CDTD centre had growing number of girls who had been rescued and were waiting to be re-integrated! They had found a home.
At this time of fast growth in the program, challenges started emerging. It started being clear that although the girls would only be there for a short time, keeping them in the same environment where the young women were being trained on homecare management was not conducive for either of the groups. This was because of the state of the rescued girls emotionally, physically and in terms of their age, they were young. On the other hand, the young women were not trained to live with girls who had such special needs and therefore they did not know how to best relate with/handle them at times. The future of a program that we started with very good intentions was now starting to look bleak!
On the other hand, as staff we were also having a challenging time because we were not professionally prepared to handle these girls. At first we thought we could, encouraging ourselves to be able to care for them because in our lives we handle children, some of us on a daily basis! We however realised that due to the difficult circumstances the girls had gone through and the trauma they still had, they needed to be attended to differently by qualified professionals such as counsellors, care givers and nurses, something we soon felt unqualified for.
Again, since our girls would be sheltered only for a short while, we did not have a structured program in mind for the time the girls would be at the centre. They would do the basics of the day such as cleaning after waking up and taking meals. It was not clear as to what they would engage in on a day to day basis. This caused the girls to be bored in most times and there was not much development in their lives while they waited to be reintegrated. Realising we were not investing much in their lives while they were with us made us feel we needed to do more.
This indeed, as you can already guess was a challenging time for everyone! It was a time of wondering what could be done, what could be a better solution for our girls. We thought about it and with a determined team, we concluded that a separate conducive shelter was necessary for our girls, and along with it qualified staff who are trained to care and develop girls who have been trafficked and abused. Great idea you guess! Now the real journey to look for funds to open a shelter begun. Everyone knew it would not be easy but we were hopeful that we would manage. We believed the words of one wise Gail Devers, "Keep your dreams alive. Understand to achieve anything requires faith and belief in yourself, your vision, hard work, determination and dedication. Remember all things are possible to those who believe."
In our motivated searching and approaching of different partners, Global Fund for Children saw our vision and they were moved by what it would mean for us and most importantly the transformation it would bring to these girls. They gladly supported us to start the shelter, which would later be named Talia Agler Girls Shelter (TAGS).
This was a jubilation moment! Joy truly filled our hearts to see how the project was developing. Partnering with a number of people who loved our work, we were able to start raising funds to run the shelter, though it was a gradual process that required patience and persistence. We were able to hire qualified workers such as a person who could manage the shelter, a counsellor and a caregiver among a few others. Since then, we have gradually built our network of support, especially financial support and GlobalGiving together with its partners have been our greatest supporters this far!
The conducive environment at TAGS has enabled girls to feel at home. They have been having a structured program that works well to develop them in many ways, again without straining them. The program has changed from time to time depending on the state of girls at the shelter for a particular time. They are able to get counselling, continue to learn in the shelter as they wait to be sponsored for education, they are taught soft skills, mentored, involved in socially interactive fun activities among other things under a 4R's(reach, rescue, rehabilitate, reintegrate) model which we developed! It is such a good thing to see our girls being transformed and being able to regain the pieces of their lives together. A smile on their faces gives us the zeal to continue with this worthy cause, knowing that touching their lives means that the community is being touched and transformed as well.
Through our experience in establishing our shelter we have learned that a journey of a thousand miles starts with a single step! That the beginning of something is usually challenging, but with persistence, our efforts do bear fruit.
More than 300 girls from Kenya and its neighbouring countries have been transformed by this program (TAGS) and we are looking forward to transform even more lives and rekindle the smiles and dreams of girls who once felt their dreams were shuttered!