Project Report

| Feb 9, 2022
Changing Lives through Apprenticeships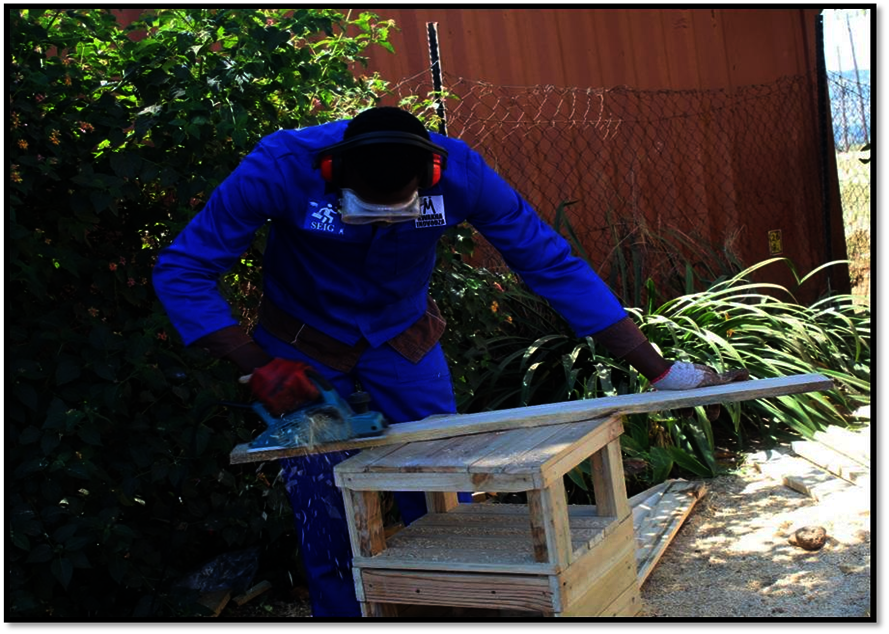 In the last two months of 2021, KI conducted two five-day Skills Development Trainings in carpentry and welding, engaging 26 out-of-school, unemployed young men from 2 poor communities, aged between 18 and 29. These trainings were designed to enhance employability, skills acquisition and business literacy, which has also been demonstrated to improve socialization and reduce risky lifestyle choices.
Specially-trained facilitators start by taking participants through the theory part of the vocational training before moving to the practical sessions. Our facilitators already have a business, which makes them role models, providing both training and mentorship to the participants at the same time. To ensure trainee safety, participants are provided with protective equipment to wear during the course of the training, and KI has a Health and Safety Protocol that is followed during these trainings. The variety of products produced in these trainings are donated to the community spaces such as churches, pre-schools and fixing community structures during practical's as a social responsibility initiative.
The outbreak of the Coronavirus (COVID-19) pandemic, disrupted opportunities of trade and learning for thousands of young people across the world. Eswatini was also hard-hit, resulting in a number of companies shutting down their operations, leading to a loss of existing and new employment opportunities for young people. Noticing the impact of the pandemic in the country, Kwakha Indvodza continues with the implementation of its Apprenticeship Project schools. This initiative uses our newly-trained Apprentices to create "as-new" condition desks from broken or damaged old furniture as well as giving apprentices on the job skills and work experience. In 2021, the Apprenticeship Programme identified 15 schools in the Hhohho, Manzini and Lubombo regions of Eswatini and an additional 10 in early 2022, with each school receiving around 120 repaired school desks.
Since November 2021, when our campaign was launched, Kwakha Indvodza continues to implement KI's Apprentice Programme and has had great impact on dozens of very needy primary schools across the country. Primary Schools receive very little government support and so their facilities are often in dire need of refurbishment. Our Apprentices are provided with tools and equipment to repair school desks, benefitting hundreds of school children per school by giving them a better learning environment. Learning their trade "on-the-job", under the supervision of an expert craftsman, KI's apprentices get valuable work experience and formal and informal training throughout the process. They leave our programme equipped with the tools, knowledge and experience needed to begin their career or start their own small sole-trader venture.