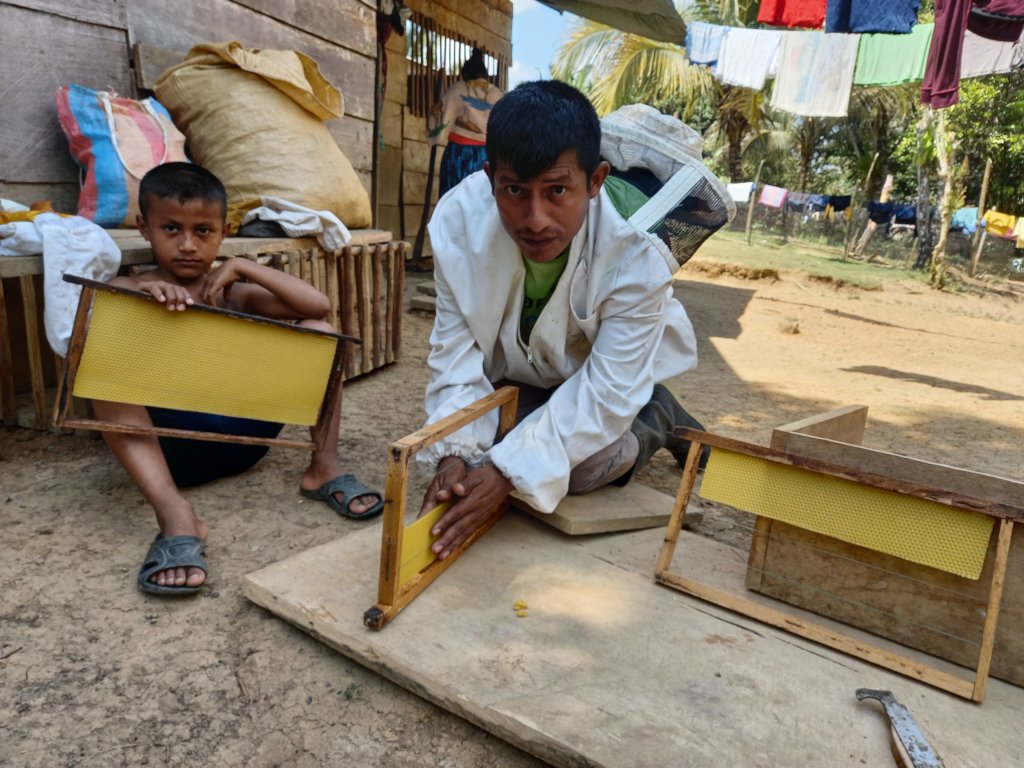 Dear GlobalGiving Supporters,
Did you know May 20 was World Bee Day? During this day, the UN highlighted the importance of bees for us all, particularly in their role as pollinators. Nearly 75% of the world's food crops depend, entirely, or at least in part, on animal pollination.
A few tips on what we can do individually for bees:
planting a diverse set of native plants, which flower at different times of the year;

buying raw honey from local farmers;

buying products from sustainable agricultural practices; and

avoiding pesticides, fungicides, or herbicides in our gardens.
Related to our beekeeping efforts in Guatemala, I wanted to share an update from our field technicians, who recently visited our friends at Apiarios Flores Occidentales in the Department of San Marcos.
Their objective was to learn how the family-run enterprise at Apiarios is leveraging products and sub-products of the hive. This workshop was directed to the Ixcán technicians who are in charge of the beekeeping project in the communities, with the aim of learning more about how to transform the raw material (beehive products) into by-products.
Elmer and Antonio shared: "During the two days of theoretical training we learned about 9 products that the hives can generate: honey, pollen, propolis, Royal Jelly, wax, apitoxin, bees, queen bees, and bee larvae. The beekeeping practice consisted of entering the Apiary to obtain each of these products of the hive.
Having the bee products it was necessary to transform them into by-products, this activity focused directly on the subject of confectionery. We learned to make medicinal candies using honey and propolis as the main ingredients.
From beekeeping products, a series of by-products can be transformed, which can be made with the combination of the same raw materials provided by bees, for example: shampoo, honey sweets, propolis sweets, royal jelly, honey sweets with cardamom, multivitamin sweets with honey and propolis, propolis-based decongestant, and honey-based soap.
The possibilities of making sub-products of the schools are infinite, given the number of consumers of these products that vary from children to adults, pharmaceutical products, to beauty products. This responds to a constantly growing industry."
As a next step, our field technicians will be sharing some of this information with the beekeepers in Ixcán and propose some ways to start incorporating these approaches in order to diversify the ways in which they can generate income from their beekeeping activities.
Thank you so much for all of your support! We look forward to keeping you updated on our next steps.
In solidarity,
Mario Ardany de Leon, EcoLogic Program Officer, Guatemala