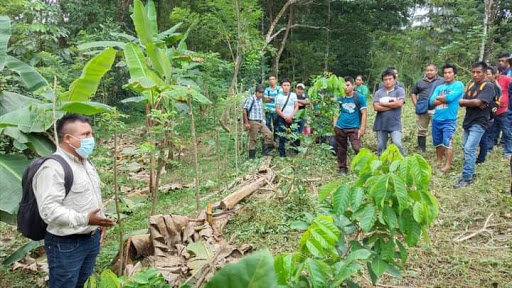 Dear GlobalGiving Supporters,
I hope your year is off to a great start and that you and your loved ones are staying healthy as we continue to navigate the global pandemic.
My last update focused on our work with four farmers in the community of Nuevo Nacimiento Cáliz, in the Sarstun region of Guatemala. When we left off, Martín, Javier, Andrés, and Emilio, were getting started establishing diversified agroforestry systems on their farming plots.
With our local partner, APROSARSTUN, we provided 515 rambutan plants, 400 cacao plants, 6,000 pineapple shoots, 60 banana sprouts, and 3,000 cassava cuttings, which were distributed to the four farmers. Each parcel will cover approximately 0.7 hectares in size.
On a recent visit to the parcels, our field technician was able to provide follow up and hear from the farmers how things have progressed and grateful they are. Not only have the parcels provided essential nutrition during the food security crisis exacerbated by COVID-19, but they were also able to withstand the impacts of Hurricanes Eta and Iota both of which hit this area hard.
We're grateful that, despite the devastation caused by these back-to-back hurricanes in many regions, there was no loss of life in these communities. Some of the primary challenges caused by the hurricanes were flooding and saturation of soils. Some farmers lost their crops, especially beans, or frijoles, in Sarstun. But the farmers applying agroforestry and diversification strategies with our help were not impacted and they have been able to maintain their livelihoods and feed their families.
Thank you so very much for your support, which makes this work possible! We are working to extend this approach to more farmers and communities. I look forward to sharing our progress with you during the next update.
In solidarity,
Mario Ardany de León Benítez
Program Officer, Guatemala