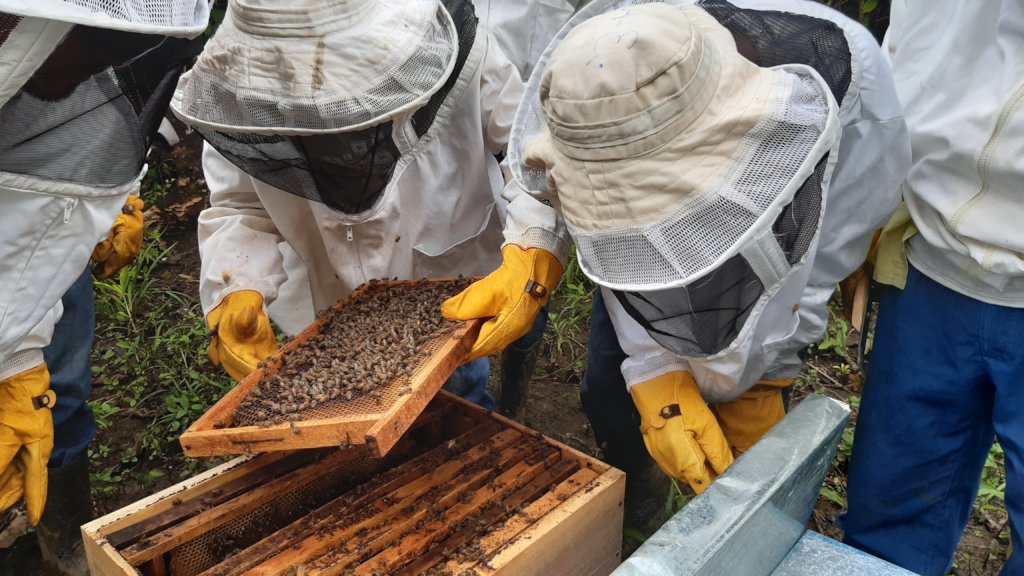 Dear GlobalGiving supporter,
I'm writing to you today because I know you care about the families and communities we work with in Guatemala. My name is Elmer Urízar and I am the Field Technician for EcoLogic's project with Mancomunidad Frontera del Norte in Ixcán.
I want to take this moment to THANK YOU for your generous support. It allows us to respond to the immediate needs of rural and indigenous families so that they can have dignified lives and livelihoods in the places where they live. I have worked in this community for over 5 years, providing technical assistance to implement a series of complementary strategies that seek to empower rural communities to conserve their forests and natural resources--one of them being beekeeping and honey production.
In 2019, the beekeepers we work with produced 28,000 lbs. of honey. With continued technical assistance, the honey's quality was greatly improved perhaps reaching its best year so far. In case you didn't know, moisture is one of the most important parameters of honey quality--higher moisture makes the honey more susceptible to fermentation. Thus, we have been working closely with our producers to monitor and reduce the water content of the honey. Feeling more confident in their product, the producers dared to knock on doors of local cooperatives and associations to offer their product.
ASIPOI (Integral Association of Organic Producers of Ixcán) is an association that works with organic production and also buys products to sell nationally and internationally. A group of producers from San Antonio Tzejá spoke with ASIPOI about the sale of their product, demonstrating the quality of honey by showing documentation of its moisture levels. I was very happy that they were able to sell all the honey they had available at about US$ 1.05/lb and ASIPOI was very pleased with its quality--opening the doors for continued sale of their future harvests.
I look forward to keeping you updated on the experiences of these communities as we move forward with the process. Thanks again for your support, it gives me the strength to keep fighting for my people and my country each and every day!
In solidarity,

Elmer Urízar
Field Technician, Ixcán, Guatemala