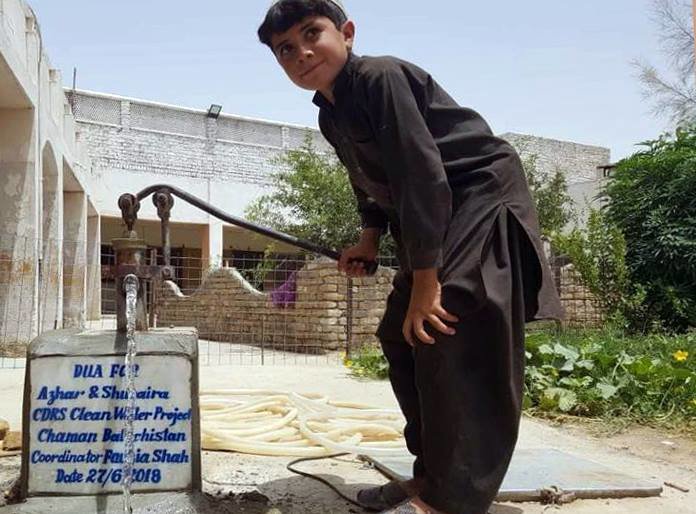 We would like to update you on just the latest of many CDRS Medical & Disaster Relief Water Projects to be completed in the field. Many of these recent projects were made possible by our Southern California Chapter President, Fauzia Shah, and her international network of friends and supporters.
CDRS has completed multiple water projects in Qilla Abdullah, Balochistan. This district is located at latitude 30°42'57.73"N, longitude 66°38'17.38"E. It has a steppe climate with very low precipitation. Qilla Abdullah is the poorest district in the poorest province of Pakistan and is comprised of many remote communities located near the border with Afghanistan. The local people store water in 'khuwis' at various locations. These seep-wells were completely exposed when our team arrived and posed a serious risk for contamination. Previously, locals would use ropes and buckets to draw the water. CDRS constructed hand pumps over the 'khuwis' and covered them to prevent exposure to hazardous elements. Each of these pumps benefited over 70 residents and livestock individually, and more than 1000 now have access to clean water across the district.
Using these kinds of pumps in remote communities like Qilla Abdullah is very advantageous. There is very little maintenance required and it is simple enough to be done by residents living at the site so there is no need to rely any outside specialists to visit regularly. The 'hands-on' nature of these hand pumps encourages using water wisely and conservatively.
We are very proud of the solar-powered pumps we install as well. Jhok Gul Haider Khan is a small village near Tibbi Qaisrani, DG Khan in Punjab province. There is only one borehole for about 2,500 people, which was contaminated with mud. The local people were forced to travel miles each day to a canal to provide water for their families and livestock. CDRS sought to remedy the problem. The first phase was to drill a new borehole and install a jet pump to draw the water out. An adjacent water storage tank was also renovated. The area is not very well connected to the gridline so 3kW solar panels were installed to ensure a constant uninterrupted supply of electricity and to allow a more powerful water pump to be added later. These residents now have access to crystal clear water free from any contamination and a newly made pond (filled in by water from the borehole) will provide for the livestock.
The CDRS team is working on many water projects in every province of Pakistan in areas where clean, drinkable water is a scarce and precious resource. All construction work is professionally executed by local laborers and experts under the supervision of CDRS coordinators. All construction materials are locally sourced as well.
We hold and participate in regular nationwide water awareness and conservation initiatives with wonderful partner organizations Hisaar Foundation, Interflow Communications, Medical Aid to Pakistan, filmmakers Sarwar Mushtaq and Salman Rafique, singer Umair Jaswal (our Youth Ambassador for Water and the Environment) and Pakistan's legendary environmentalist Tofiq Pasha Mooraj.
We greatly appreciate the many wonderful supporters and donors who are dedicated to helping CDRS take positive action and develop solutions to Pakistan's water crisis. We're ready and willing to work with everyone! Collaboration and coordination is the key.
Please consider donating and supporting in any way you can so that we can complete more water projects and give the gift of clean water to many more needy individuals, families and communities. Even a small contribution can go a long way and help quench a poor soul's thirst.