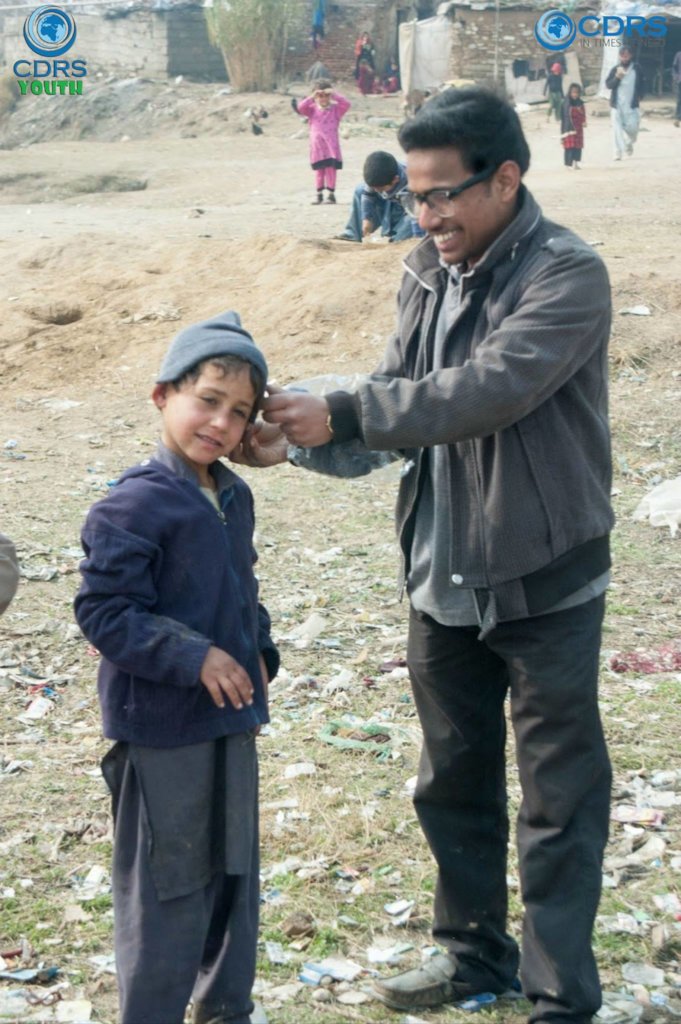 The many wonderful young humanitarians of CDRS Youth continue to make us proud! Our Youth Leadership & Community Service Project is going strong with 23 chapters all over Pakistan. By respecting, encouraging and facilitating volunteerism in our young leaders, CDRS Youth is providing young people with the opportunity to make a positive impact on their communities every day... and they are doing an amazing job of doing just that!
Winter Clothing Distributions
Many underserved communities in Pakistan are in need of clothing and basic amenities. The CDRS Youth Islamabad Chapter has been distributing winter clothing, including sweaters, coats, socks, scarves, hats, mitts and other winter wear to needy people of many neglected areas.
The Chapter has been accepting donations of warm clothing, asking potential donors for any unwanted or old winter clothes, and delivering them to families and children that would otherwise be unable to afford them. They request that the winter clothing items be donated in clean and usable condition (i.e. no rips/tears). They are also kind enough to remind donors to check the pockets for any hidden treasures before donating.
Wheelchairs for Special Patients
CDRS Youth is also continuing to arrange wheelchairs for special patients, most recently in Gujrat, Swat and Mansehra. We are still accepting donations in kind or funds for more wheelchairs for special patients. All cases are verified by our team. We strive to provide a wheelchair to every man, woman, and child who needs one, but has no means to acquire one.
Providing a wheelchair to a person without mobility improves the quality of life for the needy person and the entire family. By gaining mobility, people with disabilities are able to interact with their family, friends and community by attending school, going to work, shopping and engaging in other community activities.
Clean Water now our #1 Priority
The CDRS Youth National Management Team recently made the decision to expand our water projects as the #1 priority activity for CDRS Youth. It was with this new priority in mind that the CDRS Youth Karachi Chapter participated in and was honored at the 3rd Karachi International Water Conference on November 21. The goal of the conference is to spread the word on the need for clean water and water sanitation protocols in many needy communities all over Pakistan.
CDRS Founder and Executive Director, Todd Shea, joined singing star and CDRS Youth Ambassador Umair Jaswal onstage during the Youth Session for the debut of "The Water Warriors Song," which will be made into a video and released soon. "Water Warriors" are youth who wish to help protect and conserve water and educate their fellow citizens on the importance of taking an active role to help keep water safe, clean and available to all.
Please consider joining our cause to help raise awareness and funds for more water projects, and bring more future Water Warriors to our struggle for clean water!