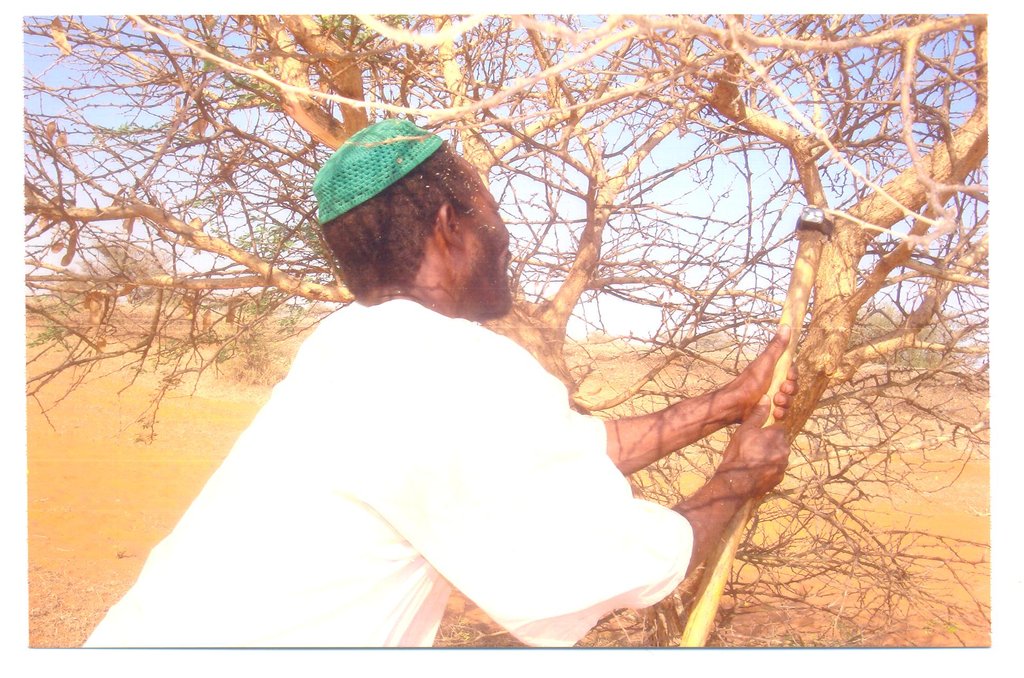 For Idris Abdullah, a gum arabic farmer from Al Adiat Asharqia, the arrival of summer used to signal the time for his annual migration in search of alternative sources of income. This meant leaving his family and village behind for uncertain prospects and no guarantee of financial reward for his journey.
However, life has changed for Idris and his family because of the support he received from NEF thanks to generous donors like you.
By employing new skills he learned from NEF trainings, Idris increased his sesame harvest from 2 to 5 sacks in previous years to 35 sacks this year! With the increase in production and profits from his crop, Idris is able to provide for his family without having to journey away from his village.
NEF offers workshops where hundreds of farmers like Idris have learned a variety of new skills to improve the management and sustainability of gum arabic-producing Acacia trees on which their livelihoods – and a substantial portion of the local economy in North Kordofan, Sudan – is based. This is no small matter when one considers that a large part of the world's supply of gum arabic, which is used in many everyday products such as soft drinks, comes from this region.
With his additional income, Idris is providing financial backing to his village to help advance their collective efforts to protect the Acacia woodlands from fire, arbitrary cutting, and improper harvesting practices.
At the NEF training workshops, farmers also learn new skills in other areas such as project and financial management. This is crucial to help farmers prepare to handle the increased revenue they may earn through better farming methods. We also share strategies on how to efficiently use micro-loan financing they may receive to support the planting of new crops.
NEF recently conducted four training workshops for over 425 members of Gum Arabic Producer Associations in Sudan. During the workshops farmers gained knowledge and had the opportunity to see the impact of the project's activities first hand through tours of local farms and communities where improved gum arabic management techniques have been put into practice.
With the success of farmers like Idris, word about the project and its benefits is spreading to neighboring villages beyond the project area. Local farmers are sharing the best practices they've learned to increase the quality and quantity of their harvest – and ultimately increase market value and profits.
Thanks to your support, more are more vulnerable farmers like Idris have the ability to better provide for their families and communities, and to help protect the sustainability of the natural resources they depend upon for survival. THANK YOU!