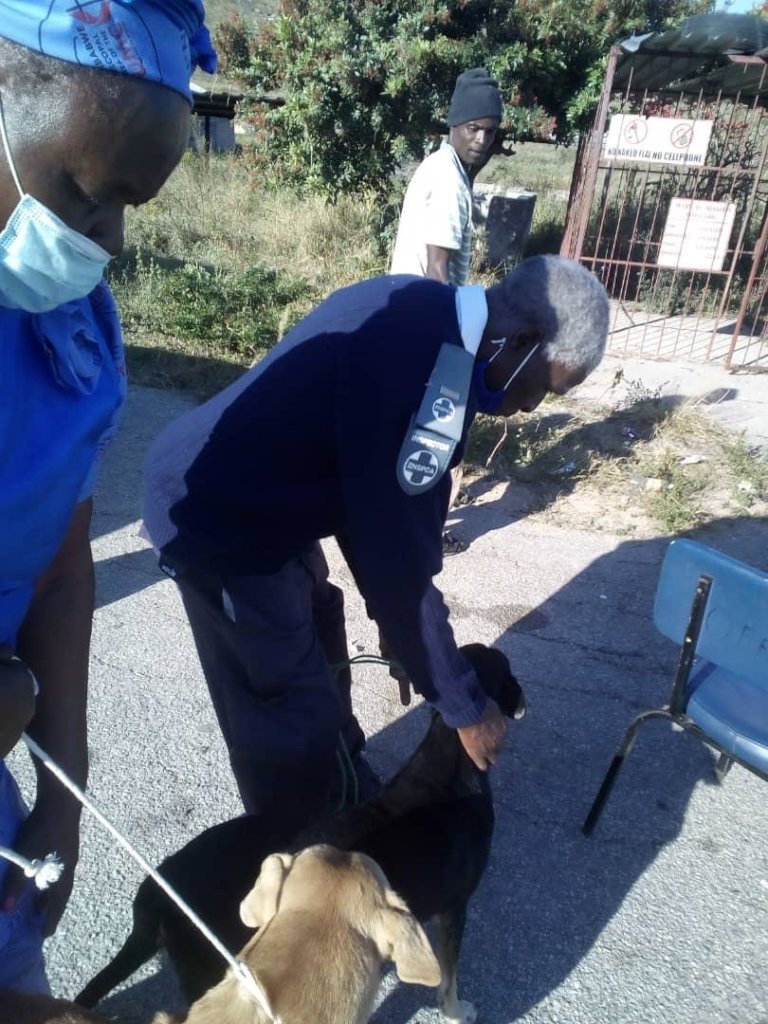 Mutare is in the grips of a very cold Winter.
Our kennels are not indoors, though each unit is under a roof, and there is a small area tucked away at the back behind a half wall. We desperately need more fleece blankets, so we can put bedding in the front and in the back area, as it can be very cold. We are fortunate that our outdoor space is large. All the dogs, if they are not dog aggressive, spend most of the day outside, where they can find comfort under the warm sun.
Our cats also get voluntary access to the outdoors through male and female segregated large outdoor cages. I always smile that we worked to get these garden spaces for their quality of life, but they still prefer watching the staff from inside, as the men go about their daily chores. But they do have a choice…..
Speaking of third world countries and their woes, ours seems too reel from bad to worse. The major dog meal producing factory, based in the capital city, Harare, is itself having difficulties to survive. They have always been good to us, providing us with the vast majority of our dog meal as a donation. They cannot keep up this commitment. We are so grateful for their generosity in the past that we cannot complain. Now it's up to us to step up and buy our own dog meal. Your funding through GlobalGiving is about to become critically important to us. Thank you SO much.
Weirdly, in countries that have strife, there are always "plans made." It may be hard for you to believe, but its cheaper for us to get a "runner" to bring us our requirements from South Africa. Work THAT one out! Catfood…. Cheaper to get an enterprising lad to go about 700kms on shocking roads, get through horrendously long queues of people at 2 border posts (1 Zimbabwe, 1 South African), shop for cat food and meds, then repeat the whole atrocious journey in reverse. Heroes in my eyes……
Our (your) SPCA was involved in a vaccination and education program last month. This time, instead of going rural, we joined up with the government veterinary department and town municipality to provide city communities with cheap vaccinations against rabies, and our role was more about education with pet care and advice. Our two Inspectors, William and Noel, did a job we were proud of. They went to every single site of the outreach, and dealt with hundreds of cases.
For our much loved animals, we continue to do our best. We had a serious case of suspected abuse. A dog chased and caught a chicken, (because she was starving), and the caretaker on the property is suspected to have meted out terrible revenge. She was collected by an observant and caring member of the public and taken to the vet. She arrived with us having a partial paralysis all down her left side. If we helped her to stand, she would fall hard. The recovery for this lovely dog was complete bedrest, some physio and lots of love and warmth. I did this at our home because it was time consuming. Named Penelope by her saviours, she took to love and attention like a bird to the sky, and we are happy to say that her rescuers have adopted her. Her disability is hardly noticeable at last!
Our beloved Rosie has been adopted. She was a street kid till we found her. She loves people, but HATES dogs (go figure). She seems to have no idea she is one. I shall miss her quirky way of waiting for me in a spot where I am able to prevent other dogs from being near the 2 of us, and she can relax as we share our loves. Fluffy Poppy was very popular with us all, so it was no surprise when she was chosen from all the other hopefuls. What a lovely dog she is. Confident and cheeky, she settled quickly into her new home. Photos depict a well spoiled and lucky little lady enjoying family life. Bruno won a home too, and it was thrilling for us because he was neither cute nor cuddly, and had been with us for more than a year. He will be a great little guard dog and family protector.
Two other dogs that were found roaming in town. In our care, we groomed the poodle, and bathed them both. They were never claimed. One is a Jack Russel and the other a Maltese Poodle. The awesome twosome were inseparable and we have luckily found a home together for them.
The lively Rhodesian ridgeback cross Collie we named Mungo,( after the famed explorer,) that we rescued from a snare in the game park has also got a home. He is neutered and ready for his new owner to fetch him. Snares are taking a huge toll on our unfed and uncared for hounds. It may be a status symbol to own a dog, but looking after that dog obviously not. We rescued another dog on Tuesday, and failed in the rescue of two others this week. Too late to save them…… sadly. Snares are set by people hoping to get bush meat from the few remaining antelopes in the game park. If you saw an animal dead or dying in a snare, and the evidence of their fight to escape the wire noose, you would understand our antipathy.
We homed 2 cats and 5 kittens as well, and the Pig has moved on too as it was a legal issue. On the whole, we are happy that we have had some success with adoptions.
In 3 days, SPCA-Blue Cross begins unless we suffer a lock down. This unique marathon of 500kms takes us from the lowest to the highest point in the country. It starts in one game park, and ends in another. There are no prizes or monetary advantage for speed, but only trophies for things like the spirit award, or most funds raised for the SPCAs of Zimbabwe. It's VERY special and we absolutely love being involved in the running of the event. I am doing it with a team of friends in a relay, and cannot wait to get out on the remotest of rural roads for 9 days for a cause that is deeply precious to me. Any sponsorship for me can be sent via this wonderful forum, GlobalGiving, who gave us a route to survive as an animal sanctuary in a poverty stricken country. 100% of funds I raise go to the MUTARE SPCA.
Thank you, and please adopt, don't shop!