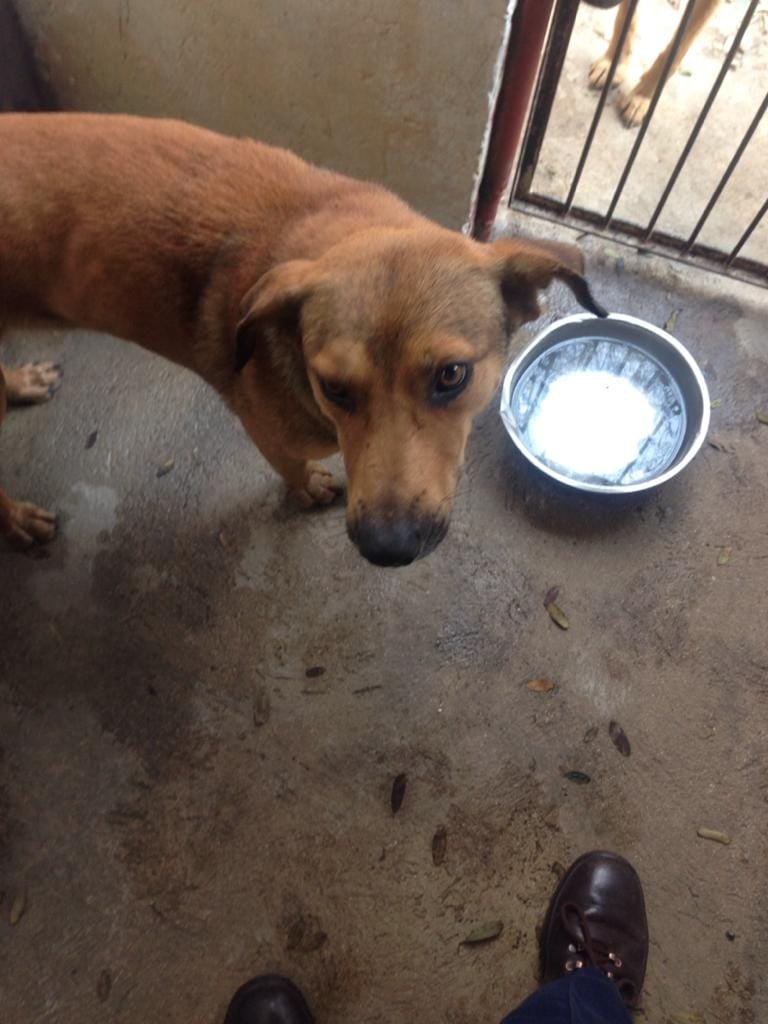 HE AINT HEAVY, HE'S MY BROTHER, so on we go….
Wherever you are in the world, the moon is full tonight. This we have in common.
But nature's soundtrack makes each place unique. Here in Zimbabwe, the Fiery-necked Nightjar bird will call all night, declaring a territory to share with its mate. We liken his song to the words "good lord deliver us." Maybe it's what we all need. Deliverance: From Covid19? Sad governance? Poverty? Hopelessness? Cruelty? Tonight the bright moon casts ghostly shadows, until we awake to the first Heuglins Robin's strident song. But what would life be like without the universal conversations of dogs, that animal that has chosen people to befriend? Happy yapping, excited squealing, sad howling.....
For 24 hours, a dog had howled for help from the bush outside Mutare, and when we at the SPCA were made aware this morning, we took just 20 minutes to get on en route, equipped to save him from a brutal snare, if we could actually locate him. We did, and he was irrevocably anchored by lethal wires to a long heavy branch. Twisted strong wire choked him as he flayed around in a struggle to be free. 24 hours of fight had left him exhausted and thirsty, but fortunately not suffocated. Luckily David had leather gloves, Charles had wire cutters and Inspector William experience and calm. Together, they saved that dog, and he in turn, knowing they were his rescuers, wagged his tail in typical dog forgiveness. Carried back to the car, he is now at our sanctuary, until his owner can be found.
How lucky are we to work with domesticated animals? People think it's a sad work. For certain, we have very sad times, but we have enough happy moments to help us thrive. Yesterday, we collected from the city Main Street a handsome German Shepherd dog in danger of being run over. His worried owner fetched him almost immediately. Success!
In the cattery, there are THREE delightful young cats ready for their new home. Two are spayed, one will be in a few months. The resident cats bossily preside over the cattery, and are free to roam throughout the SPCA premises. The male and females are separated if necessary, but for some odd reason, we have only girls at the moment. A green eyed, black cat we rescued has been unable to trust yet, but, blow me down, a quiet squeak from an elevated basket betrayed the presence of her two newly born kittens. It's a cold day, so I left her curled around them, and I hope the care we provide helps her to know love herself.
A few weeks ago, we were called about a stray dog. A common enough callout. Could the SPCA come the 200kms to collect her? With lockdown, fuel and finance shortages and the harassment at the Police road blocks, we needed time. The good news was that the young dog was becoming friendly at her awful food source, the rubbish cage outside a store. Then a photo of this little crippled dog arrived, and we were off like a shot. The journey South was as Africa-beautiful as ever. Endless kopjes, dry orange and yellow leaves on the Mopane trees. Lines of blue hills as far as the eye can see. Past quaint, yet chaotic villages as Hot Springs, Birchenough Bridge, and the remarkable baobab trees of Tanganda Halt, with its feisty river. In Chipinge, Tash, our contact had been able to pick up the dog, and she had her in the car. So there she sat, that little dog. Smaller than I expected, with a terribly deformed left front leg, dirty from her lifestyle, but as engaging and cuddly a dog I have yet to meet. The little girl slept soundly the whole way back. It was bitter-cold in Mutare, so I brought her home to foster her for ONE NIGHT. Crippled as she is, that night she could not support herself on our slippery floors, and fell legs akimbo, relentlessly. She paid no heed to our other dogs, just wagging her tail so hard they could not be mean. Henny Penny accepted her warm bath, transforming her into a very pretty girl. I have NEVER known such a clever dog. She took to home-living as those Kardachians took to celebrity. She quickly learned how to scale the stairs, jump on the bed, and housetrain.Shes one in a million and she scored a great home at Ann Bruce Backpackers. Long walks, love and loyalty are hers at last. Her deformity is inoperable, short of amputation.
Our town is blessed to have troops of rather naughty and very conniving Vervet Monkeys. However, crossing roads in numbers makes for real danger. Since my last report we have responded to 3 calls for Monkeys in trouble. Remembering they are wild, and often maltreated, I spent some hours trying to save one that was hardly moving. When I finally picked her up, she surrendered gently, knowing we were helping her. At the Vet's office, she was treated and provided with warmth and quiet. Giving her time to heal was not enough, sadly and she was released to suffer no more. We had one more success, with release to freedom and one more failure, when the baby Monkey had died when we got to it.
This week Inspector William headed North to respond to a report of starving cattle. This heart-breaking scenario happens all too often. Choosing to work with the owner, he advised that their situation had to urgently be rectified, and we have heard that at least they are getting access water, and wild grass has been provided. We will revisit in three weeks, to see if the other criteria have been met. They have been warned to release them daily under supervision of a herder from the desert of a paddock to feed and drink. He also went to search for a horse that has been spotted wandering on the access road to Nyanga Village, with no success sadly.
If you look at our last report, dear creamy Mungo has got a home now along with a gorgeous GSD youngster to a good and understanding home in the Vumba mountains, at the same plot where our goats and some cockerals were re-homed, so an SPCA satellite of sorts. These are our best of times. I am including a pic of a very loving pup who had excruciating mange. The sight of her made it unlikely she would attract love, but she DID! She lives in the misty mountains at Ntanga Downs. Finally Thomasina, pictured in the last report, was chosen for a great home in the Chimanimani mountains of Cyclone Idai's tragedy. She has the life we would have handpicked for her now. It may sound like it is easy to home dogs and cats, but nothing could be further from the truth. Its rare, and difficult and gut wrenching. And we have so many homes to still find. The saddest case on our books is that of Joanie. This walking skin and bones was spotted in her daily search for food, but she could disappear as by magic. Finally she was followed to a drainpipe and when the SPCA climbed down there, she was guarding 8 little puppies. There followed a somewhat traumatic save, as she fought us. That winter night they were all brought to the SPCA. Not all the puppies stayed the course, sadly, but on my word, the survivors are the very embodiment of cute. Joanie is taking a long time to become friendly, but we have the time. We are committed to her future. Please all send the hope of homes for them all. They are worthy.
Mutare SPCA works relentlessly to provide sanctuary and faith. I hope you can see that in us all.
So stay safe all! I have had Covid now, and was lucky in that I wasn't aware I had had it till I had a positive test. I wish the same for all if you contract it. While a cure is sought, I did well with Vitamin C, Zinc and a long sunny walk daily. I did not spend a day in bed. My husband had painful arms and malaise. Don't be too afraid, but don't take risks either.
Thank you for being in our corner. Thank you for keeping the faith in us. Focus on the real…. Focus on doing good, and never overlook a dog or cat that needs your help. Thank you.
He Ain't Heavy, He's My Brother
The Hollies….Thank you guys!
The road is long
With many a winding turn
That leads us to who knows where
Who knows where
But I'm strong
Strong enough to carry him
He ain't heavy, he's my brother
So on we go
His welfare is of my concern
No burden is he to bear
We'll get there
For I know
He would not encumber me
He ain't heavy, he's my brother