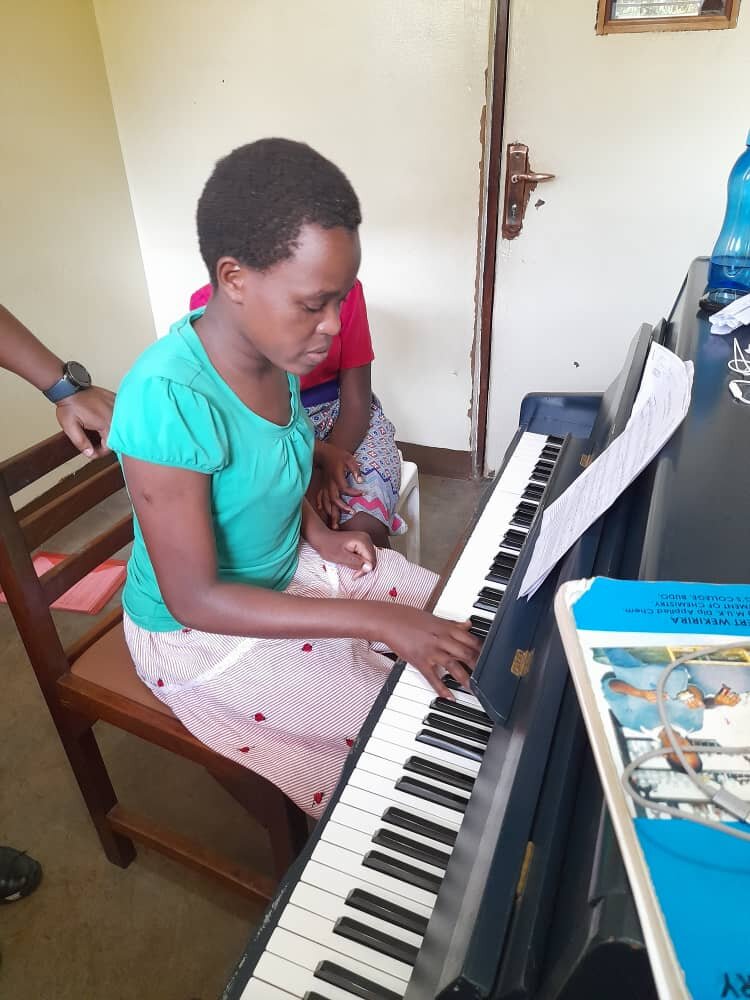 KMS Celebrated her anniversary in late October with several concerts, with many students participating in a celebratory concert series. The concert series included Smooth classics on the hill, the Garden Party and the Gala event at the Sheraton hotel to cap it all.
The Garden party was a chance for many KMS students to participate and showcase their talent. In addition, those who are part of this project took part. The final concert saw the premiere of a concertina for Clarinet and orchestra by one of the bursary students, David, a violinist. He was one of the first students to benefit from this project, and his piece took centre stage in the main Anniversary event.
Akena, who is preparing to do his performance Grade 4 ABRSM exam, played a couple of pieces. His sister Atim too, performed. She has been showing an affinity for learning quickly and memorising. She showed this skill by performing some pieces, including a Bach Prelude at the Garden party, which is challenging to memorise. However, she has consistently demonstrated a side in which she is self-driven and eager to learn.
Ian is very energetic and determined and is currently working on a Haydn trumpet concerto. Performed this as a solo item at the Garden party to great acclaim. He would also later play with the Junior Orchestra and was very helpful in helping with the organisation of the events.
Joy, a voice student, continues to steadily improve her skills, with excellent forward strides in singing in a foreign language. She is preparing to do her Grade 7 Exam. Joy recently showcased her incredible performing skill in the Black History Month concerts by the US mission. She is currently helping out with students of Gayaza High School and Galaxy International school with vocal skills.
Preparing for her grade 5 exams, Irene was featured in celebration concerts for a retired performance professor Adolu Otojoka of Makerere University. She, like Joy, was a part of the Black History month celebrations by the US mission.
The eventful and colourful week drew to a close, and it was beautiful to celebrate students' achievements and see the future of the students featured in the events. It showed that KMS had achieved a lot, but more will be possible in the future.
We are therefore very thankful for your continued support. We hope you will join us on Giving Tuesday on the 29th of November. Donations on that day will attract a portion of the Incentive Fund made possible by GlobalGiving, thus making your funds run further.