Project Report

| Sep 20, 2022
International Women's Day celebration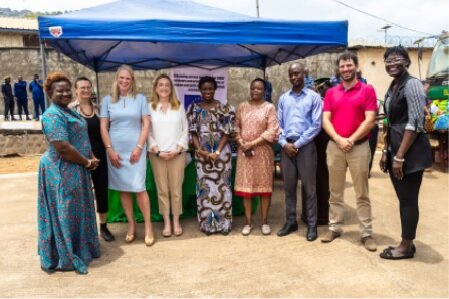 To join the International Women's Day celebration, AdvocAid organised an event in the Freetown Female Correctional Centre in March 2022. The event counted the presence of dignitaries like the British High Commissioner, the Irish Aid Ambassador, CPS, several Stakeholders like Women in Media Sierra Leone, representatives from the Ministry of Gender, and the Sierra Leone Police Force.
"Imagine a gender equal world.
A world free of bias, stereotypes and discrimination.
A world that's diverse, equitable, and inclusive.
A world where difference is valued and celebrated.
Together we can forge women's equality.
Collectively we can all #BreakTheBias."
As this year's theme was "Break the bias," the event aimed to increase understanding of the effects and social impact of gender bias, articulate possible strategies that different stakeholders can apply to eliminate gender bias and create wariness on available psychosocial support systems for women and girls detained in correctional centres.
During the event, the British High Commissioner stated that breaking the bias brings attention to the norms, traditions, and gender imbalances women experience in the private and public sectors. She highlighted the challenges women face in correctional centres, specifically related to the lack of proper sanitation for them and their children. She emphasised the need to align the conditions of the correctional centres with international standards in order to provide adequate treatment to women in detentions. Additionally, she remarked on the need to create opportunities for women so they can sustain themselves after being released.
After that, two formerly incarcerated women that work with AdvocAid, shared their life experiences before, during, and after incarceration. They covered aspects of reintegration in their communities, creative, supportive structures for families of incarcerated women, and available economic opportunities upon release.
To finalise the event, there was an auction, where women sold the supplies they made in the correctional centre, with beads and other materials that AdvocAid provides.
Your donations allow us to continue supporting these women - Tenki.