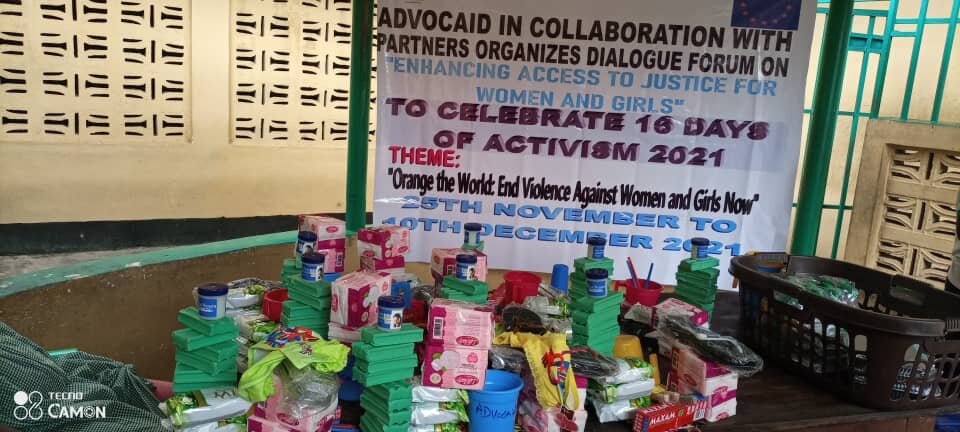 Every year, the period between 25 November (International Day for the Elimination of Violence against Women) and 10 December (Human Rights Day) is known as the 16 Days of Activism. It is a period for organisations and individuals to come together and collectively raise their voices to demand the prevention and elimination of violence against women.
AdvocAid uses these 16 days to raise awareness of the rights of women in inarceration, and in December 2021 undertook a series of events in Freetown, Makeni, and Kenema to both support women currently incarcerated in Sierra Leone's Correctional Centres, as well as bring decision makers together to hold formal dialogues on how to make justice available to women and girls in Sierra Leone.
In the Correctional Centres, we were able to distribute hygiene kits for 85 women. This is needed because it is hard for women to get hold of the basic amenities they need for themselves and their babies, which naturally affects their mental wellbeing. The kits inlude items like soap, laundry powder, sanitary towels, deodorant, and toothbrush/toothpaste.
We also used the distribution of these kits as an opportunity to provide a legal education session to the women in the three centres. This is an important element of support to provide to women in incarceration, because all too often, they are incarcerated due to a lack of information about their rights. This leads to women doing things like paying to secure bail when asked (because they don't know that it is free), or signing false confessions because of being illiterate.
We held these sessions in partnership with the Ministry of Gender and the Correctional Centres.
Following the distribution of these kits and training sessions, we held a Christmas celebration for the women, including music and the handing out of lappa's - a long piece of fabric tied around the waste. In Freetown, we were able to leave the celebration karaoke set and speakers with the Correctional Centre as a donation to provide the women with an activity to support their ongoing mental wellbeing. "We do not have anything here for recreation and this is affecting our mind."
AdvocAid campaigns for Sierra Leone's Correctional Centres to be able to provide the specific support that women need, but until this is happening, it's vital that women receive sanitary and hygiene items for their health and wellbeing. On behalf of the women and girls we work with, thank you for your contined support. Each and every donation helps us provide women and girls with the support they need to improve their wellbeing.