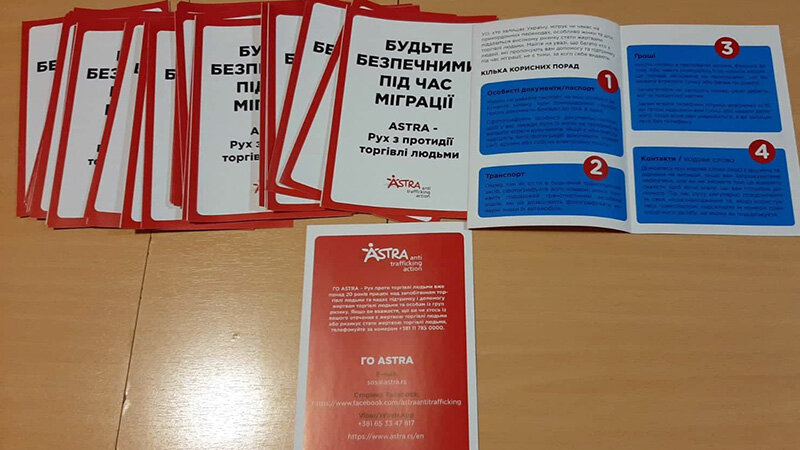 More than 13,000 citizens of Ukraine have passed through Serbia since the beginning of the war on Ukraine's territory, while more than 6,000 are still in Serbia. Most of them are located in reception centers. The reception camp in Bujanovac near Vranje is mainly specialized for migrants from Ukraine. According to our information, most of the people in the camp are children and women. Also, some children travel unaccompanied. Many refugees in Serbia are here independently, i.e., they found temporary accommodation on their own.
The influx of refugees has mobilized not only humanitarians but also many traffickers and smugglers, who are trying to make money by exploiting this particularly vulnerable group. Immediately after the beginning of the war and migrations from many border crossings, there were reports that human traffickers were noticed in the border area. Women and children are especially at risk. That is why ASTRA has developed information flyers in Ukrainian intended for safe migration and protection from human trafficking and disappearances of children with contacts for case reporting, help, and support!
To distribute information leaflets to those who need them most, we contacted the Embassy of Ukraine in Belgrade and activist organizations and groups working with refugees. We forwarded part of the material with the help of women's and human rights activists at the border crossings between Ukraine and Poland, bearing in mind that the influx of refugees from Ukraine to Poland is the largest. With the help of organizations from the south of Serbia, we distributed the rest to the reception centers.
We learned from the staff of the Ukrainian Embassy that most of the migrants from Ukraine who are currently in Serbia are in transit and intend to continue to one of the countries of Western Europe or back to Ukraine, to cities where there are no war conflicts at the moment.
For now, there are no identified victims of human trafficking originating from Ukraine on the territory of Serbia. However, we will find out the real consequences of this war conflict in this sense only much later.
LINK PDF protection against human trafficking: https://drive.google.com/file/d/12iaNMK0-328nMUHSsrzmKoEWv0xMQgg3/view?usp=sharing
LINK PDF reporting missing children: https://drive.google.com/file/d/1fryBP3R3EnqDlR6ewAxd1qmEVVN7Z8-H/view?usp=sharing