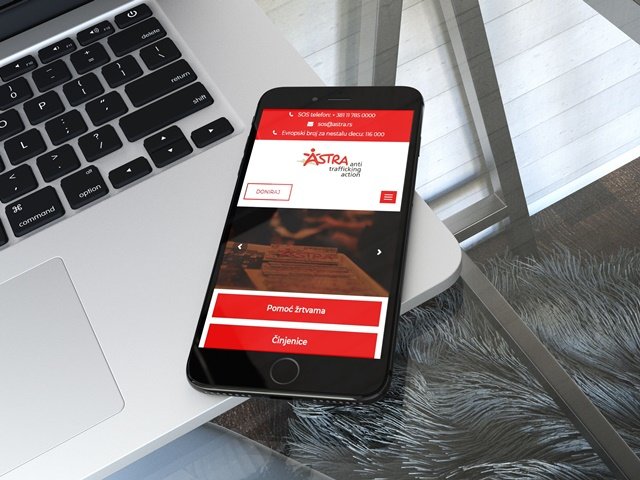 Summering up the achievements of the current year, regardless of unfulfilled plans, the feeling that you have helped someone is priceless and the most important thing that it counts at the end.
A few months ago we received a phone call from a young foreign woman who is a victim of human trafficking and who was forced to move to Serbia. She had to run away so that the trafficker, a cruel and violent criminal who was following her wouldn't find her. ASTRA consultants have to act quickly and calmed her down since she was completely alone and very scared for her life.
Namely, one cold morning, this girl, a survivor of human trafficking arrived in Serbia and wandered around the city alone for the rest of the day. While she was having coffee at some café, an unknown girl noticed that she was in distress, so she started a conversation. After she told her story, the girl referred her to ASTRA by giving her the number of our SOS telephone. The same evening, we met in the city center and had a very long conversation. We were trying to calm her down and told her that we and our associates will help her and support her through the process of reintegration and recovery. Then we talked about different accommodation options and places where she could feel safe and we found a proper hotel room, near our office where she stayed this night. Since she hadn't brought anything to Serbia, we gave her some clothes, as well as some other useful things to start with. In the meantime, with her consent, we were contacted Safe House to check if is possible to accommodate her there and luckily they confirmed that they could, so we agreed that she may come there.
The next day she came to ASTRA's office. She was a bit calmer and she was truly thankful for everything. Regarding the situation and positive feedback about accommodation, we accompanied her to the Safe house where she was taken care of.
After two months, she re-established contact with the family who didn't know where she is. Also, she starts to go to the psychological counseling and included in activities and daily routine which gave her stability and bring back hope that everything will be fine again. She's interested in some courses (sewing course or course for hairdressers) and ASTRA together with other organization will continue to provide her support during the process of reintegration.
When the survivors of human trafficking feel safe and free to do what they really want, our main goals are fulfilled. With a little help and the support from all of us, they recovery can be easier and much faster they can be empowered to take life into their own hands.