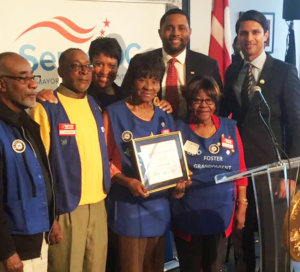 United Planning Organization's Foster Grandparent program was honored by DC Mayor Muriel Bowser during the Mayor's Day of Recognition for National and Community Service. The Foster Grandparent Program provides fulfilling volunteer service opportunities for individuals 55 years and older. This program is an opportunity for seniors to give back by sharing their experience and wisdom with children who value and cherish the lessons. This program operates at 48 locations in the District of Columbia and includes early education centers, public and charter schools, before and after-school programs, as well as youth programs. We are proud of the commitment and service offered by our grandparents and thrilled to receive recognition from our Mayor. See attached photo.
Several months ago more than 5,000 women gathered in DC for the United State of Women Summit! The day-long event, held at the Convention Center, was followed by a Day or Service which offered UPO's Foster Grandparents an opportunity to participate at Excel Academy Public Charter School.
Alongside Summit attendees, the UPO Foster Grandparents prepared summer enrichment backpacks and helped the students create vision boards based on the Summit's pillars. Students in grades 3 – 7 were provided with two summer reading books from the academy's suggested reading list, art project materials and a special note from First Lady Michelle Obama! Next, students in grades 5 – 7 participated in a vision board mentoring activity. Attendees of the Summit engaged the students in conversation on topics discussed at the Summit. After the attendees shared lessons from the Summit, the students created vision boards to display how the topics applied to them and shared lessons they wanted to remember. Summit pillars discussed included: Economic Empowerment, Educational Opportunity, Entrepreneurship and Innovation, Health and Wellness and Leadership and Civic Engagement. See attached photos of Women Summit activities.
UPO's mission is to Unite People with Opportunities. UPO's Foster Grandparents program provides meaningful volunteer opportunities for persons aged 55 and older to engage in daily activities and provide services to children from birth to 21 years of age, to support them on their path to become self- sufficient members of the community. Annually UPO Foster Grandparents provide more than 150,000 volunteer hours serving more than 15,000 socioeconomically disadvantaged children.
Ten additional educational institutions are seeking to join the UPO Foster Grandparents program. Furthermore every current partnering volunteer site has requested additional Foster Grandparents. UPO has a waiting list of 100 seniors applying to be Foster Grand Parents. Additional funding is needed to meet the demand. Thank you for your support to-date. We need substantially expanded support to reach our Goal of $11,500. You have demonstrated that you care. Please help by sharing this report with your friends by email and on Social Media.