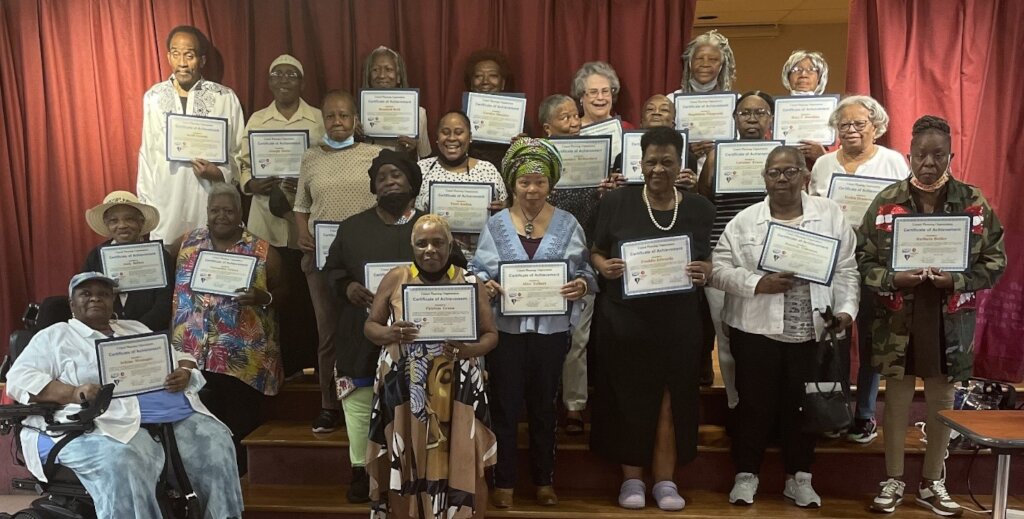 103 Computer Literate FGP during past year!
Thanks to your generous contributions to the Little by Little Campaign in April 22, we exceeded our fund raising goal of $5,625, raising $6,082. We were able to train 28 Foster Grandparents, who successfully completed the 10-week computer literacy course and received their certifications at the Graduation Ceremony on June 24, 2022. See the Graduation picture attached of 22 proud Foster Grandparents. Unfortunately 6 graduates were unable to attend the Graduation. Thank you so much!
Over the course of the training classes during the past year, during which 103 Foster Grandparents have graduated, it has become evident that smaller class sizes of 8 to 10 will increase the graduation rates. The program is committed to providing computer literacy for all 200 of our Foster Grandparents.
Additionally, we will offer refresher courses and courses to address specific areas:
Foster Grandparent service within the classrooms demands a familiarity with classroom computer software that supports daily classroom goals.
Those that serve with online programs which specifically target reading skills requires another level of training to improve their ability to navigate between teacher and student screens as well as input progress notes and reports related to the online platforms.
Another target or refresher course will specifically target skills related to managing medical needs, social security administration interface, shopping, and online dangers such as scams, keeping information secure and password management.
Our goals over the next 3 months is to offer and successfully complete:
A 10-week full basic computer literacy training for 25 more Foster Grandparents at a cost of $5,625
3-day targeted mini training for Grandparents of basic literacy refresher, supporting student computer academic software, internet navigation, scams and social security on-line services for 20 students at a cost $2,000
15 @ $150 Targeted mini 5-day trainings – medical care management, social security, online academic enrichment program software for 15 students at a cost of $2,250.
We are pleased to announce that we will have another great opportunity to make your dollars go further: GlobalGiving's September 22 Little by Little Matching Campaign will be running from Monday September 12, 2022, at 12:00am EDT until Friday September, 2022, at midnight EDT.
During the Little by Little Campaign, GlobalGiving will match your donation of up to $50 with a 50% Match, i.e. an additional $25!
The Little by Little Campaign is a month and a half a way but you can benefit from the match being offered by starting early and starting a recurring donation of $50 for 4 month any time between August 12, 2022 and August 16, 2022.
Your September payment, between September 12, 2022 and September 16, 2022 will earn the Little by Little match of $25 and after your fourth payment of $50, between November 12, 2022 and November 16, 2022 you will earn a bonus match of $50, i.e. a total of $275!
Your continued generous support of our program will help our UPO's computer literate Foster Grandparents team reach 200 members, equipped with the enhanced skills they need to mentor and tutor the DCPS students they work with efficiently and with love and care.