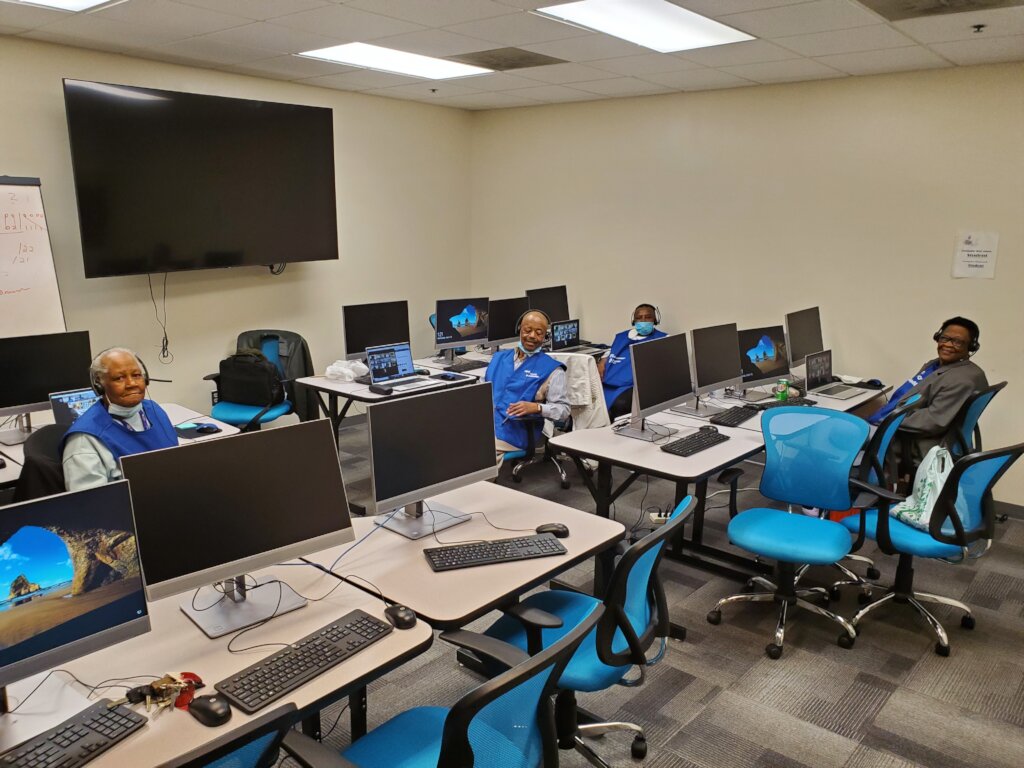 In this new world of COVID variants continually coming and going students in DC Public School (DCPS) have had to become savvy and are doing more and more computer based learning online, whether working from home or in class when it has been safe for them to do so.
During the summer of 2021 we launched an intensified training program for UPO Foster Grandparents in computer literacy and social-emotional development to enable them to more effectively mentor children who need the most help with social-emotional skills, math, reading, and physical development. Thanks to your generous support we have now successfully trained 75 Foster Grandparents who are now comfortably able to work online with the students who need their help.
These trained Foster Grandparents have acquired a skill they never dreamt they would have and are excited about their ability to communicate with the young students in this way. One Foster Grandparent remarked "I am so grateful for this class, I can be a part of a world I had no way to enter. Thank you…not only can I work with my students in a new way but I can see my doctor too." Another Foster said, "I love learning … with my eyesight failing, this computer training] will allow me to support the Foster Grandparent program and myself from home." The training program provides computer lab space for those who need more assistance or have unreliable internet service.
During the next three months our goal is for 25 more Foster Grandparents to complete the computer literacy training program, which will give us 100 fully trained Foster Grandparents ready to help teachers and their students when schools re-open for the 2022-23 academic year, by mentoring each child based on their individual needs. Additionally through our partnership with Reading Partners online and in class components Foster Grandparent will provide valuable educational support during the summer.
We are pleased to announce that we have another great opportunity to make your dollars go further:
GlobalGiving's April 22 Little by Little Matching Campaign will be running from Monday April 4, 2022, at 12:00am EDT until Friday April 8, 2022, at midnight EDT.
During the Little by Little Campaign, GlobalGiving will match your donation of up to $50 with a 50% Match, i.e. an additional $25!
Special Bonus: a $50 donation made during the Little by Little Campaign, followed by 3 more recurring donations of $50, will earn the 50% Campaign Match, plus a $50 Bonus Match, i.e. a total of $275!
The cost of training each Foster Grandparent to become fully computer literate is $225. The cost of training 25 FGP will be $5,625, which will be our Campaign Goal.
Please help us raise $5,625 to meet our Campaign Goal of training 25 additional Foster Grandparents, which will help our UPO's computer literate Foster Grandparents team reach 100 members,equiped with the skills they need to mentor and tutor the DCPS students they work with efficiently and with love and care.