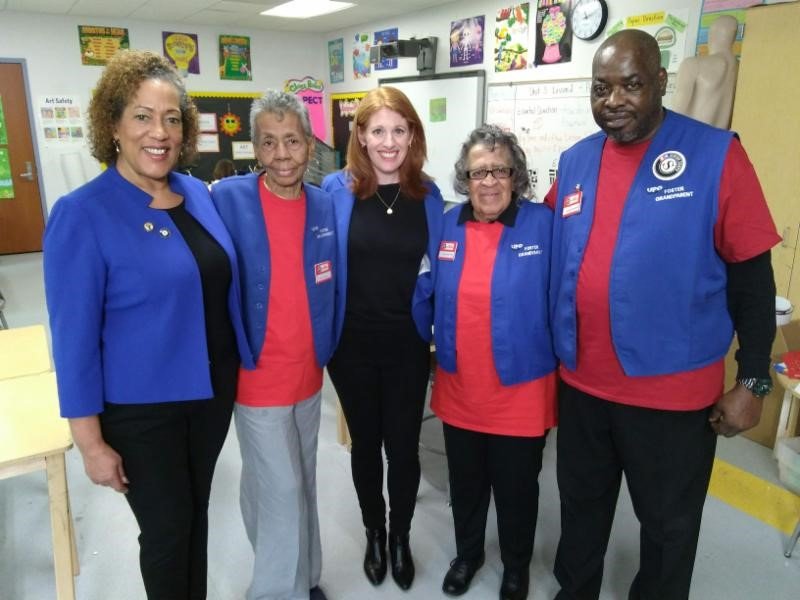 Cheryl Christmas, Project Director of UPO's Foster Grandparents program has joined the Senior Corps Steering Committee of the Corporation for National & Community Service. This organization runs the nationwide Foster Grandparent network; the Steering Committee shapes the content of the network's training programs. She said, "I look forward to sharing UPO's strategies with my colleagues across the country as they tackle program issues and position themselves for future trends."
When Washington Post reporters went to DC schools, they kept seeing UPO Foster Grandparents in their blue uniforms. Finally, they asked about our program that brings seniors into classrooms to become mentors; they were so impressed that reporter Perry Stein wrote about two of our 200+ volunteers in the main story of the Metro section on October 29th last year. We shared this article with our FGP supporters in our Giving Tuesday Program Report on November 26th last year. Immediately, several other media outlets started calling us to do their own stories about the love and wisdom of our Foster Grandparents. Here is the latest one!
Last month on Valentine's Day, ABC News showed how children and their UPO Foster Grandparents combine love and learning in the classroom. ABC reporter Karen Travers interviewed the principal of Ludlow-Taylor Elementary and a teacher about the profound impact on students. Grandpa Raspberry, Grandma Lewis, and Grandma Bates also gain from the connections: "This brings me joy. It keeps me young," said Bates (age 95). She was also recognized by DC Councilman Robert White for her dedication to UPO and DC Public Schools. See attached Video, which documents ABC's visit to Ludlow-Taylor Elementary.
UPO's Foster Grandparents provide critical mentoring and tutoring services daily to DC children from birth to 21 years of age in a variety of local settings. Help is needed to cover the cost of training, materials, uniforms, and daily travel for more than 200 low-income DC senior volunteer FGPs. The program improves the long-term health and well-being of senior volunteers and circulates seventy cents of every program dollar into the local low-income DC communities that our volunteers and students reside. With a mission to Unite People with Opportunities, UPO's Foster Grandparents offer the right mix of academic acumen and nurturing and give much needed attention to over 15,000 low-income children in Washington, DC.
We have a waiting list of 100 seniors to be FGPs, 10 educational institutions seeking to join the program and every current partnering volunteer site has requested additional FGPs. Your generous donations will help the UPO Foster Grandparent Program, now nationally recognized as one of the pacesetters in the field, meet these additional needs.
Links: