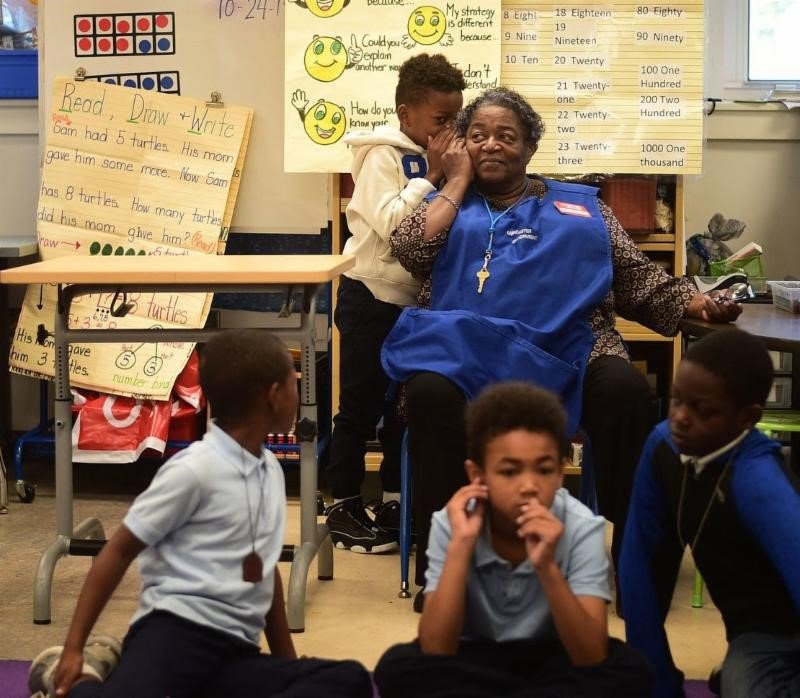 UPO's Foster Grandparents (FGP) Program trains low-income Washington DC senior volunteers to provide critical mentoring and emotional support to District children in a variety of local settings. The program operates at 60 locations in the District of Columbia and includes early education centers, public and charter schools, before and after-school programs, youth programs and hospitals.
Annually, more than 200 Foster Grandparents put in more than 175,000 volunteer service hours – working one-on-one or in small groups mentoring more than 15,000 DC children.
Foster Grandparents serve where the need is the greatest and because of this, our youth receive tremendous academic benefits alongside life-changing personal development. The program provides fulfilling volunteer service opportunities for seniors 55 years and older giving them an opportunity to give back by sharing their experience and wisdom with children who value and cherish the lessons.
The Foster Grandparents Program sponsored by UPO is funded by the Corporation for National & Community Service Senior Corps (CNCS). CNCS, a Federal Government Program that provides grants to organizations committed to strengthening their communities through volunteer programs. Cheryl Christmas, Project Director of UPO's Foster Grandparents program, which is considered to be one of the exemplary FGP programs in the country, has recently joined the CNCS Steering Committee and will sharing UPO's successful strategies with colleagues across the country.
The funds raised by Support UPO's Foster Grandparents Program helps us to cover the cost of training, materials, uniforms, and daily travel for more than 200 low-income DC senior volunteer FGPs. These expenses are not covered by CNCS.
From April 8-12, GlobalGiving will match donations up to $50 at 50%, with $50,000 in matching funds available. UPO through the tremendous support of our donors has earned GG Superstar Reward Status and will be awarded an additional 10% match on eligible donations!
This wil be our week to celebrate the power of the crowd and demonstrate that small donations add up to BIG change! See how much your gift of up to $50 can help! A gift of $50, will earn a $30 match, becoming $80!
So please take a moment to renew your Support of UPO's Foster Grandparents Program by making a "Little" donation to our Little by Little Matching Campaign, which will run from 9:00 am EDT on Monday, April 8, 2019, to11:59 pm EDT on Friday, April 12, 2019.