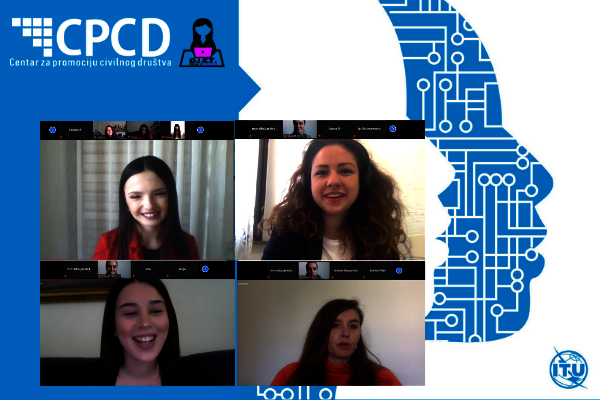 The Center for the Promotion of Civil Society (CPCD) continued on promoting girls in Information and Communication Technologies, despite the COVID-19 crisis.
After successful Hour of Code 2019 closing ceremony, organized on January 25th 2020, educational Girls in ICT workshop held on March 9th 2020, CPCD organized an online event for the purpose of marking the International Girls in ICT Day on April 23rd 2020.
The virtual discussion was held on the topic of Artificial Intelligence and Digital Marketing. 45 girls aged 13-18 who are interested in taking up a career path in ICT or STEM fields participated in this discussion. The speakers were Jasna Nuhic – Business Development Specialist from ZIRA company, Ena Zunic-Cejvanovic – Data Scientist at the Ministry of Programming, Amina Muzurovic – Mobile Developer at Mistral, and Latifa Imamovic – Marketing Manager of Klika company.
Regardless of the fact that no in-person events could be held at the time, CPCD decided to continue on supporting girls who are showing deep interest for this field, as it presents an important factor for the reaching of gender equality goals in STE(A)M areas. The participants have shown probing knowledge of ICT related topics and interest in continuing their education in ICT or similar sectors. They were additionally motivated by the speakers. Jasna Nuhic presented them with the application of artificial intelligence for medical purposes, Ena Zunic talked about her work at CERN and data science combined with artificial intelligence, Amina Muzurovic touched upon target marketing, personalization of content and provided a connection between ICT and our daily lives. Finally, Latifa Imamovic offered a perspective of artificial intelligence from a marketing perspective.
After short presentations by the speakers, attendees asked questions on how to embark upon a path of ICT if you are a woman or how to succeed in ICT as a girl. The speakers offered an answer which the girls deemed the most inspirational moment of the event – the key of success in ICT is in challenging yourself, not paying attention to what other people say or do. Numerous girls commented on the lack of female representatives of the ICT sector in Bosnia and Herzegovina and asked for the contacts of the speakers so that they could assist them in their further careers.
The goal of this event was to inspire girls to do what they like – and never give up on their dreams. It was a truly remarkable experience which bred amazing results and networking.
Thank you for supporting us!