Dear HOPE Supporter,

We are excited to continue sharing the HOPE 2021 Annual Report written by HOPE Program Manager Lucia. Keep reading for the final part of the HOPE Annual Report starting with participant updates.
Victor | Horse partner: Mu'er, Hei'shan

It is incredible that the boy who typically had a mobile phone playing music in his ear six years ago has now become HOPE's most independent rider.

2021 is Victor's sixth year of taking lessons with HOPE. With gradual progression and additional skills, Victor has made many breakthroughs this year. In the spring season, Victor took only 6 lessons to fully master the balancing skill of completing a "circle around the world" during the horse's walk and partnered with Mu'er to represent HOPE in the Horse Show hosted by Oriental Equestrian Club. Then, together with his old partner, Hei'shan, Victor has started the road to becoming an independent rider.
At the walk, he gradually improves and manages balance movements such as "jumping position". He works hard to practice rising trot, from a few strides to a full circle, and he has fully mastered the transitional skills of asking the horse to walk and halt and can now make simple turns without a horse handler.
And Victor's concentration on horseback has improved significantly year by year, and he no longer needs "deep pressure" exercises to slow down his excitement. He has also made progress in mounting and dismounting. With only a few verbal reminders he can independently mount the horse on the mounting block and dismount in the center of the arena without assistance. We are so proud of Victor in his pursuit of independence and improved skills.
Xiaole | Horse partner: Tank

This year he stood up in the stirrups while riding for the first time.

After taking a break from riding, Xiaole restarted his equestrian classes with the horse Tank as his new partner. The biggest improvement this year was being able to stand up in the stirrups independently. Standing with some assistance from a sidewalker when the horse halts, and finally being able to stand up on his own while the horse is walking and hold on for 20 seconds. This is a remarkable achievement and huge progress for Xiaole.

In 2019, Xiaole had practiced throwing small balls, which laid a good foundation for his upper body control and movement. Even with a break, this year Xiaole played horse-basketball game very well. One of the most difficult things for him is to grasp a smooth ball the size of his palm, so by playing horse-basketball he not only has fun but continues to work on his left-hand grasping ability. In May, he also represented HOPE in the Horse Show hosted by Oriental Equestrian Club.

Xiaole is always tenacious and optimistic. In each class, he will try his best to complete the objective, and he will never give up if he does not achieve it that week. Tank, with a stable and strong back, and steady and dynamic pace, supports Xiaole and helps him relax, making him the best horse partner for Xiaole.
2021 Donations from the Enterprises/Social Organizations

85% of the operating funds of the HOPE project come from donations and the support of people from all walks of life. The companies that donated with love in 2021 include:

German Bazaar, Rotary Club of Beijing, Rotary Club EAST, Western Academy of Beijing, NOLA Band, Jiashi Foundation, Ai'mashi Equestrian Training Co., Ltd., Decathlon Sports Development Co., Ltd., Beijing Xiwu Country Equestrian Club, Tencent Public Welfare, China Charities Aid Foundation for Children.

Thanks to supporting partners:

Happy Pony Club, Su·Art Museum, Wuma Art Museum, Hundred Million Light Years Education, Haidian Foreign Language School, Airbus Beijing, Conrad Beijing.

The HOPE Horse Partners & Staff

HOPE currently has 4 full-time horse partners: Dabao, Heishan, Tank, and Mu'er. For details about them, please refer to the "HOPE Horse Cloud-Raising Plan" and the monthly report.

Thanks to the support of Oriental and Xiwu Equestrian Club, HOPE also has 2 volunteer horse partners: Feimao and Froni, who serve once a week. The two ponies are very popular with children.

HOPE currently has 3 full-time employees: Luna, Operation Manager, Lucia, Program Manager, and Sishun, Assistant Groom; and a very important part-time staff horse trainer Jimmy. HOPE also has two Instructors-in-training Shuanghong and Wenyue who also help a lot with program and Maggie who assisted in fundraising in 2021.

It is worth mentioning that in 2021, Shuanghong and Yanbo (Jimmy) respectively obtained the Beijing Turf & Equestrian Association Junior Coach and French Equestrian Association CAE1 coach certification. Congratulations to them! Here, let's congratulate Lucia again for her certification of PATH International Certified Therapeutic Riding Instructor (CTRI)!

To sum up, reading here to the end, it must be true love. We wish our friends a happy New Year of Tiger and a new look in the new year. Blessings and gratitude to the children again, thank you for exploring the shared future with HOPE.
We are so thankful for all the amazing supporters of HOPE, our participants, volunteers, donors, horses and staff. We would not be able to continue providing these services without your support.

We hope you have enjoyed the HOPE Annual Report and we look forward to sending more updates throughout the year.

Thank you always for your continued support,

The HOPE Team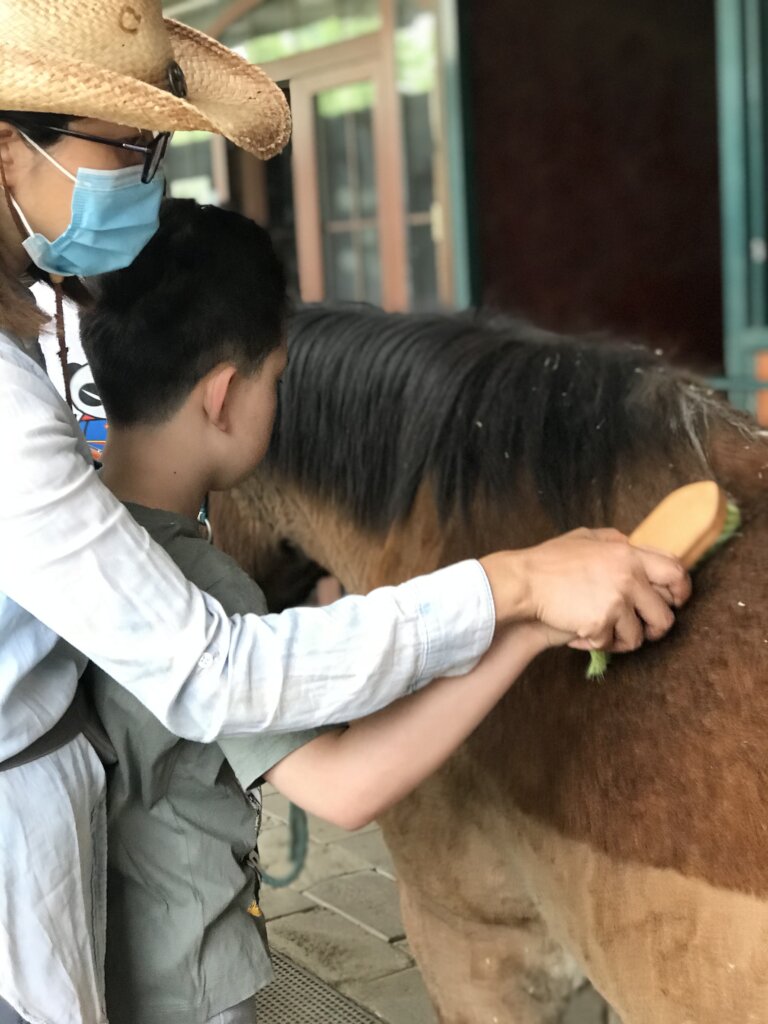 Links: