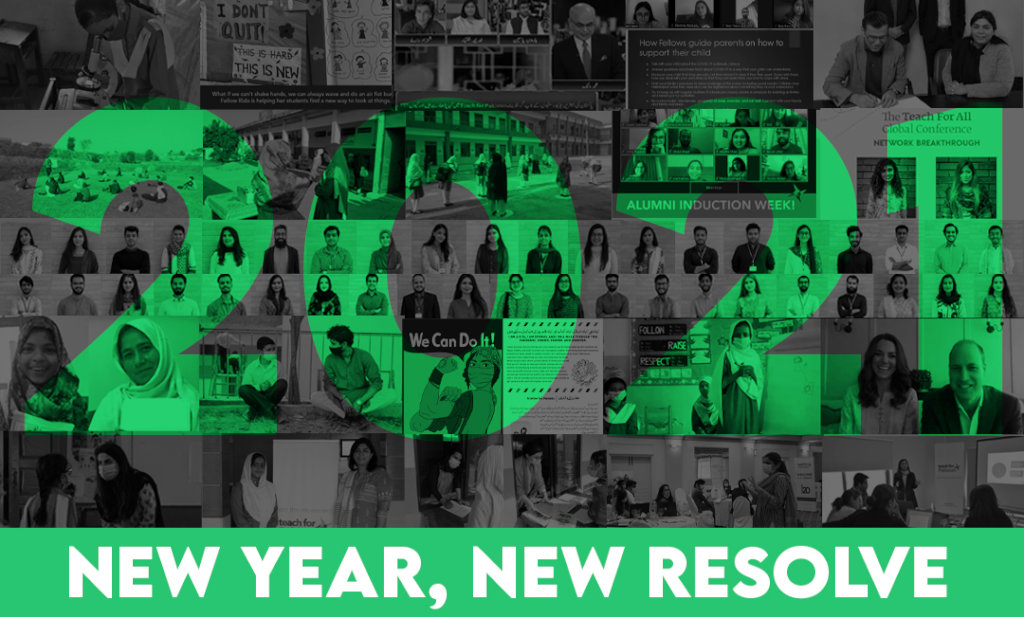 Happy new year!
We are moving past 2020 by nurturing the hope and sense of possibility that we have been operating with throughout the year. There were times when we didn't know what was awaiting our Fellows and our students. Often, we had to step back, pause and reflect on what is required of us. The leadership with which our Fellows and students have navigated this year and the people they have been during this time leaves us with a burning sense of possibility, the importance of purpose and hope for the year ahead. As a Teach For Pakistan community of students, Fellows, staff, partners and friends, when we look back at this year, we are filled with gratitude and pride, because each of us rose to ensure that we not only survive, but thrive.
A completely re-designed Training Institute:
This year we have completely transformed the traditional 6-week pre-placement training Institute in Oct, 2020 into a blended learning experience for our 2020 Fellows. This has challenged the Leadership & Training team to use everything we have learned about adult learning and virtual learning to design a six-week experience that would truly prepare the new Fellowship cohort to exert leadership for impact in a world changed by COVID-19.
Royal Couple 'visited' our classroom, again.
One year on from the Royal visit in Pakistan, the Duke and Duchess of Cambridge reunited with our students Manahil, Aiman and Umaima in Islamabad to hear how the school's activities have been impacted them. They also played in a game of Pictionary with our students who made us proud with their drawing skills.
Second round of school closures
With increasing number of cases in Pakistan, the federal government decided that schools will remain physically closed for students from 26th November to 25th December, 2020 with a focus on home-based learning during this period. Our
Our Fellows went above and beyond to keep their students engaged in learning. They created WhatsApp Schools, designed and delivered printed learning packs, raised funds to acquire smartphones for their students, arranged classes in the fields and parks; all to keep our students from falling behind.
These are the kinds of challenges our Fellows have been navigating. When we set the theme for our recruitment campaign last year, we didn't know the universe would really challenge us to live it. "With real challenges, real leaders emerge" was intended as an ode to the rigour of the Teach For Pakistan Fellowship but instead it became our rallying cry, our anchor and call to action in this whirlwind year. We kept moving forward, and today when we are stepping into a new year, our movement is 75 Fellows and 117 Alumni strong reaching over 3800 students in 32 public schools.
This has been a difficult year for humanity; some of us are still processing the loss of a family member, others are praying for the recovery of their loved ones, some are facing severe threats to livelihood and dealing with the mental distress, while others are deferring important personal and professional goals. As we turn the calendar page, let's extend kindness and grace to ourselves and others to push through in 2021.
Praying for your continued safety and wellbeing, and wishing you a wonderful new year!
Team Teach For Pakistan