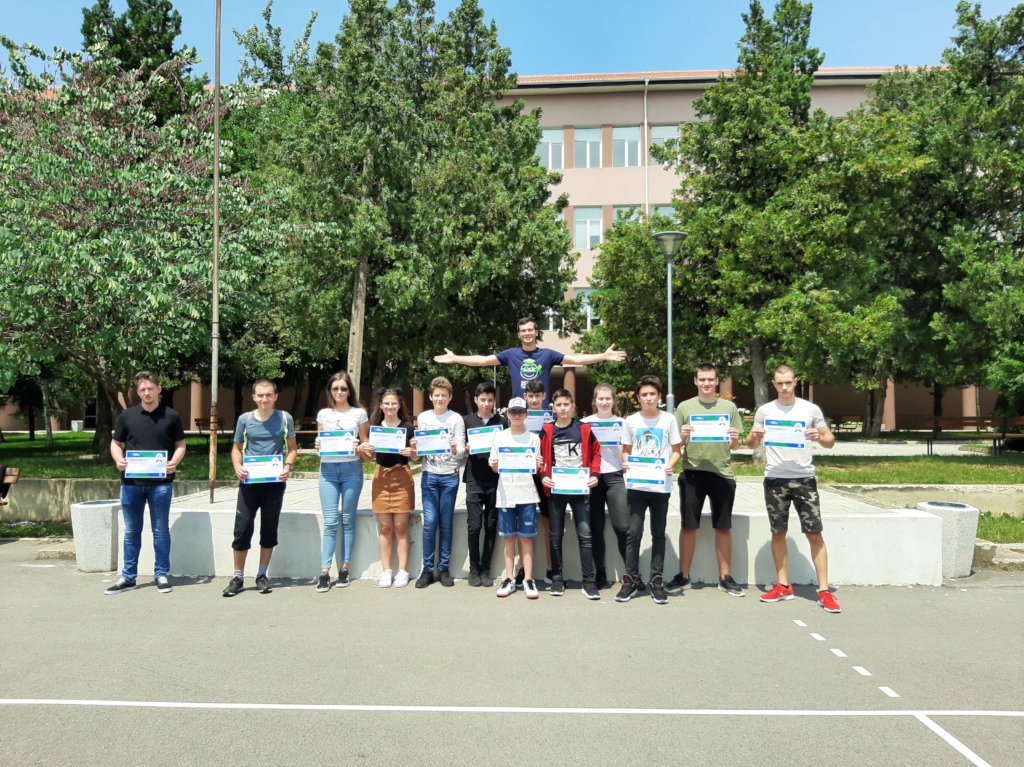 Overview: What we accomplished with your help
It was an active summer in Telerik Academy School, focused on taking the lessons learned from the 2019-2020 school year and making sure we face the upcoming 2020-2021 stronger than ever.
In the period June-August we:
Ensured funding for 110 groups in 33 cities (a growth of 24% compared to last year): Sofia, Plovdiv, Varna, Veliko Tarnovo, Vratsa, Gabrovo, Dospat, Zlatograd, Kardzhali, Lovech, Lukovit, Montana, Panagyurishte, Pleven, Parvomay, Razgrad, Rudozem, Sevlievo, Silistra, Smolyan, Stara Zagora, Harmanli, Yambol and the village of Ablanitsa, as well as for the first time in Belogradchik, Devin, Dobrich, Kyustendil, Madan, Pazardzhik, Peshtera, Ruse and Haskovo.
Solicited 52 partners, providing venues for our regional programs.
Trained 12 new teachers for the current academic year, which increases the total number to 62 contractors.
Updated our systems and prepared for the online application process.
Testing our new program in Web Development for 8-12 graders in 2 pilot cohorts in Vratsa and Plovdiv and kick-starting a cohort for 4-7 graders in Sofia, to test and update the program materials and content.
Testing new measuring tools for assessment of our students' learning through the year.
Today we are announcing the opening of our admission campaign for the 2020-2021 school year. The applications will be held entirely online from September 1st till October 11th and are open to students grades 1-12 in 33 cities in the country. Students in grades 4-12 can choose between 5 interactive programs in the field of digital technology and programming, each with a duration of 100 teaching hours and corresponding to their age and interests. For the youngest (grades 1-3) programming workshops are planned in Sofia in partnership with CoderDojo Bulgaria.
We plan to start our trainings in November and give over 2000 children and young people the opportunity to study programming and digital sciences for free in our 110 groups throughout Bulgaria. We will make decisions on the format of the trainings (online or in-person) in accordance with the most current recommendations of the health authorities and the conditions of our local partners.
Programs for all ages
The trainings for 8-12 grades will be organized in Sofia and the country. With a practical orientation and based on modern technologies, they support the career orientation of students and their subsequent professional realization. High school students can choose between one of 3 programs:
- "Digital Sciences", in which they are acquainted with the professions of the future and how to be successful in them while learning about the latest technologies;
- "Game Development", in which they will use some of the widest spread technologies in the world: HTML, CSS and JavaScript and begin creating interactive computer games;
- "Web Development ", in which they learn the basics of programming and web design and how to create their own websites.
Trainings for 4-7 grades will also be held in Sofia and the country. They develop key digital skills, and students can choose between 4 programs:
- "Digital Sciences", where students learn what are the basic principles behind the new technologies and how to use them;
- "Game Development ", in which they learn to program while creating computer games;
- "Competitive Development ", where they acquire in-depth knowledge of programming, develop their logical thinking and prepare for computer science competitions;
- "Web Development ", in which they learn to create their first sites.
For children in 1-3 grades, programming workshops will be organized by CoderDojo Bulgaria in partnership with Telerik Academy School. The youngest students will learn to create interactive games and applications under the mentorship of experienced volunteers. They will be held in the training centre of the Academy in Sofia.
We'd like to take the time to once more extend our utmost gratitude to you, our donors, who are making this journey for all our kids possible. We wouldn't have gotten this far without your support and we have a lot more planned for the future!
Stay well and thank you for supporting us!