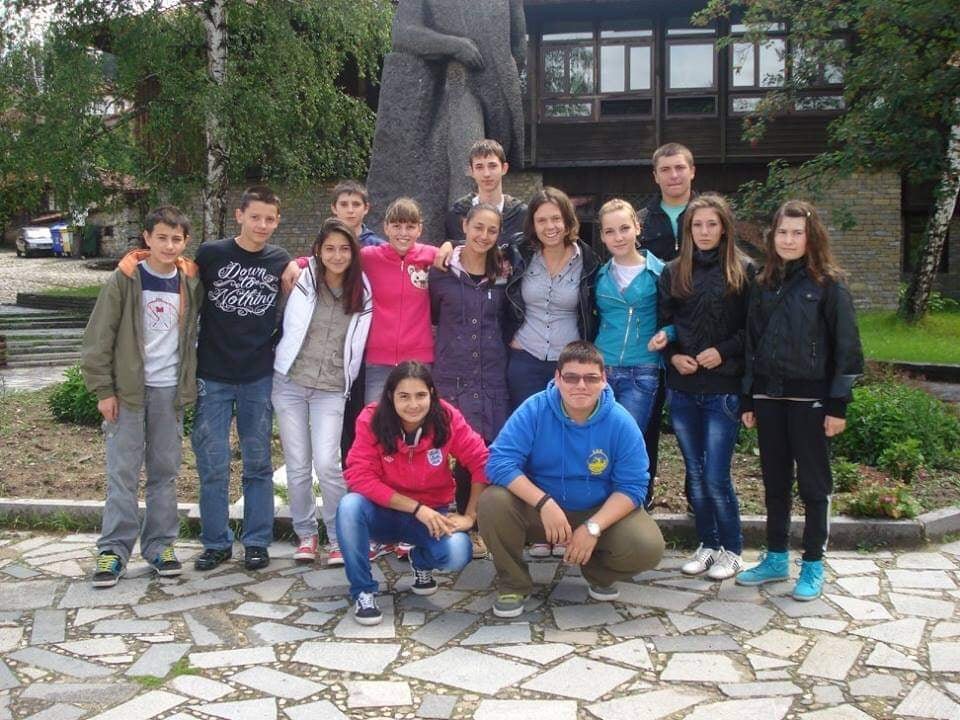 Dear supporters,
"A New Way to Teaching" program's mission is to discover, select and develop the most motivated teachers so they can help every student to strive and explore their full potential.
When we started the program 11 years ago, this was more of a dream. Today, we are proud that we count teachers as Ivelina Pashova, an alumna of the first Teach For Bulgaria class (2011), in our community.
Meet Ivelina and two of her students - Gana and Atanas :
It all started more than 10 years ago when Ivelina Pashova started teaching at Secondary School "Lyuben Karavelov" in Koprivshtitsa as part of the first class of participants in Teach For Bulgaria's program A New Way to Teaching.
Back then Atanas was in 7th grade and Ganka was in 6th grade. Just like many other middle school students in Bulgaria, Atanas and Ganka also "had to" study English as a second language. Up until that point they were not very motivated to do so. Their new English teacher, Iva, changed their attitude and proved to be very impactful. Gani and Nasko remembered their first classes with Ms. Pashova very clearly. She won them over with her energy and enthusiasm in the classroom. Her teaching strategies included gamification, project-based learning, poster making, presentations, movie days, an individualised approach to each student, a summer academy, and so on.
"Imagine a small school in a small town where nothing ever happens. And then suddenly you get two new teachers and they're both kind of crazy [Ivelina Pashova and Maria Sendova, both teachers from "A New Way to Teaching" program]. They have these new ideas and they also have the energy to get you excited about working on them. She [Ivelina] had to gain our trust, because she wanted us to work pretty hard, which was new for us. They were able to make their classes interesting and fun. They had a more unconventional way of teaching. And they did get us excited about learning – we started participating in competitions, events, seminars, etc." said Atanas.
Gana and Nasko volunteered at the Red Cross because they saw it as an interesting adventure with a very high added value. They led lectures together and organised training sessions at school, visited seminars, organised fundraisers, and exchanged ideas and experience with other young people. Volunteering, however, only made them hungrier for bigger dreams and aspirations for the future. Gani and Nasko discussed their hopes and dreams with Iva. Nasko had always dreamed of studying in the USA, but once he shared this with Iva, everything changed.
"I took his words very seriously and started treating him like someone who was going to Harvard," said Iva.
They researched a lot of opportunities about studying in the US and set up individualised support programs, additional English classes, mock interviews, and requirement overviews. One of the opportunities they came across was a scholarship for the United World Colleges (UWC). When Nasko filled out his application, he had no idea that only a few months later he and Ivelina would be at the airport in Sofia, waiting for an international flight which would take him to his dream – a college in the Montezuma Castle in New Mexico.
Gani also followed her heart and Nasko's example. When she found out about UWC, she realised that their mission for academic growth is focused on personal development and cultural exchange – learning about other cultures, traditions, and people. This coincided with her view of academic growth.
Both Gana and Atanas received scholarships for the United World Colleges in two consecutive years. Their paths split then – Nasko went to a college in the state of New Mexico in the United States. Then he returned to Bulgaria and decided to go to medical school in Plovdiv. Gani finished her high school education in the Italian village of Duino and then studied global development at the University of Utrecht in the Netherlands.
"Iva wouldn't let me give up, she made me focus on what I wanted and got me to keep fighting for it, even though I had already received one rejection letter," said Atanas.
"I wouldn't be here now if Ms. Pashova hadn't worked with me! While I was preparing, I knew I had someone who would sit down with me and explain everything. She never agreed to fill out my application forms for me but spent hours explaining how it's done and helping me develop my English skills. She found books for me, we had additional language classes two times a week… When I got to Italy, I didn't want to stop, because I knew that there was someone who believed in me!" shared Gana.
Read the full story here.
Thank you for helping us bring more extraordinary teachers like Ivelina to the classrooms where needed the most!
With gratitude,
Teach For Bulgaria's team