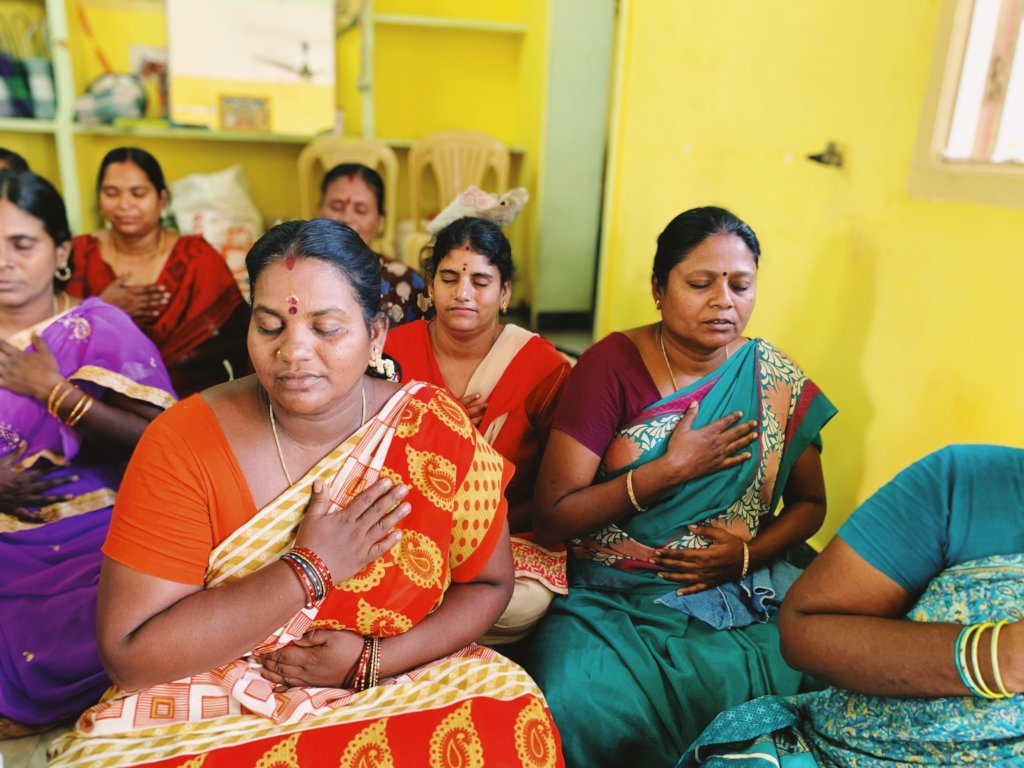 April 2019 – Chennai, India
For the first time in five years, the sky is blue.
It's my eleventh trip here in five years, but my first in April. Every day, all day, yellow-blossomed copperpods and pink mariposa trees wave in a gentle breeze beneath a clear sky. The polluted clouds of winter are gone and the the oppressive heat of summer has not yet descended. And with the balmy blue-skyed shift of spring, I sense a shift in Priyam, too. A steadiness of purpose and connection.
I arrive to the Priyam office on my first morning, ready for a progress briefing with my team. I'm eager for updates: how has the MAHLA Project Phase 2 unfolded since we launched it in February?
Here's what I find:
The women consistently meet together in the center 4-5 days per week
They practice making woven mats, baskets, tote bags, and clothing – organized into small groups based on their interests, talents, and skills
Together with Rani and Gereena, our program director and coordinator, the women have created clear proposals – including cost analyses – for what they want to do next. Some will work alone, focusing on jewelry or sewing, but most intend to form small collectives to work towards product targets, build a client base, and sell products together.
The women are relaxed and comfortable together, teasing and teaching and supporting each other in a steady flow of words and laughter as they work.
On this trip, we focus on teamwork, communication, and of course – laughter.
We spend a day at the beach, followed by visits to a temple and a church, for our second annual beach day. Honestly, is there anything like getting drenched by the sea under a blue sky, the rhythm of the waves, your children shrieking and laughing, to lift some of the weight from your chest? Far too often, poverty steals the chance for lightheartedness, for forgetfulness. It becomes impossible to escape even just for a day. This doesn't seem fair, so we have Priyam beach days. They are always a highlight. The colorful saris of the women swirl in the water, their long braids dripping with saltwater, the children are ecstatic (and so are the mothers), everyone is soaked. I get sunburned. We feel like a family.
On another day, in the center, I lead a session that we all should do more often: the women sit cross-legged on the floor and take turns answering the following questions aloud. What am I proud of about myself? What am I good at? I do it, too. It's strange and new to celebrate ourselves in this way, but it feels powerful.
I open and close the session with a short group meditation: we put our hands on our chests and our bellies, breathe deeply, and feel gratitude for our own strength and resilience.
Priyam is no longer just about alleviating immediate survival needs. We've made it to a deeper level, to the places where the heart and the mind can begin to shift and grow in permanent ways.
In that small lemon-yellow room, I am struck by how much I have learned from these women. They learn from each other, they learn from me, and I learn from them. We are more than a project or an organization or an initiative. We have become a sisterhood.