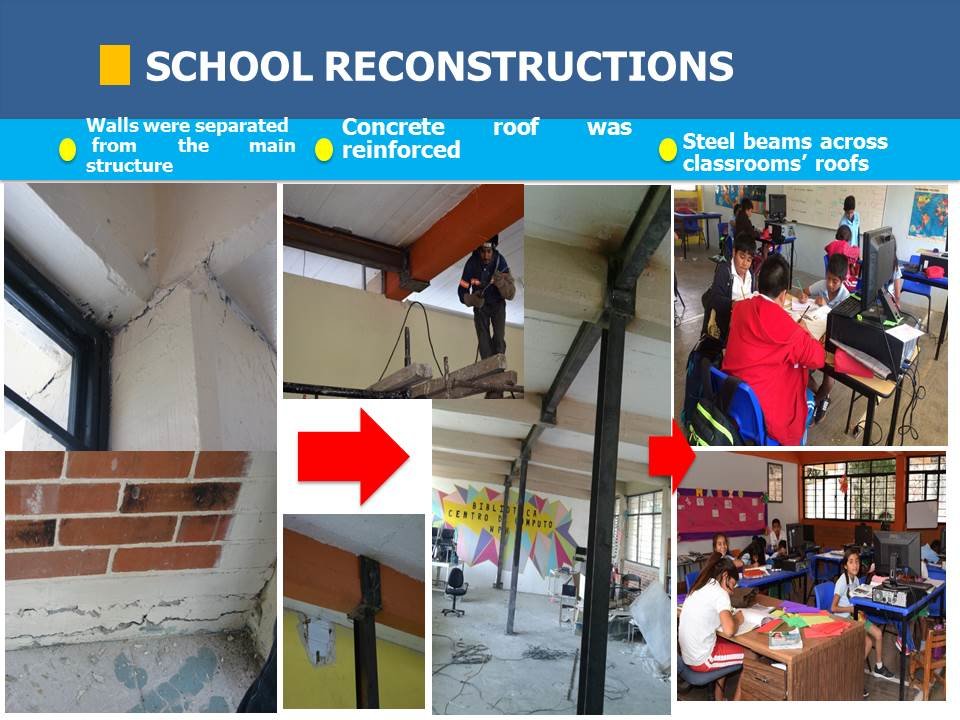 All of our schools suffered damages on different levels. In order to ensure our children's safety, the first measure we took was obtaining a structural safety assessment for all the buildings, which helped us to define the work that needed to be done.
Based on the structural reports, the first stage began by restructuring the dividing walls. The worst damage we had in the classrooms was the separation of the beams and walls from the columns, endangering the whole structure. The junction of the beams with the columns were repaired using steel beams, and the roofs were reinforced.
In the computer room on the second floor, the reinforcement works began based on a structural calculation carried out by a Director Responsible for the Work (DRO). Steel shirts with brackets were added in the most damaged areas, and IPR struts with links were added in the center of the clearing of the computer room. All areas are clean and debris removal was carried out.
The DRO, Engineer-Architect Óscar del López, led an inspection tour to supervise the reinforcement works. He gave us his approval by means of the final ruling on structural security.
To comply with school authorities, we delivered the structural safety reports of each school to IEBEM authorities, thus, at last, our children were able to return to their classrooms.
Demolition and recontruction of enclosing wall and walls inside the property are in process. Currently, reinforcement of the damaged arches outside the transportation area is being carried out. They are mostly being rebuilt with the same finishing of the original arches. The perimeter wall's completion was previously established by the authorities. It was rebuilt with a stone finish on the inside and plastered on the outside. The top finish was made in the same manner following the existing design, in accordance with INAH's guidelines.
More work needs to be carried out in several buildings, including main kitchen and dining room, and repairing the water tower.