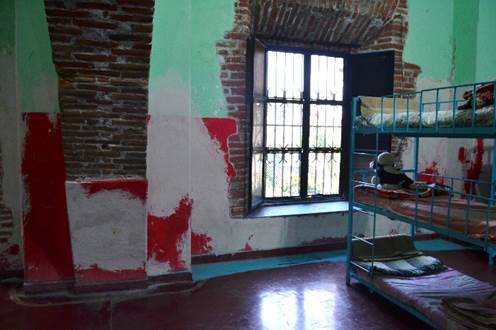 In its first stage, the rebuilding force of NPH Mexico focused on defyning the priority needs for the children's daily lives: housing and schooling. Two sets of actions took place: immediate repairing of the structures that were only lightly damaged by the quake and assessment of those structures that needed to be demolished and rebuilt afresh.
The works ultimated as of December 31 include interventions on some of the dorms and all the school buildings.
Middle school children's dorm. The cracks in the middle school children's rooms were repaired with concrete. We still need to paint. PHOTO 1
Walls and columns in kindergarden classrooms. In our schools the structure that supports our buildings is made of concrete columns and beams, the divisions are brickwalls that do not have any structural function but to divide the classrooms. These divisions separated from the columns and beams and are being bonded back again. For the repairs we needed to have steel liners in the columns to reinforce the classrooms. PHOTO 2
Elementary school second floor walls. All the classrooms' walls in the second floor were reinvorced and the concrete slab will be reinforced with steels beams. PHOTO 3
Elementary and middle school roofs. Damages were fixed, and the steel rods were also covered with concrete. They have not been painted yet. PHOTO 4
Enclosing wall in High School. The cracked enclosing wall was demolished and rebuilt, the construction lasted over 1 month. PHOTO 5
Rebuilding High Young School Men's dorms. A whole external wall will have to be demolished due to the severe damage it suffered. Before demolishing it we have to reinforce the whole building inside since the wall has a structural function.To reinforce the building we are placing 12 concrete and 8 steel columns that go all the way from the ground level to the roof of the second floor. Between the columns we will place steel beams connected to the columns with steel plates. The works began end of November and they will take12 weeks approximately . PHOTO 6
Our next priorities to ensure the daily routine of the children be restablished include the demolition and rebuilding of 2691 ft2 of the enclosing walls (main facade), the complete remakeof the boys' bath bathrooms in High School and the urgent reinforcement of teh kitchen and dining hall building.
Thank you for your essential support.