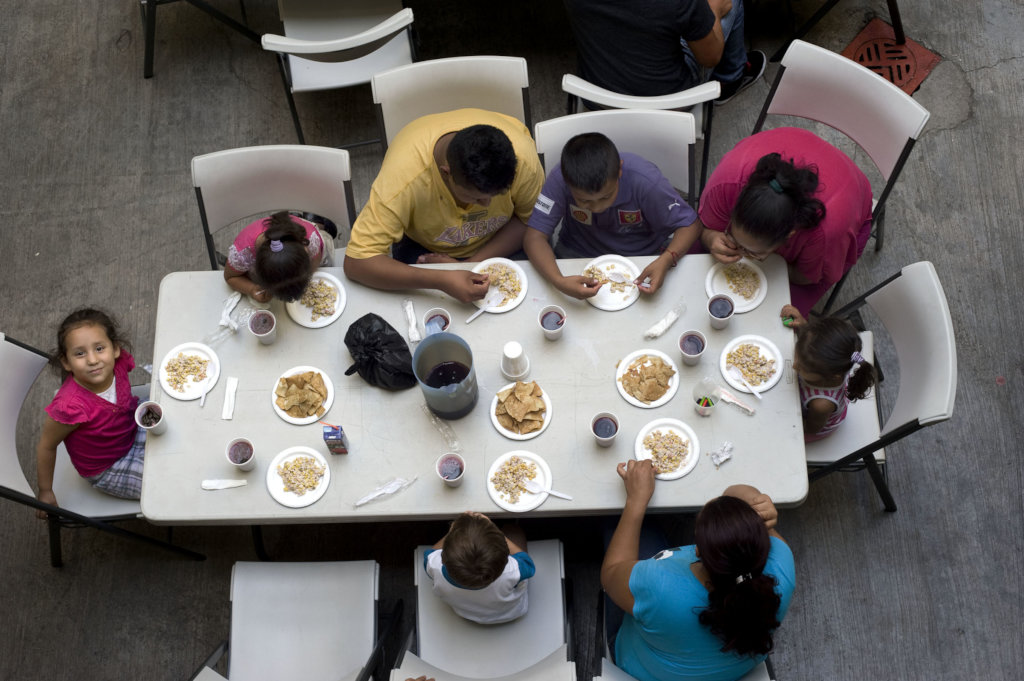 In September we reported that US immigration courts face a backlog of apx. 436,000 asylum requests, and most of these people are waiting their turn in Mexican border cities like Tijuana and Mexicali. Now, due to the rapid implementation of the "Migrant Protection Protocol" (better known as the "Remain in Mexico" program), the number of vulnerable people waiting in Baja California has increased dramatically, with an estimated more than 64,000 asylum seekers now forced to wait out their cases in border cities of Mexico, where they have limited access to U.S. lawyers and transportation to appear at their trials in the U.S.
Additionally, due to these policies of deterrence, the Mexican government has reported that over 60,000 people have applied for asylum in Mexico, up from only 2,100 in 2014. Given this rapid shift in demographics and needs, it's no surprise that the Mexican government and society were ill-prepared to meet these needs.
Nonetheless, regardless of their legal status or background, these individuals and families need help accessing shelter, food, and medical care, as well as victimization by organized crime and xenophobic community members, not to mention sometimes their own perpetrators from their home countries.
Over the past year, ICF's generous donors have allowed us to invest in necessary basic infrastructure in Tijuana through local nonprofit organizations such as Espacio Migrante, 4Walls International/Albergue El Puente, and Casa Arcoiris. Medical partners such as Fronteras Unidas Pro-Salud and Casa del Centro (Seeds of Dignity) are providing urgent medical services and leading preventative/public health campaigns that directly improve the health of not only individual migrants, but of the whole city.
Finally, through monthly meetings of nonprofit leaders working with migrants and a few technical trainings, ICF has invested in the capacity of the local nonprofits who are truly the only ones meeting these urgent needs.
Most of these individuals and their volunteers or staff have been working tirelessly to meet the increasing demands for their services since early 2018. When we asked during a recent meeting what they like to do "for fun", there was a deafening silence, before someone spoke up to share that they don't have time for fun. This is one anecdotal but alarming indicator of the direct impact that U.S. and Mexican immigration policies are having on border communities, and these impacts will be long-lasting.
Like their beneficiaries, these individuals are exhausted, have experienced secondary psychological trauma, and are in desperate need of tools and resources for self-care, in order to continue their critical work.
For this reason, ICF is investing in trainings by reputable trauma-informed experts such as Capacitar International or a diploma in "first-aid for psychological trauma" offered by UC Berkeley and partners. We are also supporting the launch of Glasswing International's program to train local public officials (at hospitals and schools for example) in best-practices for working with trauma-affected populations. And in 2020 we will continue to offer consistent, safe spaces for nonprofit leaders to come together and share their experiences and resources.
This holiday season, we ask you to consider investing in the well-being of our neighbors at the border. Whether they are migrant children and families, activists and volunteers, pro-bono lawyers, or even local business leaders – together we are all facing a humanitarian challenge at the border. And ICF is committed to helping provide solutions. Thank you and Happy Holidays!