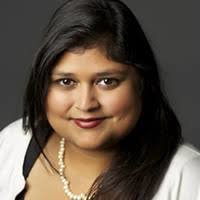 Dear Supporters!
The International Career Advancement Program Alumni Association (ICAPAA) is pleased to announce that Ms. Chandrima Das, a 2013 ICAP Fellow, was elected to succeed Charlotte G. Kea, as the organization's president. Ms. Das has served on the ICAPAA board since 2013, including two years as chair of the program committee where she expanded partnerships and programming, such as networking dinners and professional workshops.
On becoming ICAPAA president, Ms. Das said, "I'm looking forward to working with my fellow board members, valued senior advisors, and supporters to ensuring America's foreign policy leaders represent our country's growing diversity." She continued, "Charlotte Kea has been a visionary and dynamic leader whose accomplishments, such as the partnerships with CSIS, The Raben Group, have advanced ICAP's mission and fundraising efforts, including raising funds for ICAP cohort for the past six years."
"I'm proud of the work we did over the past six years as we were able to bring more accomplished and wonderful ICAP Fellows into the program who are dedicated to broadening diversity in senior positions," said Charlotte G. Kea. "Ms. Das will bring enthusiasm, creativity, and a fresh perspective to her role as president. She's been a tremendous board member and friend and I look forward to supporting her efforts."
Dr. E. Thomas Rowe, the founder of ICAP remarked that, "Throughout the years, Ms. Das has demonstrated leadership ability in her professional capacity and within ICAP. I have no doubt that she will continue to strengthen ICAP and its Fellows. It is more important now than ever that diverse International Affairs practitioners have their voices heard to solve the many complex problems we face in the world. I can confidently say that Ms.Das will help elevate those voices."
In her professional capacity, Ms. Das is the Director of Peacekeeping Policy at the United Nations Foundation and Better World Campaign. She is the resident expert on UN Peacekeeping Operations and educates Congress and the Administration on the value of UN peacekeeping as an effective part of the U.S. national security toolbox. Ms. Das holds a master's degree in Peace Operations and received her bachelor's in Political Science from Syracuse University. She is also a Council on Foreign Relations Term Member. She is married to Brent Woolfork, ICAP 2012, and they have a one-year old daughter, Asha.

Links:
Thank you for all of your support to ICAP now and throughout the years.