Project Report

| Nov 23, 2012
Post-Sandy Efforts around Green Map's Home in NYC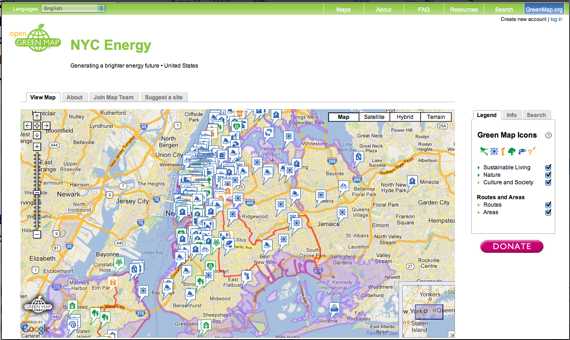 Many have asked how we fared in the midst of Hurricane Sandy. We have been quite lucky. The floodwaters stopped just 1.5 blocks from our office in lower Manhattan's East Village, sparing this lovely old building from damage. Nevertheless, both the office and my apartment lost power for the entire workweek. Using our bicycles, we found places to work outside the dark zone, and helped pitch in on the relief efforts.
We decided to add the high water mark to our interactive map of NYC's energy resources to help people make the connection between energy conservation, renewables and climate change. This is a theme we have included in our hometown Green Maps for many years. You can even download the PDF of our 2006 edition (to the right of the online map under Info), which outlines infrastructure impacts and other aftermath realities. We designed the interactive edition so you can embed it in your own website or blog, sharing knowledge and awareness - use the link that's below in this report.
It's stunning to see how and where the water rose and as you probably know, Sandy has become a broad call to action for a more resilient approach to planning for climate change. We're surveying Green Mapmakers now and hope to share updated mapping resources shortly. In the coming weeks, we're using FEMA's data to add more regional impacts to the map, too, and expect to share these with other maps on the Open Green Map platform.
While we had several Sandy-related postponements, including our planned Green Map Archive Launch event (new date TBA), we are happy to invite you to two events in December:
On Sunday December 2nd, join the Adapting to Change Cycling Tour. Riders will explore resilient solutions that reduce energy consumption and increase climate awareness. Noted speakers will be joining us on this free ride (click our Facebook link below to RSVP). This ride builds on our '10 Days of Climate Action' prize-winning Green Culture Cycling Tour, and its resulting map.
On Wednesday December 19, come for a bit of holiday cheer from 6 to 9 pm at Green Map's office, 220A East 4th Street, in the East Village between Aves A & B. All are welcome, no need to RSVP.
We're taking part in #GivingTuesday on Nov 27 and of course, we invite you to support our work at this time. You can be sure we're working hard to support the social change needed to address climate change in hundreds of communities at once!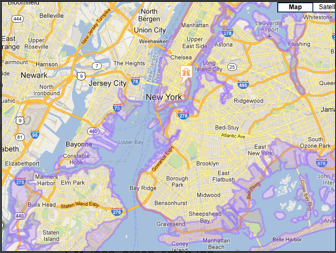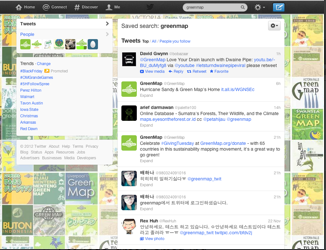 Links: