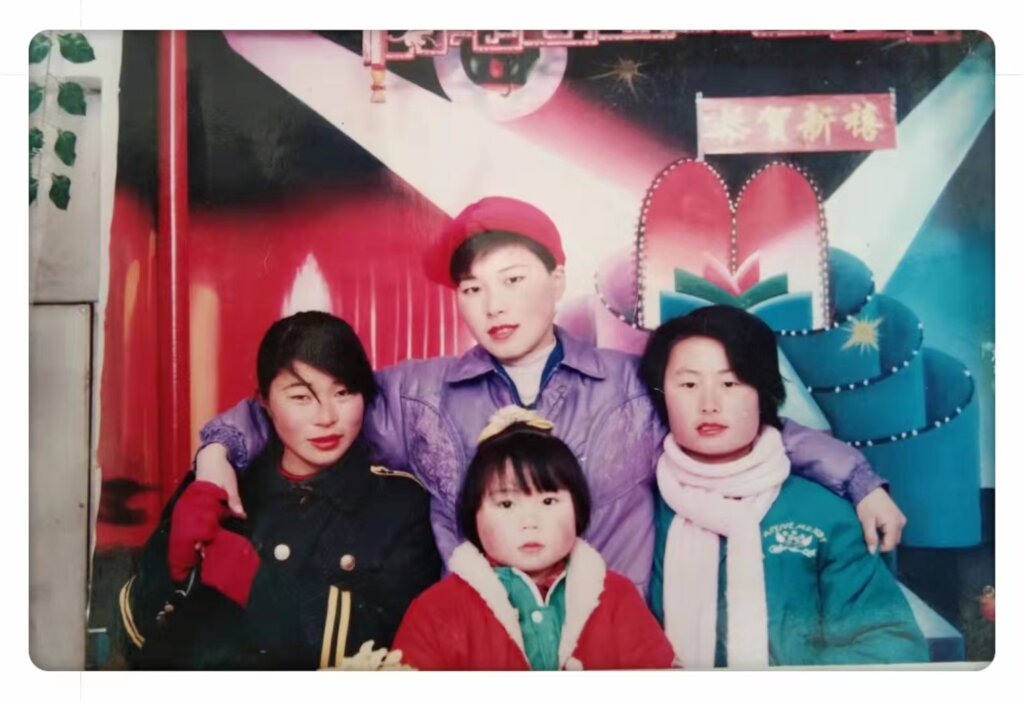 In my early memories, my grandparents had always been busy. With a mobile tiny cabin, stove, oil pan and a few tables and stools, their small fritter business was bustling. I can still remember the endless supply of candies and biscuits, and our little hut was filled with relatives and neighbors who were kind to us. I also remember a very handsome man who rarely worked but always took all the money from my grandparents' money box. Grandpa and grandma always yelled at him,"What will you do when we can't work anymore? How are you going to survive then?" This man is my father, the youngest and most beloved son of my grandparents. After a few years, my grandparents could no longer work, and we returned to our hometown to grow crops. Neither grandparents nor dad could work in the field, so my mom had to do it all by herself. There were more kids in the family, and more arguments and complaints about money in the family. I no longer had candies and biscuits, and very few relatives and friends came to our hut. When they did come, I could see the pity and despise in their eyes, and I didn't like that. The days of poverty and darkness were always long. My young mother, who is only 18 years older than me, looked 20 years older than her peers because of the heavy farm work. Her tanned and wrinkled face in summer, her swollen hands in winter, her tired and bloodshot eyes in the busy harvest season… these images were deeply engraved in my memory. Two elderly grandparents, three school-aged children, a worried and exhausted mother - what kind of life that was?
At that time, the biggest dream my siblings and I had was to get into a good university so our mom didn't need to suffer so much anymore. The dream was beautiful, but the reality was cruel. The due date for tuition was the hardest day for my mom. We had already borrowed from those who could help us. While the old debts hadn't been paid, new debt kept piling up. We had no one else to turn for help. I would soon be graduating from elementary school. The tuition for middle school was much higher, and there was the food cost on top of that. Even if my mom had the determination to keep us in school, I couldn't imagine how she could do it. I felt so hopeless…
At the most difficult time, I received the scholarship from SOAR. I am so grateful to the loving donors and volunteers of SOAR who provided tuition assistance to me all through my middle and high schools. We no longer needed to worry about tuition, and my future was full of hope again. Mom cried for a long time when she got the news, but those were tears of joy. The burden on the family was still heavy. There was only so little land and so little income. My brother was very sensible. He chose to leave school so as to save money and help support the family. All these years, I always feel that I owe him so much for the sacrifice he made. My sister was a very good student and received the SOAR Scholarship as well. We both went to college and got a job we love and a happy family. Although my mom is still working in the field, it is now a hobby, not an obligation. She is much happier now.
SOAR brought hope to us when we were most desperate, and planted a seed of love in my heart. I made a vow to do my best to help others around me. I became a volunteer, going into the mountains to visit the children who were left behind by their parents and elderly people who had lost their children. I had so much energy while helping others. I finally understand why the SOAR volunteers managed to keep a high spirit after traveling a long way to visit the students in the mountains – that is the power of love and giving.
Now I have become a full-time social worker, devoting myself fully to improving public welfare: distributing aid packages to children in need; bringing books to left-behind children and migrant children, so as to broaden their horizon and help them to make the right decisions. I'm very busy, but not lost, physically tired but mentally elated. SOAR has brightened up my life, and I also want to live myself as a beam of light, leading others out of darkness. I am grateful to SOAR, grateful to my mother, grateful to all I've experienced, and grateful to this world.
Sincerely yours,
Lucky
Editor's Note:
Hope you had a wonderful Labor Day long weekend!
GlobalGiving's September 2022 Little by Little campaign will last 5 days, from September 12, 2022, at 00:00:00 EDT to September 16, 2022, at 23:59:59 EDT.
During the September 2022 Little by Little campaign, all eligible donations up to $50 USD per unique donor per organization will be matched at 50% for the duration of the campaign.
Thank you in advance for helping SOAR to win the BONUS!