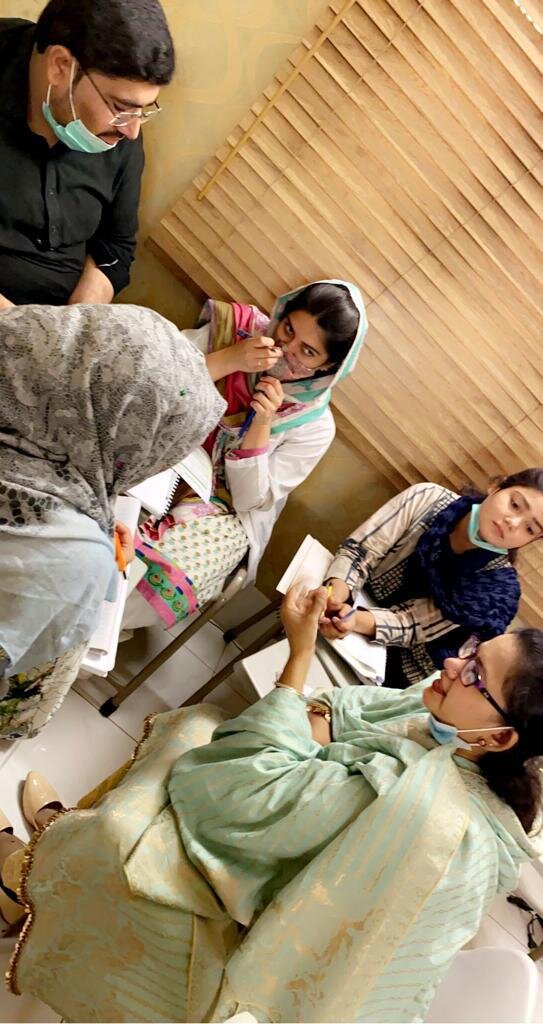 Dear MAITS Supporters,
This year MAITS is working with 4 partner organisations in Pakistan. The project is at different stages for all these partners. A brief update for each partner is given below.
In addition, we are ever so excited to share that our first video resource is now ready and we will be releasing a series of videos to help parents and cares of children with special needs in comfort of their homes. The videos will be made public by June 2022. These have all been shot at our partner organisation ACELP in Karachi. Expert therapists from ACELP and Ziauddin have participated to share basic life saving technique with care givers.
Marie Adelaide Leprosy Centre, Pakistan (MALC)
The second cohort of MALC CHWs completed their training at MALC in February 2022, again training 15 therapists making it 30 CHWs trained so far. The training was led by three (3) recently trained Trainers from MALC accompanied by soon to be qualified Master Trainers from ACELP. It was thought a good opportunity for the therapists from ACELP to gain some additional training experience before they qualify as MAITS Master Trainers. The training ran twice a week over a period of 4 weeks.
The first cohort of 15 CHWs who received training at the end of last year have started to return their casebooks to MAITS via google forms. It is too early to see the progress families are making so far but the team at MALC seem very motivated and we are hopeful these forms will be collected over the course of the next year.
We will arrange one more training, hopefully in June for the CHWs from MALC resulting in 45-50 CHWs receiving training in total.
Ziauddin, Hyderabad, Pakistan
Afshan Memon and Hafeez Punjani, the two Level 2 Trainers from Ziauddin have completed the one-year mark of training the CHWs. In total 13 CHWs have completed the training, resulting in 50 families being reached. MAITS has prepared certificates which the two Trainers will present to the CHWs. Over the summer period in 2022, Our Director of Operations, will visit the training facility in Hyderabad and award the CHWs their incentive for completing the programme in person. It is hoped that the two trainers will continue to work with MAITS and in time become Master Trainers. We will look for more opportunities for them to conduct training sessions in their community.
ACELP, Pakistan
The four therapists from ACELP have completed a full year of working with and monitoring their CHWs. Further to this, they have taken part in the training at MALC (see above) and are now finalising the CHW casebooks for submission. Over the course of one year, the therapists have trained 15 CHWs reaching over 50 families.
AURA, Pakistan
Six therapists were trained at AURA to become MAITS Level 2 trainers. They will start training 15-20 CHWs and special educators this June. They have begun to compile the printing of materials for the CHWs and Urdu translations.
MAITS is expanding our services in Pakistan reaching out to two more provinces from July 2022, we will need your ongoing support to reach children with disabilities in desparate need of care facilities.
We can't thank you enough for the donations.
Kind regards
MAITS Team