Project Report

| Dec 17, 2020
MAITS's Successful Training in Pakistan

Dear Friends,

I want to begin by acknowledging the challenges we have faced as a global community over the last few months. Children with developmental disabilities and their families have been severely impacted by the pandemic and there has been limited access to therapeutic support and medicines in some regions, specifically India and Pakistan.
The adaptation of our Community Healthworker Empowerment Programme (CHW) online is therefore critical, as we continue to support people with special needs. This need is more urgent given that children with cerebral palsy are more vulnerable to the virus.
Phase One of MAITS's programme sees local therapists train as Master Trainers, who will then deliver this to Community Healthworkers in the field over the coming months, ensuring this a sustainable community led initiative.
MAITS are delighted to report that from October 2020, MAITS expert Master Trainers, Aasiya Faris Sachwani (Speech-Language Pathologist) Aen-ul-Huda, Nazia Nadeeb and Saadia Asif (Speech Therapists) delivered 6 weeks' training to a total of 29 therapists in partnership with four leading Karachi NGOs - Indus Hospital, ACELP, URAAN Paediatric Therapy Services and Al Rozan, Karachi. These organisations are recognised in Pakistan for their pioneering work in supporting children with developmental disabilities. Our newly qualified Master Trainers now include teachers, nurses, physiotherapists and speech and language therapists and will ensure that knowledge and expertise is kept within local communities where access to therapeutic support is limited –creating a pool of experts best able to meet the needs of children. We hope that we will be able to resume our Phase Two of this programme in a face-to-face capacity, subject to COVID restrictions.
Whilst 2020 has been hugely challenging for all organisations, including small scale NGOs like MAITS, your support has been crucial in enabling us to continuing evolving and adapting our work – and we are incredibly grateful for each and every one of you for the part you have played.
Thank you.
We do hope you have a peaceful and safe Christmas and New Year!
With all best wishes,
Meheen Dalamal
Chair, MAITS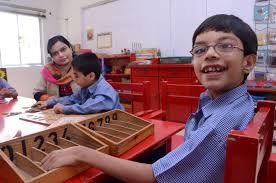 Links: