Dear Friends,
I want to begin by acknowledging the challenges we have faced as a global community over the last few months, both with the COVID-19 pandemic and important conversations about racial justice and equality. I hope this update finds you and your families safe and well during such unprecedented times.

Since the outbreak, and subsequent lockdowns of international borders in March 2020, MAITS has made the decision to temporarily postpone all face-to-face programmes, in order to protect the health and wellbeing of all those we work with. This is particularly important as we support people with disabilities, who are even more vulnerable to the virus. Despite these difficult circumstances, MAITS is determined to continue to support children with disabilities in Pakistan whilst we wait for safety to deliver face-to-face programmes.
Over the past three months, we have worked closely with our expert trainers to deliver an online training programme to one of these organisations, Eilya Carehome, an NGO and school supporting 80 children with disabilities. This resulted in a fantastic 13-session online course, delivered by five of our trainers, which directly targeted Eilya's needs.
Ther were 22 members of staff who attended our training sessions, ranging from therapists to special educational needs teachers. You can see Aasiya Sachwani, speech and language therapist based in Toronto, Canda, delivering her session on supporting families in the home in the photo below.
The training was a great success- both trainees and trainers were so pleased with the format that we are now coordinating a digitalised version of the Community Healthworker Training programme, which we will be running over the next few months to organisations all over the world. You can find out more about this programme by following our social media accounts (as listed below).

As you know, at the end of March 2020, three of the expert therapists from Karachi were also due to be delivering life-changing training to 36 community health workers at AURA, a local healthcare NGO in the Karachi area. This was unfortunately interrupted by the COVID-19 outbreak, which resulted in nation-wide school closure in Pakistan. We will be rescheduling the training in the Karachi for when it will be safe to deliver, as this organisation will benefit from face-to-face training from our local expert trainers. We will bring you more updates on this programme in our next report.

We are so hugely grateful for your support of MAITS' work at this very challenging time.
With all best wishes,
Esther
CEO, MAITS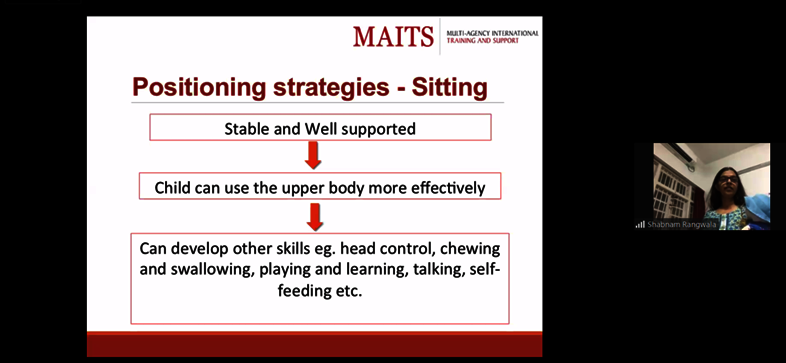 Links: