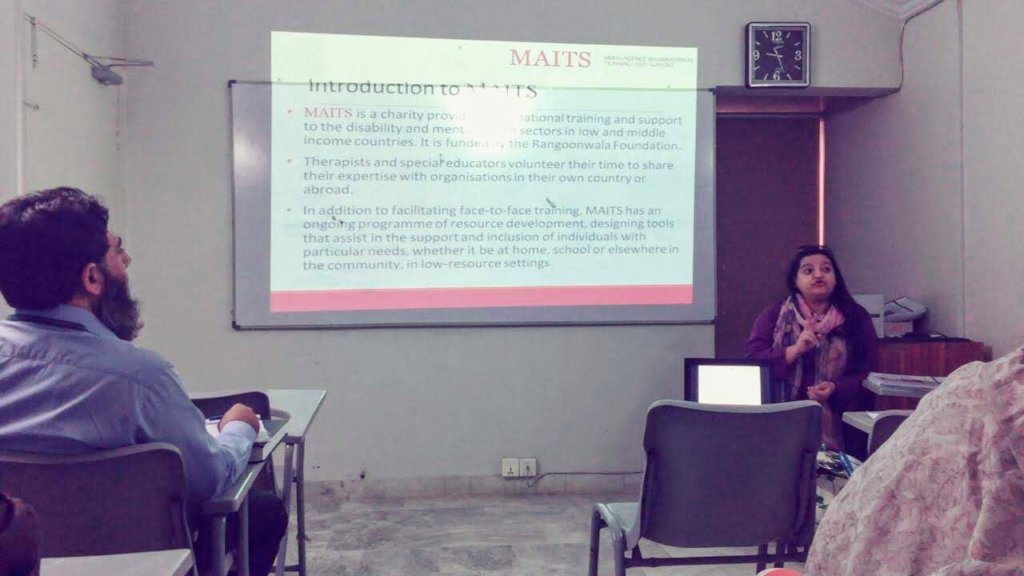 Dear Friends and Supporters of MAITS Community Health Worker project in Pakistan,
Many thanks to all of you that have donated to MAITS' Community Health Worker project, which is providing community workers and families of children with developmental disabilities with the skills they need to help the children thrive.
The three key elements of the programme are:
Training disability therapists to be able to roll out our Community Health Worker programme as master therapists.
Those master therapists then train community workers and provide them with ongoing support and guidance in working with families
The Community Health Workers then provide practical guidance to families on how to best support their children.
Important achievement of the MAITS' Community Health Worker programme
We are delighted to share that this programme, which we piloted originally in Jamaica, in partnership with the Nathan Ebanks Foundation won a merit award at the World Cerebral Palsy Awards 2018.
This project in Pakistan is the same MAITS' project based on the same model, adapted for the Pakistan context.
Update
Thanks to your kind donations, we have able to train 6 more Master Trainers who are training local community workers in Karachi. This brings us to a total of 12 fully trained Master Trainers since the beginning of this project.
So far, 13 Community Health Workers have benefitted from MAITS training and are using the skills they have learned to directly support the children they are working with.
These Community Health Workers are now continuing to use the programme during home visits to children with disabilities and their families in the community. Alongside promoting and improving the health of these children, the CHWs indispensable work also includes encouraging awareness and acceptance of neurodevelopmental conditions within wider society. As one of our Master Trainers, Aasiya Sachwani, who is an Assistant Professor and Director of Speech and Language and Hearing Sciences at Ziauddin University said, this encouragement "ensures that every child is reaching their full potential, both within their homes and on a larger scale within their communities." (See photo above of Aasiya providing training).
Our Master Trainers are highly qualified disability therapists who roll out this training to community workers as volunteer trainers in their spare time. Some of the trainers from this project, Aasiya and Ali, who is also a speech and language expert at Ziauddin University, went as volunteers to Sri Lanka in January to deliver the same training there (as part of a different project) using the skills they learnt on this master training course.
Word is spreading about the programme and our master trainers and partners from Ziauddin University have agreed to train a new cohort of 10 Community Health Workers through in Sikanderabad project. The continuation of the Master Trainers work with Community Health Workers will allow the training to diffuse to more families, improving the lives and health of more children with disabilities.
All this work continues to boost the level of knowledge and competency in the field, as well as the confidence, capabilities and awareness of child health amongst the trainee and trained Community Health Workers. This vital work is expanding MAITS' vision for sustainable, accessible health services to all children.
We have also had requests from charities in the Punjab area of Pakistan and Rawalpindi and Lahore to roll out the programme and we are fundraising for this.
If you click on the link below and donate over $100 between 2pm on Thursday 18th July and 5am on Friday 19th July, Global Giving will match fund your donation by at least 15%!
https://www.globalgiving.org/projects/support-for-those-with-disabilities-in-pakistan/
You can keep up to date with the project's progress, and all MAITS' other work, on Twitter at @MAITS_Charity and on Facebook at MAITS.Charity
You can also read more about the background of the project on pages 15 and 16 of MAITS' annual report:

https://www.maits.org.uk/wp-content/uploads/2018/11/Annual-Report-2018-1.pdf

Thank you so much once again for your support for MAITS' Community Health Worker project.

Kindest regards,

Esther