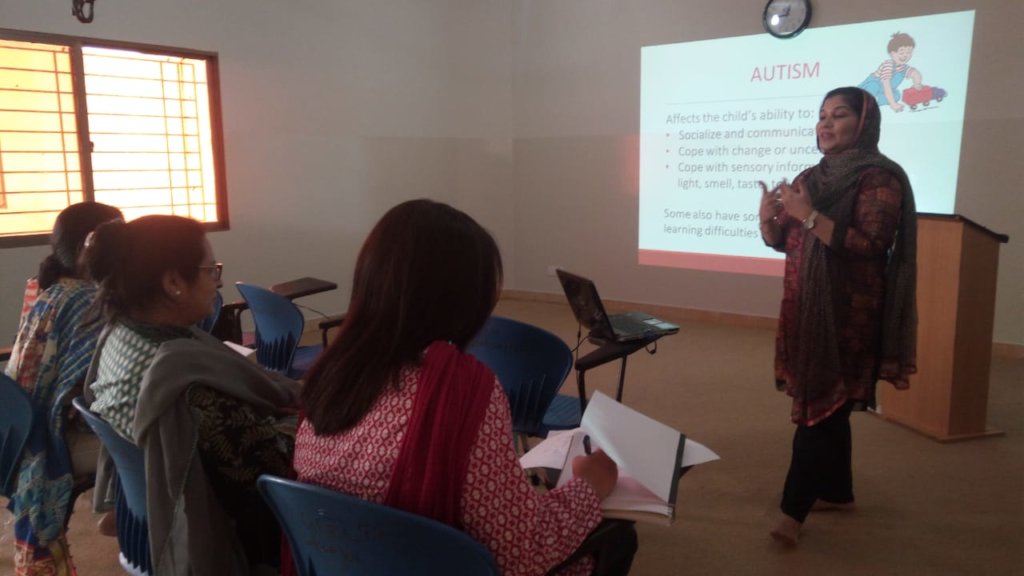 We are pleased to say that the Community Health Worker project is moving ahead. We have identified additional Master Trainers who will now be able to train and benefit more people. A meeting was held on 12th November 2018 for primary and potential Master Trainers to discuss the programme together. As of 24th November, Master Trainers have begun the 8 days of MAITS training, after which they will begin rollout of the programme to local CHWs.
The Team
MAITS is working with four local institutions in Pakistan; Ziauddin University, MEANS Institute, Aga Khan University and ACELP. Representatives from these institutions make up our initial team of Master Trainers, including:
2 Occupational Therapists, 2 Physical Therapists, 3 Speech and Language Therapists, 4 Psychologists.
Ziauddin University is inducting an additional Physical Therapist and Speech Therapist to the Master Trainer team. Their team met and discussed the program in detail with the Head of Family Medicine who is also responsible for the Public Health Centre at Ziauddin Hospital, she has offered 3 hours of her time per week.
Translation Work
MAITS has provided stationery, data collection forms and training manuals for the four institutions. The team in Pakistan has made some requests for additional materials. We managed to identify trainee therapists and clinicians from Ziauddin University who have agreed to translate our manuals into Urdu at a reduced rate. They will form one group consisting of Physical Therapy students and the other consisting of the Speech and Language Therapy department's interns. All Ziauddin Master Trainers are meeting in the first week of December to finalise the translation teams and timeline. All translators will receive incentives for their work and a certificate from MAITS.
Local Coordination
We have decided how to monitor the project with the CHWs. Each CHW has to train and monitor at least 4-5 families and must collect data accordingly. Feedback from will be collected from them biweekly and it will be overseen by Aga Khan and Ziauddin Universities.
MAITS would like to take this opportunity to thank our wonderful donors, without whom this project would not be possible! Thank you for supporting us in helping some of Pakistan's most vulnerable children and their families.
If you would like to continue to support highly vulnerable children in Pakistan, please follow the link to our project page. It is very simple to set up a monthly recurring donation of any amount, and this money goes a long way for us and the beneficiaries in Pakistan as GlobalGiving often matches recurring donations.
https://www.globalgiving.org/projects/support-for-those-with-disabilities-in-pakistan/?show=recurring