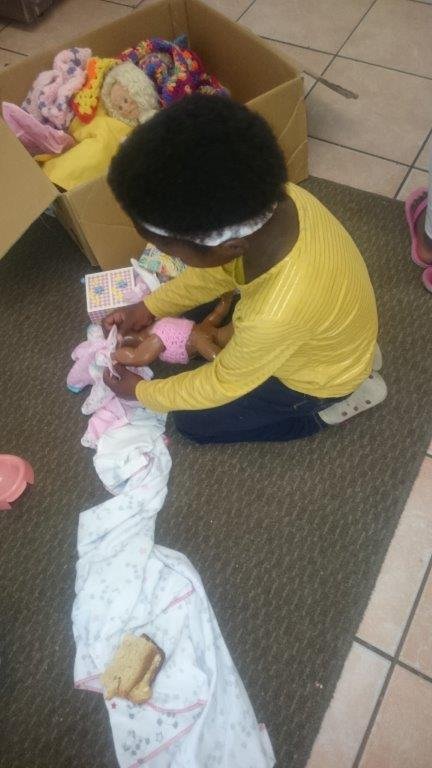 GlobalGiving Report 28 February, 2017
The best gift that we can give each other is the gift of 'time'. Attached to that gift are the most amazing benefits, you hear laughter, you experience joy, there is an opportunity to grow, nurture and develop the children.
We express our heartfelt thanks to each and every donor and their families for touching lives and allowing and enabling us to develop the children.
The past couple of months we have spent loads of energy, skill in assisting our children to control their behaviours by dealing with the issues at hand.With the assistance of a volunteer who is completing her studies in psychology we were able to sit down with many of our older girls and allow them the space to share their feelings and emotions.
At the Centre we have converted one of our tiny offices into a therapy room. This room is the safe space where they have time out, dealing with their anger or just having discipline problems. The therapy room has a "blackboard wall" and sometimes we are in awe at how much scribbling happens there. The room is working in terms of disciplining the children especially when they lash out at each other and not knowing how to deal with their feelings.
All 14 of our school going children have passed to the next grade and this was quite welcoming for us. Our toddlers and pre -school children are attending a school close to the home so they are able to walk to school. What a delight this has proven to be the kids simply love it because they get home earlier and can have more play time. The older children in the age group 5 – 10 years will start their first session with Jerry Giraffe programme during this current week. Our next report we will share the pictures of our sessions.
December time was quite challenging with all of the children being on vacation. We have no volunteers from the second week in December so it is all hands on deck. All of our Mamas have to be ready to start the day with programmes from 8-00 a.m. in the morning already. Occupying the children during the vacation time is a full time job and we love spending this precious time with our children.
We are sharing pictures of the children playing with dolls even the boys had their turn. They were playing a day at the clinic and one of the older children had great joy and fun being the Doctor, the children visiting with their babies on their backs.
In January 6 children were re-unified with family which brought about mixed emotions from the children. We continue to keep our children in prayer and offer support to the families of the children who had exited the home
From all of the children at Fikelela we say thank you for your support, your love and care.
God bless