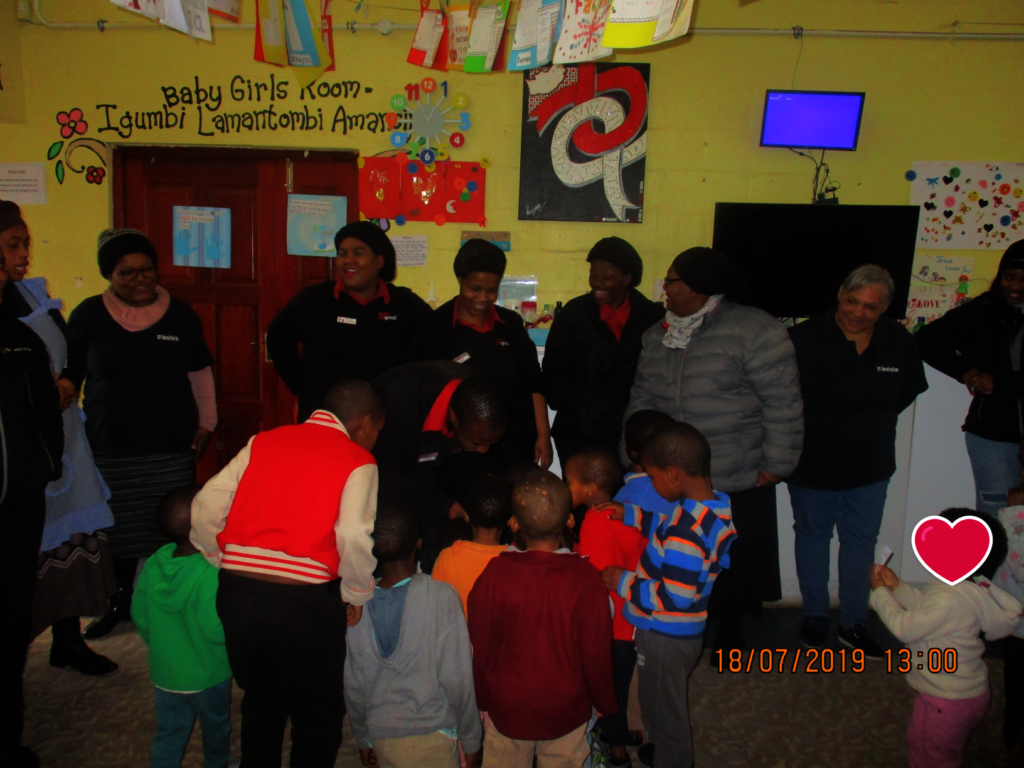 Fikelela is a temporary safe care facility for 40 children and your donation makes a world of difference to the lives of our children.
Every morning the children start off by washing their faces and the older children assisting the younger ones to get themselves ready for breakfast and school. The group who attends school leaves as early as 6:30 in the morning, ready with back packs, school books, packed lunches and homework all done. Pre-schoolers attends the local academy just around the corner from the centre and they leave at 7:30am.
The home is then transformed, clean up, making up of beds, washing dishes and seeing to the younger ones. Deeply snugged into their carry cots, panel heaters generating sufficient heat for the little ones. The daily programs starts and it varies from brushing teeth, building blocks, completing activities, assessing mobility, jumping, skipping, singing, dancing, lots of love and laughter is generated during early morning program from 9:00 till 12:00 daily.
As young as they are they sing the song "clean up, clean up, everyone clean up" and it is so inspirational to see how every little child contributes to the excercise. They then sit on the mat very quietly and have their story time - the volunteers reads a story to them, they engage having to point out who the characters are and their favourite is when they talk about fruit and eating an apple/orange/banana in the story and the children are then offered that fruit. The squeals of delight as they connect the fruit in the story to the fruit in their hands.
We have learn't the importance of educating our children at the centre as best as we can and we see progress especially when stake-holders come and spend time with the kids how familiar everything is to them and how confident they are at engaging.
July we celebrated Mandela month, we had arrange stake holders to educate our children around safety, and about the importance of knowing what to do when there is a fire, assessing our fire equipment and ensuring that we have everything in the right place. The fire and rescue department were in awe of the children, just at their behaviour and how happy they were that when it came to their turn to do the education, they were so focussed on cuddling and holding the children which made a difference to their own personal lives.
Your ongoing support enables all of our staff to continue giving the children the best care that they deserve.
With much love and appreciation.